FaithMarks exhibit showcases tattoos, spirtuality at Wesley Foundation
Currently held at the Wesley Foundation, co-curator Anna Golladay has brought multiple pieces from FaithMarks' gallery for students to come see. The exhibit will be at the Wesley Foundation for roughly a week, according to Golladay, Golladay says that FaithMarks brings to life the representation of spirituality through body art. Christianity is not the only tattoo art displayed through FaithMarks, so Golladay welcomes anyone who has any form of spiritual tattoo art to submit a photo to the FaithMarks website.
On Wednesday, April 2, FaithMarks, a photo gallery of people with tattoos representing different forms of spirituality, began a week-long exhibit at the University of Tennessee's Wesley Foundation. The gallery was created in 2012 through St Mark's United Methodist Church in Chattanooga.
The photos of the tattoos that are currently displayed portray "hard life" stories and "relatively boring" stories, but all stories are equally meaningful, said Anna Golladay, co-curator of the gallery.
Photographers Tiffany and Patrick Jaworski took pictures of tattoo art pieces submitted by those who created their own faith through tattoos.  Co-curators Golladay and Carl Greene are displaying them in traveling exhibits. The pieces are shown with a caption from the artist explaining the back story behind the tattoo.
"It represents the intersection between spirituality and the art of tattooing," said Golladay.
She added that she believes the church has often lost the medium of art, and the idea behind FaithMarks is to intentionally re-connect the church with art.
Allen Wilson, a UT senior, said he believes  FaithMarks can create a new conversation in the Methodist church.
"A lot of people believe that the church has closed doors kind of people," said Nikki Klein, a UT junior. "I just love the fact that this is bringing in a totally different crowd."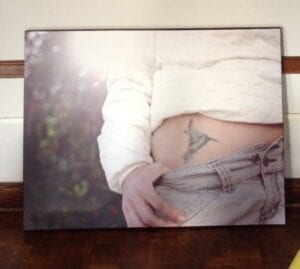 "This show for me, especially on college campuses, is the ultimate, intentional act of inclusion. It is not a Christian-based exhibit; all spiritual art is welcome," said Golladay.
For more information on submitting art to the FaithMarks gallery, go here.
Edited by Maggie Jones