One Stop seeks to manage students in all-in-one location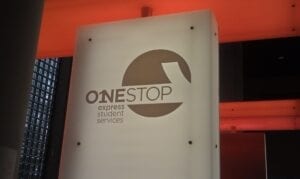 This fall semester many students were finally able to see the much anticipated One Stop Express Student Services in action.
Known better as just One Stop, this student service stays true to its name by allowing students take care of needs such as financial aid, registration, payment services, and enrollment all in one location.
"On our journey to becoming a Top 25 university, we are looking for ways to enhance the support we provide our students," said Darren Curry, director of One Stop. "We wanted to provide a convenient student service center where students could get their most common enrollment service needs met in one location by employees who are cross-trained in all three offices."
In past semesters, students would contact the Offices of the University Registrar, Financial Aid and Scholarships, and University Bursar individually. This process could be very time consuming.
To receive support, students can access One Stop services in three ways: calling 865-974-1111, online, or talking to a staff member in person. One Stop is located on the ground floor of Hodges Library. At this location, the student uses their NetID to check in at the kiosk. The student's name or number will appear on a monitor, letting them know their place in line. If the wait is long, the student has the option to go and work on other things in the library and will be notified by email when it is their turn.
One Stop is one of several initiatives to improve student retention and graduation. "Our goal is to help students with the sometimes tedious but necessary tasks of enrollment at the University," said Curry. "For some students, these processes are new or they can seem hard to navigate, we want to provide support and guidance to students as they complete these common services related to enrollment."
Student's opinions about One Stop are mixed. A lot of students said they have not had any interaction with One Stop at all. "I felt like it was kind of useless because they ended up sending me to financial aid office anyway," said Miriam Walker, who is a senior here at the university.
Other students have differing opinions. "The staff was helpful, efficient, and professional with me," said another senior, Kristin Majors.
The registrar, financial aid, and bursar offices are still open but in an administrative-only capacity to perform duties such as financial aid counseling, classroom scheduling, managing Banner, graduation application processing, along with many other student services.
Edited By: Zach Dennis