VolAware street fair focuses on mental health, suicide prevention
The "Unwind Before You Unravel" VolAware Street Fair booths and volunteers greeted students up and down Pedestrian Walkway as they ventured to and from class.
This is the eighth year the VolAware Committee has hosted the day-long event, promoting wellness, mental health awareness, and suicide prevention. In the past years this event has evolved into a major de-stressing affair for students. Last year about 3,000 UT students participated in the fair.
"This fair is intentionally done at the very beginning of October you know midterms come up, like right around the corner," said Jessalyn Medlock, community intervention graduate assistant at the student counseling center. "I know I'm working on a midterm paper right now and the point is lots and lots of students get really stressed right around this time."
Medlock who has been working with the VolAware committee since her junior year hopes students felt like UT really cares about them. Medlock stated that being a college student is hard. She personally hopes that students don't feel alone.
"UT's a really big campus and it's really easy to get loss. It's really easy to feel like you're the only person, that there isn't really anybody out there like you and this is kind of a 'hey you're not alone," said Medlock.
There were numerous booths and activities set up at the street fair. Students could participate in activities such as the human hamster wheel to dancing on Pedestrian Walkway with the Wii. Booth sponsors ranged from Knoxville mental wellness agencies such as Helen McNabb Ross Center to Earthfare; with many yoga studio representatives sprinkled in between.
Olivia Seay, a freshmen at UT said, "I like it. It's really organized. They have good prizes and I'm learning a lot about what's going on at UT."
"I think it's pretty neat. I think it's geared more towards freshmen and the lower classmen for sure. Teaching them where certain amenities are located like the counseling center and all that," said Leah Beznardzyk, a senior at UT.
Despite her belief that the fair was geared towards underclassmen she stated that the fair helped her to de-stress. "I had an exam and I couldn't think about school right now so this was just nice to walk around and do something different," said Beznardzyk.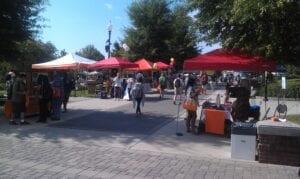 Edited by Zach Dennis