No. 22 Vols soar past FGCU in bounce-back win
Olivier Nkamhoua, Santiago Vescovi and Zakai Zeigler showed improvement in Tennessee's win after a disappointing showing against Colorado.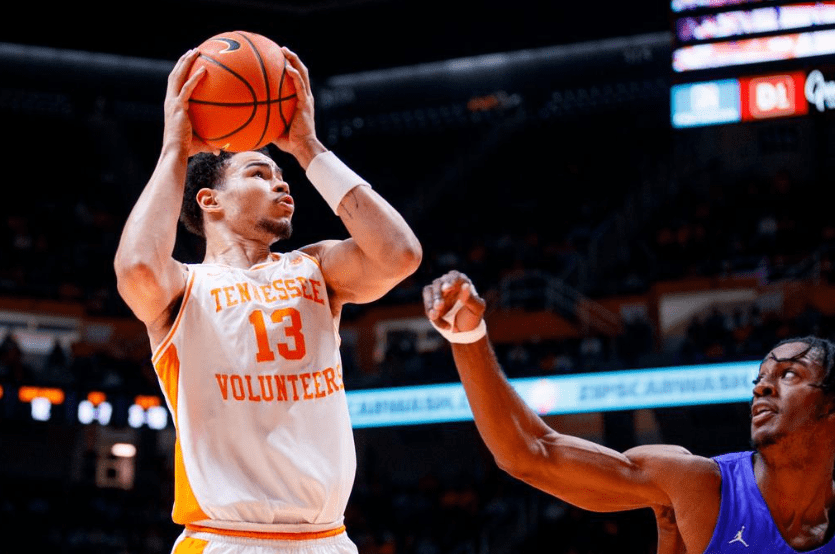 After an abysmal shooting performance in Tennessee's loss to Colorado on Sunday, the No. 22 Vols (2-1) got the offense rolling quickly in an 81-50 win over FGCU (2-2).
Against the Buffaloes, Tennessee scored just 66 points on 25.4% shooting from the field and 27% shooting on 3-pointers. Typical offensive staples Olivier Nkamhoua, Santiago Vescovi and Zakai Zeigler attempted a combined 33 shots but only connected on seven. They also turned the ball over 10 times. This poor offensive showing bled into a weak performance in other aspects of the game, as well.
However, against the Eagles, the trio got back on track with a combined 32 points.
Nkamhoua led the group with 18 points on 5-for-7 shooting. He showed his ability to knock down jump shots along with finishing effectively in the post.
"As a team, I think our mentality was the biggest difference," said Nkamhoua. "We kind of straightened out, buckled down and came in with the mentality that we play most of our games with. I think we let that go a little bit last game. I think we locked in, took the loss the right way and came in with the right mindset."
Vescovi also put together an impressive game of his own. He totaled eight points after knocking down two early 3-pointers to get the Vols rolling. He made his biggest impact outside of scoring, though, as he corralled six rebounds and dished out three assists. Defensively, he was a pest all game and finished with three steals.
Zeigler didn't jump off the stat sheet offensively, but he did improve. After a night of struggling to score, he reeled it in and played within himself. He shot just 2-for-7 for six points but moved the ball well and didn't waste possessions. He also contributed six rebounds and an assist. His impact was shown through a +/- of +18.
Despite Nkamhoua, Vescovi and Zeigler having bounce-back games, Josiah-Jordan James continued to lead the offensive charge in his first start of the year. When coming off the bench due to an injury against Colorado, James was the most consistent scorer while totaling 15 points on 5-for-11 shooting from the field and 4-for-8 shooting on 3-pointers.
Against FGCU, James continued his impressive play with 18 points on 5-for-8 shooting from the field and 4-for-6 shooting from deep. He got this production started early with 12 first-half points. He also finished with six rebounds and two assists in his 25 minutes of play.
"No one has improved or reconstructed their shot more than (Josiah-Jordan James)," said Tennessee coach Rick Barnes. "He did an amazing job when he got here… All the time while he was hurt, one thing he could do was keep shooting."
Other key contributors were Julian Phillips and Jahmai Mashack. Phillips totaled 11 points while getting to the line for 12 free throw attempts. He also stuffed the stat sheet with five rebounds, two assists, a block and a steal. In just his third collegiate game, he showed why he was considered a 5-star recruit out of high school.
Mashack also shined while parlaying his impressive defense and athleticism with the ability to score. He doubled his career high with 10 points on 4-for-7 shooting including a posterizing dunk to get his scoring streak started. He also pitched in four rebounds, two assists and two steals.
"With the trust of my coaches and my players, they really have my back," said Mashack. "I can appreciate that. That's come a long way for me. I just have to give credit to them."
Next up for Tennessee, the Vols will travel to The Bahamas to take on Butler in the opening round of the Battle 4 Atlantis. The game will be played on Nov. 23 and will tip off at approximately 7:30 p.m. EST on ESPN2.
Ryan Sylvia is the Sports Editor at TNJN. He is a senior at the University of Tennessee, Knoxville majoring in journalism and electronic media. Although he spent most of his life being raised outside of Philadelphia, he was born in Knoxville, and he is happy to be back home. Ryan has had a love for sports from an early age, and he found his love for writing in high school while taking journalism classes. He hopes to find a job involving both his passions as a sports journalist after graduation. To reach Ryan, email him at rsylvia@vols.utk.edu