Lady Vols win pair of games to advance to Sweet 16
After Tennessee's narrow wins over Buffalo and Belmont, they will advance to their first Sweet 16 since 2016.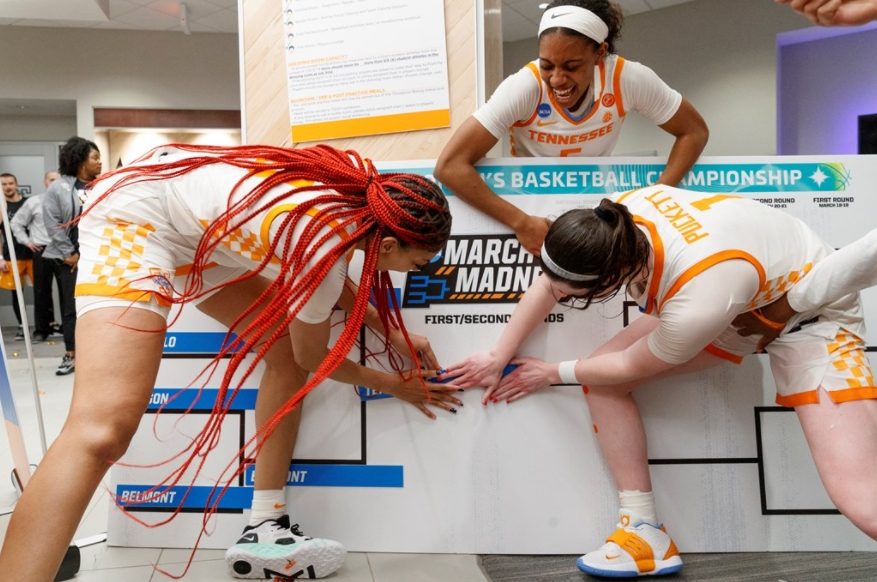 KNOXVILLE, Tenn. – The old adage from Jimmy Valvano goes, "Survive and advance."
That is exactly what Tennessee did in its opening two rounds of the NCAA Tournament played at Thompson-Boling Arena.
Round of 64 – Buffalo
Despite a sloppy first half featuring 10 turnovers and 31.7% field goal shooting, the 4-seeded Lady Vols managed to take down the 13-seeded Buffalo Bulls 80-67 in the Round of 64.
The turning point of the game came early in the fourth quarter. Already up five, Tennessee surged to a 10-0 run, which propelled them to a 69-54 lead. This proved to be too much for the Bulls to overcome as the Lady Vols never let Buffalo back into the game.
"I was really proud of our team because I thought we really played with a lot of grit and toughness offensively down the stretch," said Tennessee coach Kellie Harper. "Usually you see that on the defensive end, but I thought we had it there offensively."
Helping Tennessee stay ahead was Alexus Dye. After receiving SEC All-Tournament Team recognition for her incredible play in the SEC Tournament, she continued her hot streak into March Madness.
Dye finished the opening game with a double-double performance of 18 points and 11 rebounds. She made her presence felt as a go-to option instantly by scoring the first basket of the game. She continued to display her willingness to score throughout the game by finishing on 6-for-12 shooting.
However, perhaps more impressive than Dye's scoring was her ability to rebound the ball. Five of her 11 boards came on offense, which gave Tennessee second-chance opportunities. The team totaled 24 offensive rebounds, which resulted in 19 second-chance points.
"Snoop (Alexus Dye) is a spark for us," said Tamari Key. "We know that when she goes in the game, she's going to give it everything she has, going to the basket, grabbing rebounds."
Helping carry the scoring load was Rae Burrell, Key and Jordan Walker. The trio scored 19, 16 and 13 points, respectively.
The quartet of Dye, Burrell, Key and Walker combined for 66 of Tennessee's 80 points. This scoring output shut the door on any possible comebacks and moved Tennessee on to the Round of 32.
Round of 32 – Belmont
After getting out to a slow start against Buffalo, Tennessee came out the gates with much more steam against the No. 12 seed Belmont Bruins. Thanks to an efficient offense and a suffocating defense, the Lady Vols took a 12 point lead into the halftime break.
However, this did not last long as Belmont outscored Tennessee by 10 in the third quarter.
This momentum translated into the fourth quarter, as well. The Bruins did not let up, claiming their first lead since the first quarter early in the final period.
Rebounding kept Belmont in the game down the stretch. The undersized Bruins only lost the rebound battle by four against a Tennessee team that ranks second nationally in boards.
This also translated to opportunities that led to 23 second-chance points. These deflating scores helped Belmont climb out of its early hole.
"I think so much of it was us being aggressive offensively, getting them in more rotations, then we got some second shots, we got some easy baskets," said Belmont coach Bart Brooks. "So we chased some long rebounds down, and I think that was a huge momentum shift for us. I think we hit a couple of big threes off of offensive rebounds. Those are deflating."
The two teams continued to go back and forth in the fourth quarter until a Madison Bartley layup gave Belmont a two point lead with just over two minutes remaining.
However, a cold stretch followed where neither team could put points on the board. This was eventually snapped with a crucial 3-pointer from freshman Sara Puckett with just 18 seconds remaining.
"I was open and the ball was coming to me," said Puckett. "I knew I was going to knock down the shot. I knew everybody on the bench and everybody on that court had every ounce of confidence in me. They always tell me that. So as soon as I got it, I knew what I was going to do with it."
The shot propelled Tennessee to a lead it never gave up. The Lady Vols got a stop on the other end and Key knocked down game-sealing free throws to put the Bruins away in a 70-67 win.
What kept Tennessee alive during Belmont's run was phenomenal play from Dye and Key. Dye finished the night with a double-double performance of 20 points and 11 rebounds. Key finished with 18 points, four rebounds and three blocks. The two also turned it up when it mattered the most. They combined for 17 points in the final quarter of the game.
Now, with wins over both Buffalo and Belmont, the Lady Vols will travel to Wichita to take on the No. 1 seed Louisville on March 26 at 4 p.m. airing on ESPN2. This is their first Sweet 16 appearance since 2016 and the first under Harper.
Featured image courtesy of Ian Cox/Tennessee Athletics
Ryan Sylvia is the Sports Editor at TNJN. He is a senior at the University of Tennessee, Knoxville majoring in journalism and electronic media. Although he spent most of his life being raised outside of Philadelphia, he was born in Knoxville, and he is happy to be back home. Ryan has had a love for sports from an early age, and he found his love for writing in high school while taking journalism classes. He hopes to find a job involving both his passions as a sports journalist after graduation. To reach Ryan, email him at rsylvia@vols.utk.edu