Tennessee politicians' use of racist rhetoric reflects rising trend of racism against Asians
Since the COVID-19 pandemic began, anti-Asian sentiment has been on the rise in the United States. Headlines across the nation tell of businesses vandalized and people, even elders, being violently attacked. The STOP AAPI HATE center reported receiving approximately 1,500 reports of coronavirus-related discrimination against Asian Americans within its first month of existence in April of 2020, and by the end of the year, the number had reached a total of 2,808. While there have been no publicized incidents of violence in Tennessee, anti-Asian sentiment is alive and growing in the Volunteer State, thanks in part to controversial social media posts made by politicians from Tennessee.
Sen. Marsha Blackburn made headlines in December 2020 after she wrote a tweet accusing China of having a "5,000 year history of cheating and stealing." Since then, Blackburn has continued to use Sinophobic language in her social media posts. In a tweet posted on Feb. 3, Blackburn shared a Fox News article accusing Confucius Institutes, which are programs across the U.S. that teach Chinese culture and Mandarin Chinese, of indoctrinating American children with pro-Chinese Communist Party ideology.
Confucius Institutes, in the past administration, have also been accused of employing CCP spies, although there has not been any evidence of espionage or indoctrination within these programs. During his State of the State address on Feb. 25, Tennessee governor Bill Lee introduced the Transparency in Foreign Investment Act, which targets college campuses that have Confucius Institutes "with concerning ties with communist regimes." UT closed its Confucius Institute in 2019.
"It's almost like there are no consequences for [Blackburn and Hagerty's] actions, which makes people believe there is no longer such a thing as 'inappropriate behavior'."
Sen. Bill Hagerty is another Tennessee politician who regularly expresses Sinophobia on social media. In a report published October of 2020, STOP AAPI HATE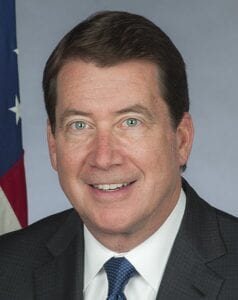 noted out of 137 Tweets containing stigmatizing language, Hagerty was responsible for 43, the third-most behind former President Donald Trump and Arkansas Sen. Tom Cotton. Hagerty has been seen using the controversial term
"Wuhan virus" to describe COVID-19, and he, like Blackburn, has also accused Confucius Institutes of being propaganda machines.
At the time of writing, neither senator's offices had responded to email requests for comments.
These Tweets are the most prominent displays of racism in Tennessee. There are fears the posts and other expressions of racism by top officials may be encouraging others to partake in that type of behavior, especially due to the lack of formal punishment for using racist rhetoric.
"If someone in that high of a position can say things like that, then what's stopping [other racists] from saying the same things?" said UT junior Chanel Briones in an interview over Zoom. Briones is Filipino American and is heavily involved in Asian American organizations on campus, including being a chartering member of Delta Phi Lambda, Tennessee's first Asian American interest sorority.
"It's almost like there are no consequences for [Blackburn and Hagerty's] actions, which makes people believe there is no longer such a thing as 'inappropriate behavior'."
Dr. Shellen Wu, director of the Asian Studies program at the University of Tennessee, says she believes the U.S. government should divorce their criticisms of the CCP from their treatment of Chinese and other Asian-Americans.
"Our political leaders need to make a distinction between American foreign relations with the Chinese government and the Chinese people," Wu said in an email.
Other than the coronavirus pandemic, politicians have also criticized the Chinese government for its genocide of the Uyghur Muslims and cybersecurity problems presented by Chinese software companies like tech conglomerate Tencent and telecommunications company Huawei.
"The idea that Asian Americans are somehow an 'other' in American society is racist and unacceptable," Wu continued.
"Asian Americans are Americans first and foremost."