Changes to UT Football Season Won't Stop Students From Enjoying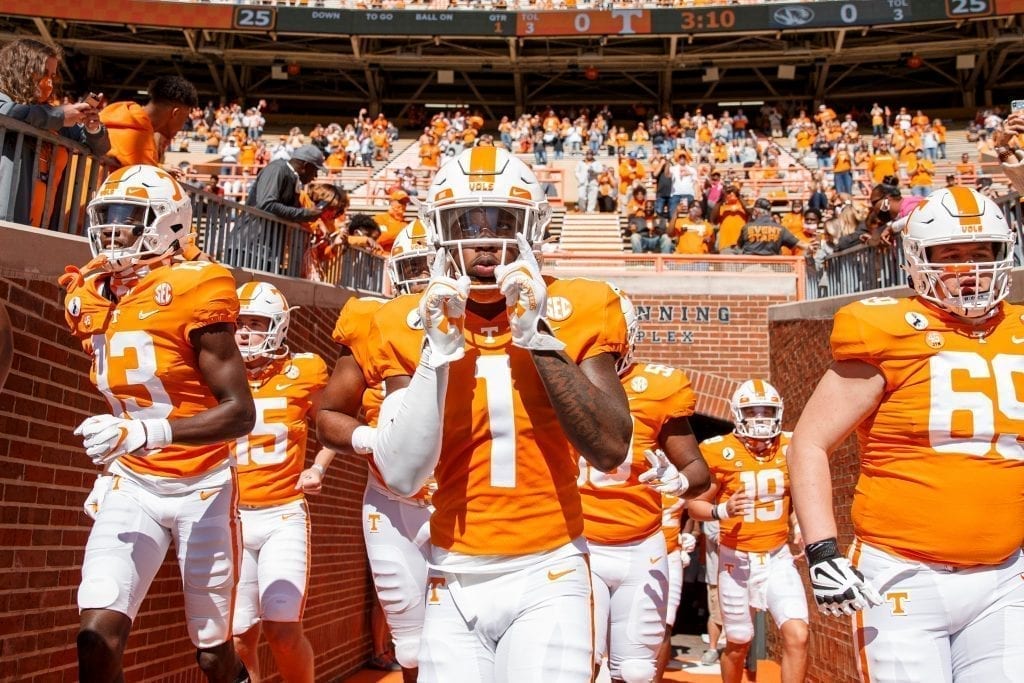 The University of Tennessee (UT) has made some major changes to the way they normally do football this year, due to Covid-19. Many things will be different when it comes to Saturday football games in Knoxville, Tennessee.
Ticket distribution is one of the biggest differences in the 2020-21 football season. In previous years students have been able to request a ticket to any football game they decide they would like to attend. The university would then distribute the available tickets to students. If a student forgot to request a ticket, they would still be able to purchase one after the unclaimed tickets are released.
However, this year things are different due to Covid-19. The South Eastern Conference (SEC) has required every stadium to limit seating capacity to 25%. The SEC has also limited teams' schedules to just 10 conference-only games. Ticket distribution had to change, due to the short supply of tickets this year.
Students may only request tickets for two home games this year. But, it doesn't stop there; the home games are also divided into two groups. Group A games are: Texas A&M, Kentucky, and Missouri. Group B games are Alabama and Florida. Students may only request one ticket from each group. Dividing the games into groups gives UT the greatest chance for as many possible students to attend games this year.
After the request period ends students may buy a ticket during the "open sales period" without affecting their chances of requesting tickets to the rest of the games in that same group.
Other regulations and changes:
At all times masks/face coverings are required.
Students cannot purchase guest tickets or transfer tickets.
Social distancing between seating has been established within the stadium.
Additional cleaning and sanitation measures have been put in place.
There are also additional hand washing and sanitizing stations available.
No free water will be given out at games this year, "but we are going to allow one factory sealed water bottle into the games," said Vice Chancellor of Student Life Frank Cuevas. There will also be additional security to enforce the guidelines in place, especially within the student section.
An event called "Smokies Game Day Experience" is new to UT home games this year. "Set up over by the TRECS there will be large screen TVs, so people can make a reservation to go out there and sit on blankets to watch the game," Cuevas said. This way a game day atmosphere will still be available to those who don't want to go to the stadium. Free food will also be provided.
Tailgating and ticket sales
Tailgating will be regulated on campus this year. "They will be allowed to have one tent no larger than 10×10 by their vehicle for those who are coming with them to the game, Cuevas explained." No more than 10 people are allowed in each group. The university will not be sponsoring any tailgates this year. Fans without tickets are not permitted to travel to campus solely to tailgate this season.
These precautions are not stopping Tennessee fans from wanting to attend games. UT had sold nearly 2,000 student tickets of the allotted 2,500 for the Missouri game just three days before kickoff, Cuevas said. He expects for UT to meet or be just shy of the allotted student tickets for each home game.
Students will do just about anything to be able to attend games this year. Lili Anne McClanahan, former Vol team member and UT senior said, "I am super excited to be back in Neyland, period. I told my family I will wear a hazmat suit if I have to to get into Neyland Stadium." The Volunteer football experience is an unforgettable memory for many of the students here at UT. "I will never forget my first game and my first touchdown in Neyland," she said.
Tennessee football does not look the same this year, but the games are in full swing. For more information and updates on the Covid-19 precautions being taken, before attending a game in Neyland Stadium, visit Utsports.com.
Undergraduate student at the University of Tennessee. Roebuck is studying Journalism and Electronic Media with and emphasis on sports broadcasting. She also works as a sports writer and anchor on the Volunteer News show. Roebuck is the co-writer, producer, and anchor for the Daily Beacon's Weekly Wrap up. It airs every Monday.