Demand Soars For Knoxville Bicycle Businesses
The pandemic may have had one benefit: more exercise and time outdoors. Over recent months, people in the area are wanting and using more bikes.
In correlation with a spike in demand, the area has seen a boost in bicycle thefts during 2020. "There's a high bike theft problem in this area in general," said Luke Grieve, owner of Fountain City Pedaler. "Especially in this neighborhood. It's predominantly homeless and people that are low income." Grieve's shop is located on North Central St. in North Knoxville.
The cases of bicycle thefts during the pandemic reflects more than a 50 percent increase compared to the same time period in 2019, according to communitycrimemap.com, a database which the city uses to track crime in the area. There are 23 reports of bike thefts listed in the date range of March 18 to Sept.18 2019. The data for 2020 reveals 36 cases between those dates.
The increase in bike thefts is reflected by an unprecedented supply and demand relationship in the industry. "We've been the busiest we've ever been. It's insane," Grieve said.
"We're completely overwhelmed with bike repair right now. Luckily we have that because we haven't had bikes to sell. People have been asking for them like crazy."
The shortage of bicycles in supply stems from a surge of interest in the sport during shutdown. "People are riding more. And then again, we're working on old bikes because you can't get new bikes," said shop owner Gerry Harms.
Harms is the owner of Cedar Bluff Cycles located in West Knoxville. The shop has been around since 2008.
For Harms, the spike in thefts comes with the territory. "I've been in the industry for 38 years and I've seen bike thefts as being something that always happens," Harms said.
As far as business goes, Harms continues to experience an irregular flow of supply. "Bicycles have been very, very difficult to get in. Some of the models just aren't available, whereas some are coming in," said Harms.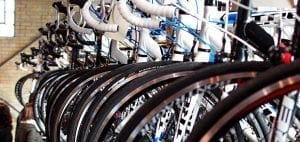 "They do sell. The demand is higher," Harms said. "Since Asia shut down for two months, now they're only back to about 70 percent and they're not going to increase right now … They just can't build bikes fast enough for the actual surge, so you have surge and lack of product."
Asia is an important supplier for the United States. Many export countries, such as China, had to temporarily halt production during the pandemic.
"The problem, and what has caused the shortage, is this virus anyway. They (aren't) making (bicycles) in China and that's where they all come from," said repairman Bill Nichols.
Nichols has been in the bike industry for over three decades. He considers himself a jack-of-all-trades when it comes to bicycle repair. "I do it all," Nichols said. The handyman has worked at shops on both sides of town during his career. He is currently managing Greenlee's Bicycle Shoppe in North Knoxville. Nichols agreed that the pandemic has played a major role in the bike business.
"More people want to get outside. If they've been quarantined or confined in the house, they want to just get outside."
As the repair business booms, workers in the bicycle industry continue to wait for a stabilized supply chain.
"We've bought all the inventory that was available for this year already. And we have been missing out on the largest amount of bikes we could've ever sold," Grieve said.
In Knoxville, thefts continue to rise along with the unparalleled demand for bikes. And one less bike on the market could mean one less repair for those in the industry.