UT Student Groups Work to Stay Safe Amid COVID-19 Rules (Update 1)
(Updates with new photographs.)
At a university as large as UT, student organizations play a vital role in campus culture. However, organizations' typical trajectories have been derailed by COVID-19.
Over the summer, the Center for Student Engagement crafted a plan for meaningful fall organizational events, virtual and in-person. The CSE held a total of seven virtual organization fairs, and UT has 330 active student organizations.
Ashleigh Moyer, director of the CSE, said the center applied the university's regulations to the student groups.
"We were careful to make sure that we communicated with students information that aligned with what the university expects, so it was nothing that we really pulled together on our own," Moyer said.
Currently, UT entrusts organizations who hold in-person events with 50 or less fewer people to have members at each event enforcing COVID-19 regulations. Organizations can apply for exemptions to hold events with more than 50 attendees, which the university reviews on a case-by-case basis.
Student Conduct individually evaluates any student organizations who violate the university's COVID-19 guidelines.
Individual organizations have also harnessed creativity to engage students. The Society of Human Resource Management held its outdoor kickoff event on Thursday evening and developed an innovative plan to keep students at least six feet apart from each other: placing hula hoops between each attendee.
Senior Ishtiaque Ahmed, the organization's vice president, said the decision to hold an in-person event was an uncommon one.
"Under the management department and the business department, we are the only organization that is doing some sort of physical event," Ahmed said. "Everyone else has completely gone online, but we wanted to give a little bit of — not entirely, but some sort of physical experience, in-person experience for our new members."
The remainder of the organization's events this semester will be online.
"It would be great if we could have all of them in-person, but we understand the situation, and we don't want to have our members coming in and then get exposed to the virus," Ahmed said.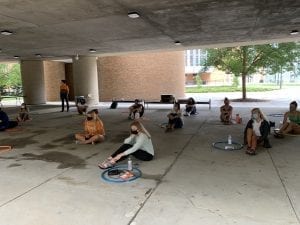 For organizations that are directly affiliated with healthcare, this semester is more complicated. UT's Remote Area Medical chapter is one such example. Remote Area Medical establishes free healthcare centers in rural areas, with headquarters located in Knoxville. A walk-in clinic Homecrest area could similarly benefit individuals in need of medical assistance without an appointment.
This semester, UT's RAM chapter will volunteer at four clinics but cannot volunteer at RAM's headquarters, which are currently closed.
"That's been a huge missing chunk of our volunteer service, because oftentimes during the last year, we would go once every couple of weeks, if not once a week, and that would be such a fantastic opportunity to just get some extra service hours and help prep for upcoming clinics," said sophomore Bryce Lane, who is RAM's head of advocacy.
Because the chapter has more than 50 members, RAM holds hybrid meetings, and executive members sanitize meeting rooms before and after events. They also correct students who fail to wear masks properly.
"People oftentimes don't realize you can't have your mask not cover your nose, so you just got to be strict," Lane said. "You got to be like, put on your mask, because oftentimes in meetings we'll have people trying to take them down. If you're gonna be there, show that you want to be there and wear your [personal protective equipment]. It's been annoying because there are a lot of steps, but it's for the greater good of keeping all of us safe."
Despite limitations, the CSE and student organizations remain committed to providing engagement opportunities for students this semester.