UT Chancellor Plowman Urges Students to Comply With Regulations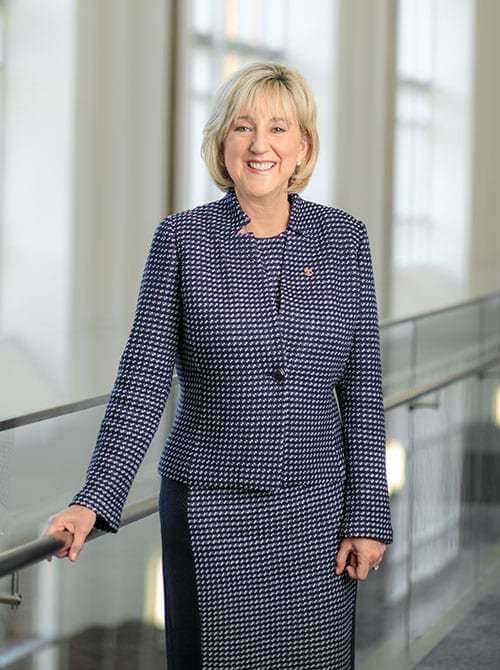 The tension between staying open amid rising COVID-19 cases, and going online, is growing, even as UT Chancellor Donde Plowman takes strict measures to control the virus' spread.
Last week, the chancellor sent an email to UT students about four students facing suspension for violating the safety precautions surrounding the COVID-19 pandemic. The students hosted a party off Laurel Avenue despite being COVID-19 positive, and didn't require proper mask use. Plowman acted quickly, saying in the email that anyone who endangers the safety of others will be held accountable.
But the chancellor is not unsympathetic to students. "If I were your age, I'd think 'I'm not going to get sick from this,'" Plowman said in an interview during her open office hours. "We've got to contain it … Others believe that if they get it, they won't be seriously affected." She believes the majority of students haven taken the pandemic seriously, saying "it upsets me when I think they don't. There's about 20% that are being lighthearted about it. [They] believe that if they get it, they won't be seriously affected."
Christina Dines, a human resources management senior, said she thinks the chancellor is doing a good job stopping the spread of COVID-19 on campus. "It's a wake up call. She has to put her foot down," Dines said. "People think they're invincible and young. Anyone can get it at this point."
The first home game for football is approaching on Oct. 3. The chancellor said tailgating won't be permitted, and Neyland Stadium will be filled to only 25% capacity to abide by the state and local social-distancing guidelines.
As of Sept. 4, UT had 243 active cases of COVID-19 and 1,253 people in self-isolation, according to the UTK website. With 238 of the active cases being students, the belief that younger people will be less likely to contract COVID-19 has been shattered.
Plowman leads by example and listens to the students. "I go around campus, and I don't see anyone without a mask unless they are off by themselves," Plowman said in the interview. "If you're by yourself, walking on the sidewalk, and there's no one coming, fine. The student body, in general, is doing a good job. I just don't want a few students ruining it for everyone."
She expects students to lead like Volunteers in times like these, and feels like the majority does this well.
"I'm very proud of people," Plowman said.