Tennessee holds on to beat Ole Miss 77-66 on Senior Night
In their final home game of the season, Rennia Davis and Tamari Key led the Lady Vols to victory over the Rebels.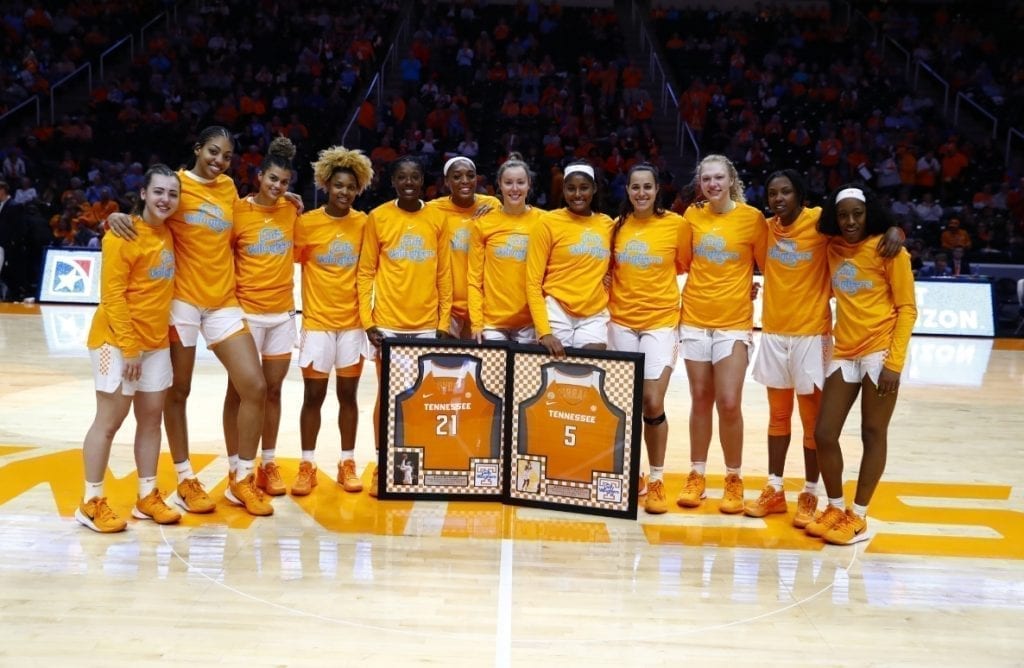 The Tennessee Lady Vols (19-9, 9-6 SEC) beat the Ole Miss Rebels (7-21, 0-15 SEC) 77-66 on Thursday in their last home game of the season. The last time the two teams met, the Lady Vols destroyed the Rebels 84-28 in Oxford. This time around it was much closer.
Tennessee had a slow start, going down 8-5 with 5:43 left to play in the quarter. They quickly turned it around, however, going on a 15-0 run that lasted over five minutes. The run was led by freshman Tamari Key who scored eight points in that stretch. The Lady Vols went into the second quarter with a 20-9 lead over Ole Miss.
"(In) our passing practices we had just been working on moving without the ball, finding the open spot and making the easy play," Key said. "My teammates were finding me."
The Lady Vols continued their dominance to begin the second quarter, going up as much as 20 points with a little under four minutes left. The Rebels fought back to end the half, though. Ole Miss went on to outscore Tennessee by 11 from that point and Deja Cage capped off the quarter with a 3-pointer with just seconds left. This would send the Rebels to the locker room only down 37-28. Jayla Alexander caught fire as well, scoring 10 of the team's 19 points in the quarter.
Tennessee stretched their lead out to 15 in the third quarter with a score of 65-50. The Lady Vols once again let it get close during the quarter, but Tennessee pieced together a 9-1 run at the end of it. The quarter ended with Lou Brown taking a charge with just four seconds left, which led to a deep 3-pointer from Rennia Davis on the other end as time expired.
"My teammates said they knew it was going in," Davis said on the shot. "I was excited, though."
Davis' buzzer beater was part of yet another stand-out performance where she achieved her 10th double-double of the season. She ended the night with 19 points, 11 rebounds and four assists.
The Rebels outscored the Lady Vols in the fourth quarter but were unable to put together a comeback. Tennessee only let them get as close as nine points down before the Tennessee team walked away with an 11 point victory. With this win, Tennessee has now won 32 of their last 33 matchups with Ole Miss dating back to 1996.
Prior to the game, the Lady Vols honored Brown and Kamera Harris as a part of Senior Night. Brown is a redshirt senior who transferred from Washington State to Tennessee for her last year of eligibility. As a Lady Vol, she has averaged 4.6 points-per-game and 4.4 rebounds-per-game. Harris has played her entire career for Tennessee, and averaged 1.7 points-per-game and 1.4 rebounds-per-game this season. Both players were in the starting lineup on Thursday, and it was Harris' first career start.
"These two seniors have been consistent. They have been coachable. They have handled the transition, I think, really well," Tennessee coach Kellie Harper said. "I appreciate them and what they bring daily."
The Lady Vols will finish their regular season in an away game against the Auburn Tigers on Sunday. Tip-off is set for 3:05 p.m. and will be aired on SEC Network.
Edited by Christian Knox and Libby Dayhuff
Featured photo courtesy of Lady Vol Basketball Twitter (@LadyVol_Hoops)
Ryan Sylvia is the Sports Editor at TNJN. He is a senior at the University of Tennessee, Knoxville majoring in journalism and electronic media. Although he spent most of his life being raised outside of Philadelphia, he was born in Knoxville, and he is happy to be back home. Ryan has had a love for sports from an early age, and he found his love for writing in high school while taking journalism classes. He hopes to find a job involving both his passions as a sports journalist after graduation. To reach Ryan, email him at rsylvia@vols.utk.edu