Column: A day on patrol with the UT Police Department
TNJN assistant editor Libby Dayhuff spent a day patrolling UT's campus with two officers from the campus police department. She gives an inside look at what they do on a day to day basis to keep UT safe.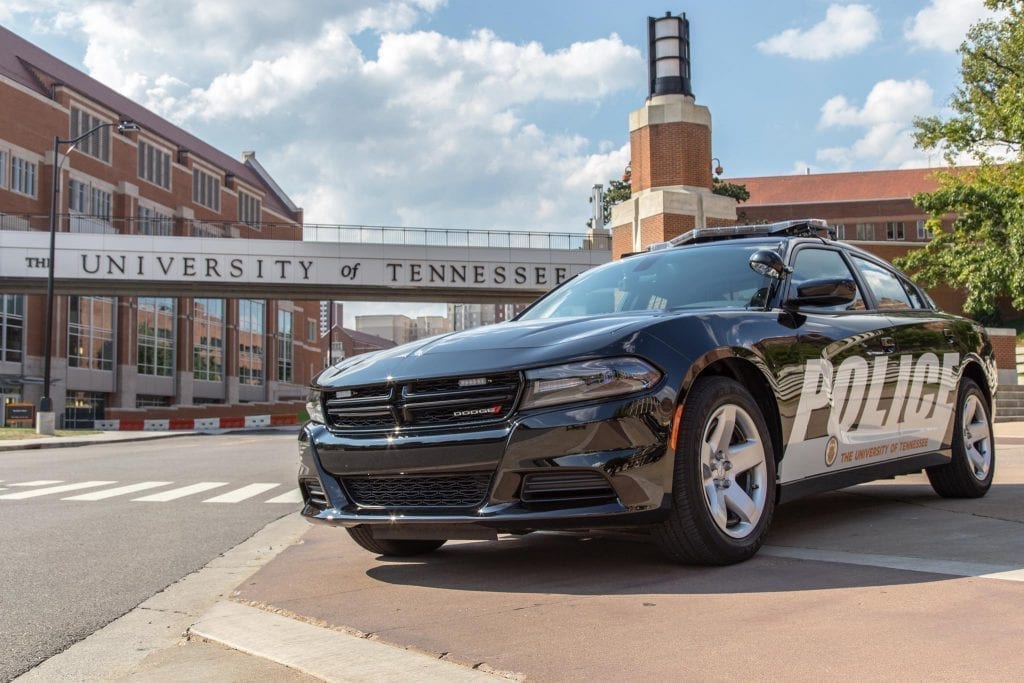 Officer Corey Rosenbaum had just finished roll call and his shift meeting when he arrived to his patrol car. He received a back-up call for an 11-95, otherwise known as a routine traffic stop. We peeled out of the parking garage behind the University of Tennessee Police Department station and drove to the officer who had requested back-up.
Rosenbaum got out of his car and consulted with the other officer and the driver who had been pulled over. I stayed in the patrol car and watched.
When he came back to the car, he told me the details of the traffic stop. 
"The driver was just going a little too fast on his way to work. He got a warning. It's too early in the morning to ruin someone's day with a ticket."
This was the beginning of my day with UTPD.
"I'm focused on making campus safe so the students can feel comfortable here.."
We patrolled the northern part of campus as I peppered Rosenbaum with questions about his experience with UTPD.
A new officer, he moved to Knoxville with his wife after leaving the military and took his first job as a police officer with UTPD. 
"I'm focused on making campus safe so the students can feel comfortable here and not have to worry too much about their safety."
We drove back to the station where I switched officers and rode with Officer Paul Fulcher for the rest of the day. We patrolled the western part of campus while I picked his brain for more information about UTPD and what a typical day shift is like.
"No two days are ever the same…"
Fulcher explained that each day shift varies. Typically, officers deal with anything from vehicle thefts from the previous night and traffic stops to reports of suspicious people, or '10-90s' as they are called. 
Officers also conduct property checks of buildings on campus.
Already patrolling the agriculture campus, Fulcher stopped in front of the small animal hospital for a property check. We walked through the building and saw lots of dogs and even a pig.
With everything in check and functioning normally, we left the building and drove towards the river district of campus. As we patrolled, Fulcher explained how his favorite part of the job is the flexibility in what he can do during his shifts.
"No two days are ever the same and you're never sitting still for long," Fulcher said. "If I want to pull people over, I can pull people over. If I want to do property checks and talk to people, I can do that as long as I am doing my job, which is to ensure campus safety."
Some days can be quite interesting. Fulcher told me about some of the craziest UTPD stories.
One day, officers were involved in a police chase on campus. The chase started at Cumberland Avenue and ended in a parking lot behind the baseball stadium when the car crashed into some port-o-potties. As it turned out, the people in the car were intoxicated 13-year-olds who just didn't want to get caught drinking and driving.
Another story Fulcher told me was about the 100-person snowball fight in Neyland Stadium a few years ago.
"Every job has both its boring and its silly parts," Fulcher said. "Occasionally, we even get calls about streakers in the dorms."
We didn't experience anything like that during my ride-along, however. Mundane is the best way to describe that shift, but I did learn a lot from the officers about UTPD and crime on campus.
For anyone who is interested in learning more about UTPD or law enforcement in general, I recommend reaching out to UTPD and scheduling a ride along.
Edited by Maddie Torres and Ainsley Kelso
Featured photo courtesy of UTPD