Classical Viennese piano recital held at HMC
On Oct. 21, Kirill Gliadkovsky performed a Viennese Classical piano recital in Haslam Music Center.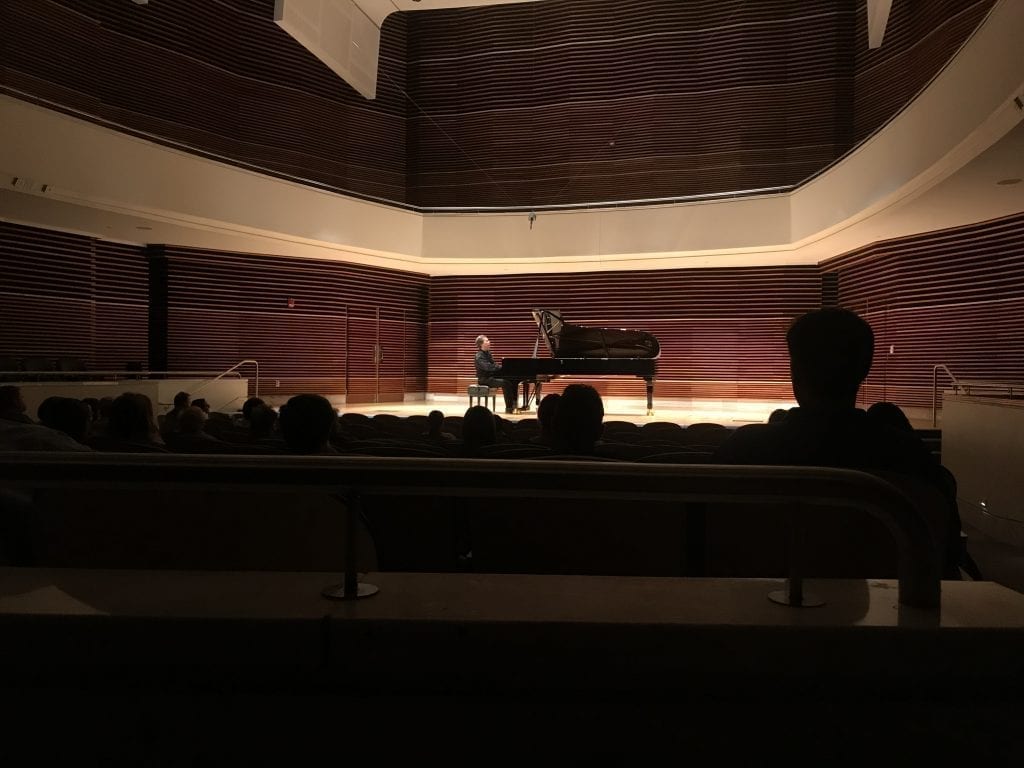 Music as beautiful as the auditorium in which it was staged captivated the late-night audience in the Sandra G. Powell Recital Hall in Natalie L. Haslam Music Center on Oct. 21.
A hush and stare fell over onlookers from the moment world-renowned pianist Kirill Gliadkovsky took a seat behind the grand piano. The concert featured compositions from four different Viennese classical artists.
Gliadkovsky opened with Mozart's Fantasy in D Minor. He initiated each composition with a brief background of the artist, song and area from which it came. The remaining three were Beethoven's "Tempest," Brahms' Intermezzo in E Flat Minor and Schubert's Sonata in B Flat Major. The encore featured "My Refugee" by Frédéric Chopin.
"I enjoy the live performance and I can say that about a lot of different types of music. This is not my primary choice of what I would listen to, but I do enjoy the live performance part of it," said crowd member Kyle Erwin.
Each piece of music demonstrated dramatic changes in tempo and pitch. The crowd's attention never left the stage, as to not miss any of the emotions radiating from it. There was a mix of sad and happy, slow and fast, intensity and subtlety throughout the two-hour performance.
"You can hear the storm in the music," said Gliadkovsky.
Gliadkovsky has had a passion for music from a young age. According to his biography, he made his first public appearance at six years old.  He has performed worldwide in Russia, Italy, the U.K., Poland, Mongolia, Canada, Japan and the United States.
Alongside doing live performances, Gliadkovsky teaches. He has served on the piano faculty at multiple colleges and taught master classes. At the conclusion of the concert, he informed the crowd of the master class he would be doing at UT the following day.
Gliadkovsky is an expert pianist and talented enough to install a passion in his students. He plays piano with his whole body, not just his hands.
Edited by Maddie Torres and Ainsley Kelso
Featured photo courtesy of Ashley Depew