Lady Vols secure 3-2 win vs. Texas A&M
The Lady Vols defeated the Lady Aggies 3-2 at home Sunday.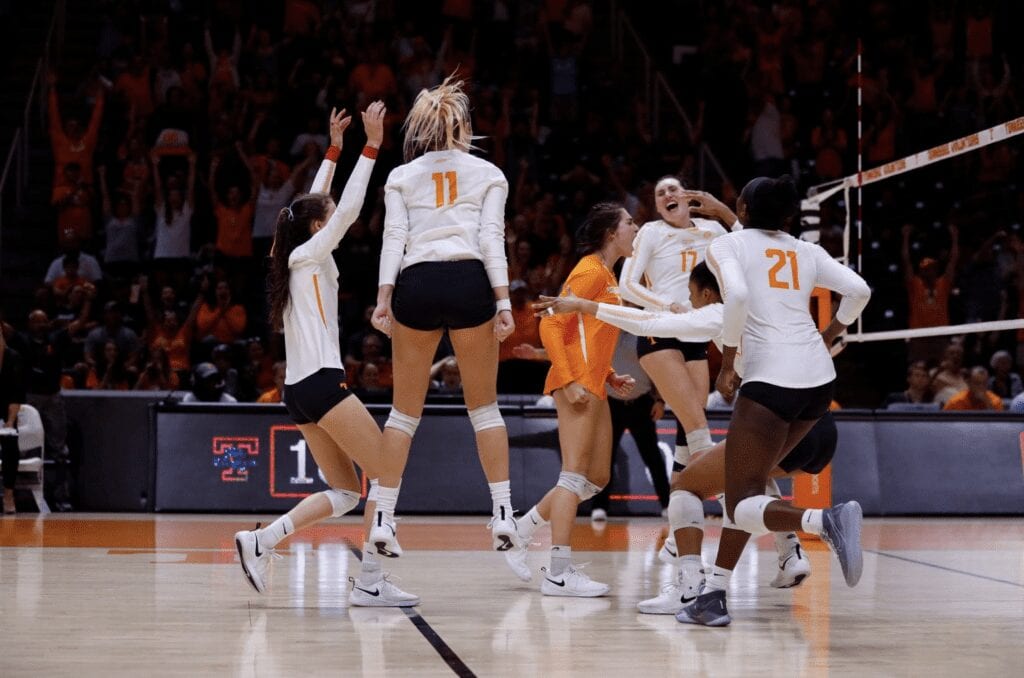 The Tennessee Lady Vols volleyball team (7-5, 1-1 SEC) took on the Texas A&M Lady Aggies (9-5, 1-1 SEC) at home. They managed to defend their home court and grab a win.
This was Tennessee's first home SEC match of the season. The Lady Vols were able to conclude their home SEC play with a win.
Both teams started out evenly matched with the Lady Vols narrowly winning the first set 26-24. It was a different story in the second set, as they fell early to the Lady Aggies, 25-15.
The Lady Vols pulled off another close win in the third set, 25-23, but once again lost to the Lady Aggies in the fourth set, 25-20.
However, the Lady Vols finally managed to put the game away, winning the fifth set 19-17.
Both teams were neck and neck throughout the whole match. Most of the sets were relatively close, except for the second set.
Tennessee performed well as a team, and multiple Lady Vols had solid games. Three players had double-digit kills. Senior Tessa Grubbs had 18, sophomore Danielle Mahaffey had 15 and sophomore Lily Felts finished with 12 kills.
On the defensive side, senior Sedona Hansen led the Lady vols with 43 assists.
Later this week, the Lady Vols will look to continue their winning streak when they travel to Georgia on Friday. The match will start at 7 p.m. EDT.
Featured image courtesy of Tennessee Volleyball's Twitter (@Vol_VBall)
Edited by Ciera Noe and Christian Knox