Tennessee upset by Georgia State in home opener
Tennessee was projected to win against Georgia State in Neyland on Saturday. The Panthers had different plans.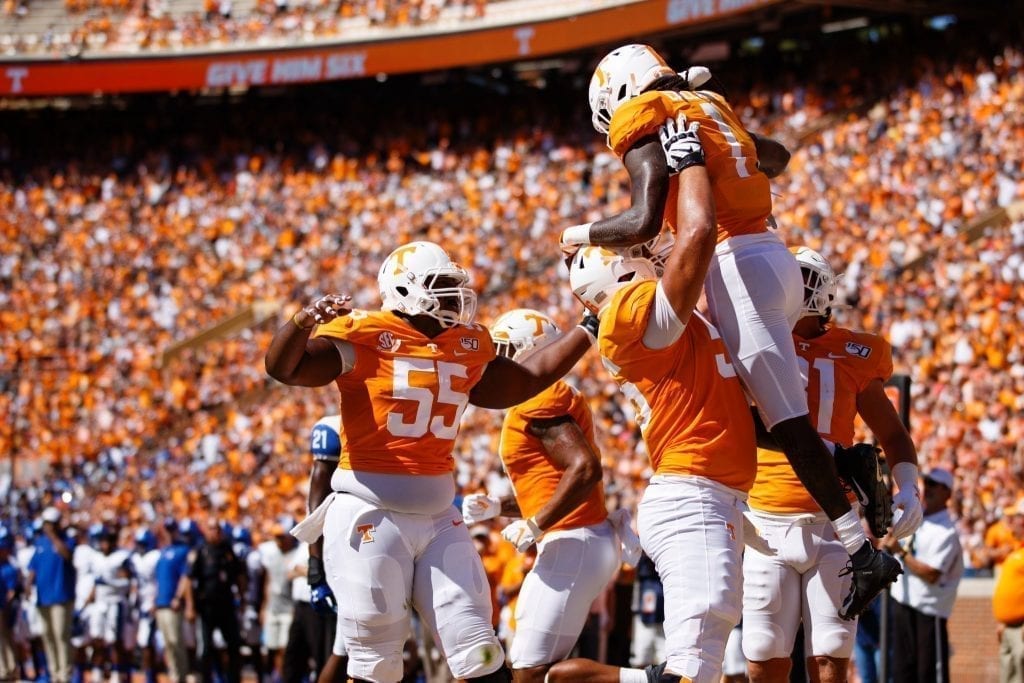 Tennessee (0-1, 0-0 SEC) came into Neyland Stadium as a 24.5-point favorite against Georgia State (1-0, 0-0 Sun Belt) on Saturday, according to pregame.com. The Panthers won only two games in 2018, and the last time they played the Vols, Tennessee defeated Georgia State 51-13.
Georgia State quickly proved that past losses are irrelevant.
On just the second play of the game, Georgia State defensive end Hardrick Willis forced a Ty Chandler fumble at the Tennessee 23-yard line, and linebacker Ed Curney fell on the ball.
Six plays later, Panther running back Seth Paige found the endzone on a 4-yard run; Brandon Wright's extra point put Georgia State up 7-0.
Down seven early, Tennessee put together a 16-play drive that ended with quarterback Jarett Guarantano throwing a 6-yard touchdown to Marquez Callaway to tie the game at 7-7.
Tennessee linebacker Shawn Shamburger sacked quarterback Dan Ellington for a 12-yard loss on Georgia State's next drive, forcing a punt. Then Tennessee took a 14-7 lead near the end of the first quarter when Chandler raced 31 yards for a touchdown.
In the second quarter, each team had a stop before Ellington tied the game by hitting Cornelius McCoy with a nicely-placed 17-yard touchdown pass.
With just over three minutes left in the half, Guarantano quickly moved the Vols down the field. He found Juan Jennings twice for 49 yards, and Eric Gray brought Tennessee to the 3-yard line.
Guarantano then threw an incompletion and an interception. However, defensive pass interference overturned the interception and Brent Cimaglia kicked a 19-yard field goal to put Tennessee up 17-14 as the half ended.
Georgia State opened the third quarter with the ball, and the Panthers sliced through the Vol defense with outside runs and quick outside passes. Ellington found Aubry Payne open for a 6-yard touchdown and Georgia State took a 21-17 lead.
Tennessee struggled to get going on offense early in the second half, and a 48-yard field goal by Cimaglia saved the Vols from going scoreless in the third quarter.
Vol linebacker Deandre Johnson sacked Ellington early in the fourth, forcing a fumble that defensive end LaTrell Bumphus recovered. Tennessee capitalized on the turnover with a 31-yard field goal from Cimaglia that put the Vols up 23-21.
Then Georgia State took over the game.
On their next two drives, the Panthers scored on a 19-yard run by running back Tra Barnet, followed by a 22-yard run by Ellington. On the following possession, Wright made a 48-yard field goal to put the Panthers up 38-23.
Meanwhile, the Panther defense terrorized Guarantano. In the fourth quarter, Guarantano was sacked three times, fumbled once and threw an interception.
With just two seconds left on the clock, Guarantano completed an 18-yard pass to Jauan Jennings in the end zone. A failed onside kick and an Ellington knee later, Georgia State beat Tennessee 38-30.
Following the game, Tennessee coach Jeremy Pruitt addressed the media.
"The best team out there won the game today," Pruitt said. "The team that played the best, executed the best, outcoached us. It starts with that. Georgia State's staff did a great job on both sides of the ball."
The Vols' upset began with their inability to contain Ellington, who ran for 61 yards and picked up big yardage at critical points in the game.
"We knew the guy could run," Pruitt said. "We've played against running quarterbacks in the past. We have plans for that. But for whatever reason, we didn't execute at a high level."
Tennessee was also hurt by their turnover differential. Georgia State recovered two of four forced fumbles and picked off Guarantano twice. Although, one interception was overturned due to pass interference. Tennessee only forced one turnover when Ellington fumbled the ball in the fourth quarter.
However, there were a few bright spots in Tennessee's unexpected loss.
Cimaglia was perfect, going 3-for-3 on both field goal and extra point attempts.
Some of Tennessee's true freshmen had a solid showing. Freshman running back Eric Gray had 29 yards on the ground and caught six passes for 51 yards. Freshman linebacker Henry To'o To'o started at linebacker and made seven tackles.
While losing a home opener in an upset may sting for a while, Tennessee defensive back Nigel Warrior said his team could come back from the loss.
"I believe in my guys 100 percent, no matter what," Warrior said. "Win, lose or draw. I believe that we can come back, and we can win if we put our mind to it."
Next up, Tennessee plays BYU at Neyland Stadium in Knoxville Sept. 7. Kickoff is slated for 7:00 p.m. EST and the game will be aired on ESPN.
Edited by Ciera Noe and Ainsley Kelso
Featured image courtesy of Tennessee Athletics' Twitter page