The Samsung Galaxy Fold is the new face of smartphone innovation
Over the past few years, the innovation we once saw in the smartphone market has almost completely vanished.
There was a time when the technological advances in every smartphone generation meant a completely new and exciting experience for the consumer.
Think back to the first time you ever laid eyes on an iPhone: it was once of the most exciting times in the phone industry. The original iPhone changed the way we saw the little devices in our pockets we called phones. Now, they are far more than just that.
As time went on, innovation continued. Phones saw drastic changes. Screens increased in quality, displays grew in size, countless features were added and quality of life improvements came with every new phone. Almost every new generation stamped out old problems.
But not anymore. Now, we're living in a time when all the excitement has dulled. Phones don't feel any better than they did a few years ago.
They may get a slightly high battery life or a slightly faster processor, but other than that, not much is changing.
Sure, we've seen some interesting developments the past few years. The introduction of phone notches, the area on the phone where the camera, speakers and other sensors reside that is now encroaching on otherwise seamless front displays, shook up the market so much so that the notch is seen in a large percentage of smart phones today. The push towards bezel-less, or borderless, screens has forced innovators to attempt to find a way to squeeze front-facing cameras onto the phone while taking up as little screen real estate as possible.
The bezel-less trend has given the smart phone market some interesting devices. Phones like the Nubia X, as reported by The Verge, choose to ditch the front-facing camera all together and instead add an additional screen to the back of the phone so you can take selfies with the rear. Camera phones like the Oppo Find X have introduced motorized cameras that pop up when you need to use them, and even the phone giant Samsung has tried a couple different methods to create a bezel-less device. The new Samsung Galaxy S10 has a hole punched in its display for the front-facing camera to sit inside, and the newly announced Samsung Galaxy A80 uses a flipping mechanism on its camera to rid its display of bezels.
Some of these ideas are great, and some of them aren't. But none of them are rethinking the way we see modern smart phones. The innovative design we used to see hasn't been spotted in a long while, until now that is.
The new Samsung Galaxy Fold is the first phone in a long time to rethink just what a phone is.
It has all the same features we've come to recognize in phones, but the added ability to use the phone as a tablet is a game changer.
And while a huge number of issues and question marks surround the device, its durability and more, it's important to look at the phone as what it is. In its current state, the Galaxy Fold isn't a product that should send you rushing to the stores, but it's a product that deserves recognition for bringing excitement back to the smart phone.
It's obvious what makes the Galaxy Fold so special. It's the fold.
While the phone is closed the exterior screen has a 4.6 inch screen, according to Samsung. While small, it's mainly used for checking notifications and completing simple tasks. Once you open up the phone, you're greeted with a 7.3 inch screen–only 0.5 inches less than the iPad mini's display.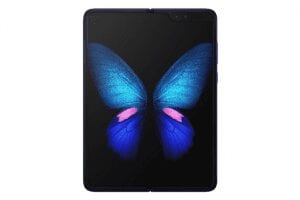 The phone boasts a total of six cameras; one front-facing exterior camera, two interior cameras placed on a within a large notch and three rear-facing exterior cameras.
When it comes to performance the phone is just as you'd expect from a top of the line phone. It's 8-core Snapdragon 855 processor is speedy, and its 12 gigabytes of RAM help it multitask better than any other phone out there today.
Too bad it's going to set you back $2,000 just to try out the first generation of foldable smartphones.
The Galaxy Fold seems like a great idea in theory, but some issues surfaced right before the device's official launch date. Many reviewers complained of screen issues and durability problems. Samsung's official statement on the issue boils the issues down to user error, but many of those whose phones have had issues are keeping with their claims that the Galaxy Fold has fundamental build issues.
Many have also complained that the exterior screen's extremely stretched out aspect ratio makes it somewhat hard to use. Many who have gotten their hands on the phone early say that the keyboard is almost unusable for those with larger fingers.
While there are many issues for this extremely expensive phone, it's important to look at what the Galaxy Fold really is. It's true innovation in the smart phone market. The Verge reported Apple saying that its decision to removing the headphone jack on newer iPhone models took courage, but doing what Samsung did—creating a new product with a own unique set of flaws so that something new and exciting can exist—that's real courage.
Once again consumers can get excited about new smartphones, because someone dared to do something different.
Featured Image courtesy of Samsung
Edited by Abby Bower