Smart home devices on a budget
These futuristic  gadgets can turn off your lights, or if you're University of Tennessee student Kat Peterson, help you order a pizza.
 "I love that even the simplest smart home stuff can help me do just about anything I can think of," Peterson said.
The way Peterson uses her Echo Dot is just one example of how homes are becoming one of the most exciting hubs for emerging technology. Every day it seems like a new innovative smart home device is hitting the market, and while it may seem like an exciting time to jump into the world of smart homes, the ecosystem can be expensive.
First off, what is a smart device?
Smart devices, like Alexa and Google Assistant, are pieces of technology that can connect to other electronic devices and interact with a human user to help control those devices.
For many, Alexa and Google Assistant appear to be a larger version of Siri, Apple's smart voice assistant launched with the iPhone 4S, that you can plug in to your wall at home. While Alexa and Google Assistant have the functionality of Siri, they have so much more packed under the hood.
Alexa and Google Assistant not only can complete simple tasks like setting reminders, acting as alarms, and searching the web, but they can also perform more complicated tasks like turning on multiple devices with a single voice command. Then can even let you know your day's schedule and estimated time of your morning commute as you wake up.
"Every morning is a little bit easier when I can have the news and weather read to me after just asking for it," UT student Grant Ladd said.
If you're willing to look deeper into each system, there are additional programming options for both Alexa and Google Assistant, but even the base functionality can be extremely satisfying to use.
What devices are available?
When it comes to smart home devices, there are two big players in the field: Amazon's Alexa devices and the Google Home line of products. Apple also has its own line of smart devices, but all of those devices have limited functions at much higher prices.
Amazon was the first major company to release a smart device series when it launched the Alexa line in 2014, but Google has been catching up since then. Since both lines of devices can do almost the same tasks and connect to the same systems, choosing one depends on the preference of the user.
Both Google and Amazon's product lines feature a large array of devices, and it may seem a little daunting looking at their respective price tags. Rest assured that there are plenty of options for the budget-minded spender.
Echo Dot / Google Home Mini
When it comes to smart home devices, voice commands are the most widely known controls. These are the functions that allow users to speak directly to a device to ask a question or make a request. While many people recognize and want this function, even the least expensive smart assistant devices with voice command can be pricey.
The price of a new Amazon Echo Dot starts out at $50. For a college student on a budget, this can be deal breaker, but if you're willing to pick up a secondhand Echo Dot on Ebay, you can get a first generation version for only $20.
The Google Home Mini is much more budget friendly at only $30 on the Google Store, Google's online retailer. If you're on a tight budget, you can pick up a new, sealed unit from Ebay for only $25. The Google Store also has a special offer where if you buy two Home Minis, the price for each comes down to $25.
Take full control with a smart display
If you're looking for a more expensive but nicer option, both Google and Amazon offer smart display devices.
The smart display lines both offer the same functionality as the Mini and Dot, but you'll also get a physical screen that can help you stream shows, see your alarms, check your calendar and reminders and watch videos.
It's a great option for those who might want a little bit more than a voice assistant without breaking the bank.
Both Google and Amazon have multiple options for smart displays.
The Amazon Echo Spot is about the size of a standard alarm clock with a 2.5" touchscreen on the front. While this size might not be best for streaming shows, it could be a great alarm clock.
The Echo Spot comes in at $100 on Amazon, but if you're willing to buy used, you should be able to pick it up for anywhere between $70 and $80.
Amazon also offers the Echo Show.
The Echo Show boasts a 10.1" HD touch display on the front as well as a pretty massive speaker on the rear. While quite a bit more expensive, it could easily replace a small TV and speaker in your dorm. The Echo Show also contains a front facing camera for video calls. Currently, the Echo Show runs at $180. If you keep an eye out, you may be able to snag it used for $150 on Amazon.
The Google side of the spectrum boasts plenty of options as well starting with the Google Home Hub.
The Home Hub comes in at $150. It includes everything you'd see on a Home Mini, has a 7" touchscreen display, built-in Chromecast and a full range speaker mounted on the rear.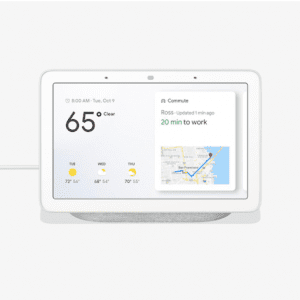 While a little pricier than the smaller Amazon Echo, the larger screen allows you to control your other smart devices with ease, but it doesn't make a strong argument for a TV replacement.
Luckily, the Home Hub sees plenty of price drops and regularly drops as low as $100 from a large number of retail and online stores.
Emily Weeden, a computer engineering student at UT, says she uses her Google Home Hub in her kitchen to learn new recipes while cooking. She also uses it to listen to music and monitor her smart security cameras.
If you're looking for a bigger screen though, look no further than the 10" Lenovo Smart Display. Despite not having the Google branding, the Lenovo Smart Display is fully supported by Google. This smart display contains every feature the Home Hub has, but with a bigger screen plus a camera for video calling.
The Lenovo Smart Display is a tad pricey at $200, but prices often drop down to $180 during sales.
Plug it in to a smart plug
When looking at smart devices, the simplest item you can purchase is a smart plug.
Smart plugs connect to your other smart devices and let you control the power to any object you plug into them. For example, if you have an old lamp sitting around that you'd like to turn on when you wake up, you can easily set up the smart plug to turn on your lamp at the time your alarm goes off. There are many other uses, but the main thing to remember is that smart plugs can be used with almost any device.
Many brands make smart plugs, but luckily it doesn't matter too much which one you pick. The best thing you can do is to make sure you're getting a fairly cheap plug–around $15 to $20– and to make sure its reviews are mostly positive.
Some of the technology you already have at home, like older TVs or incompatible smart TVs, may not be able to work with smart devices. That's where the hub comes in.
The hub will allow you to connect TVs, sound systems, and many other devices to your smart home devices. You can buy a Logitech Harmony Hub for about $60.
It's definitely more of a luxury, but the ability to control your TV, lights, and radio all from voice commands or your phone is something that many don't want to forego.
Options for different budgets
The amount you want to spend on smart home devices comes down to personal preference. You could do quite a bit with just a smart plug and your cell phone, or you could pick up multiple devices.
$50 – If you've got a budget like this, keep it simple and pick up an Echo Dot or Google Home Mini and a smart plug. With just this simple set up you can wake up to your alarm as your lamp turns on by itself. You can listen as your device tells you your schedule and the weather.
$100 – If you've got a bit more money to spend, you can switch your Echo Dot for an Echo Spot. Having a physical screen will make your smart home nicer as you can use the touch screen to control everything. If you went the Google route, try adding in a Logitech Harmony Hub. The hub will make controlling all your other devices extremely simple.
$150 – With this kind of budget, you can do a lot with the Alexa line. Maybe pick up an Echo Spot, Logitech Harmony Hub, and a smart plug or two. You'll cover a lot of ground with this set up. Google fans could pick up a Google Home Hub, Logitech Harmony Hub, and a smart plug. This way, you'll get the extra touch interface with the Google Home Hub's touch screen. You'll also get a pretty great speaker.
Even with a low budget, there are still plenty of options for those looking to try out smart home devices. It's easy to get intimidated by the huge number of products out there, but it really all depends on what you want our of your smart home.
Edited by Kaitlin Flippo and Abby Bower
Featured image by Marco Verch, courtesy of Creative Commons