No. 25 Lady Vols defeat Texas A&M 3-1
Tennessee gets its sixth-straight win against the Aggies 25-21, 25-12, 23-25, 25-19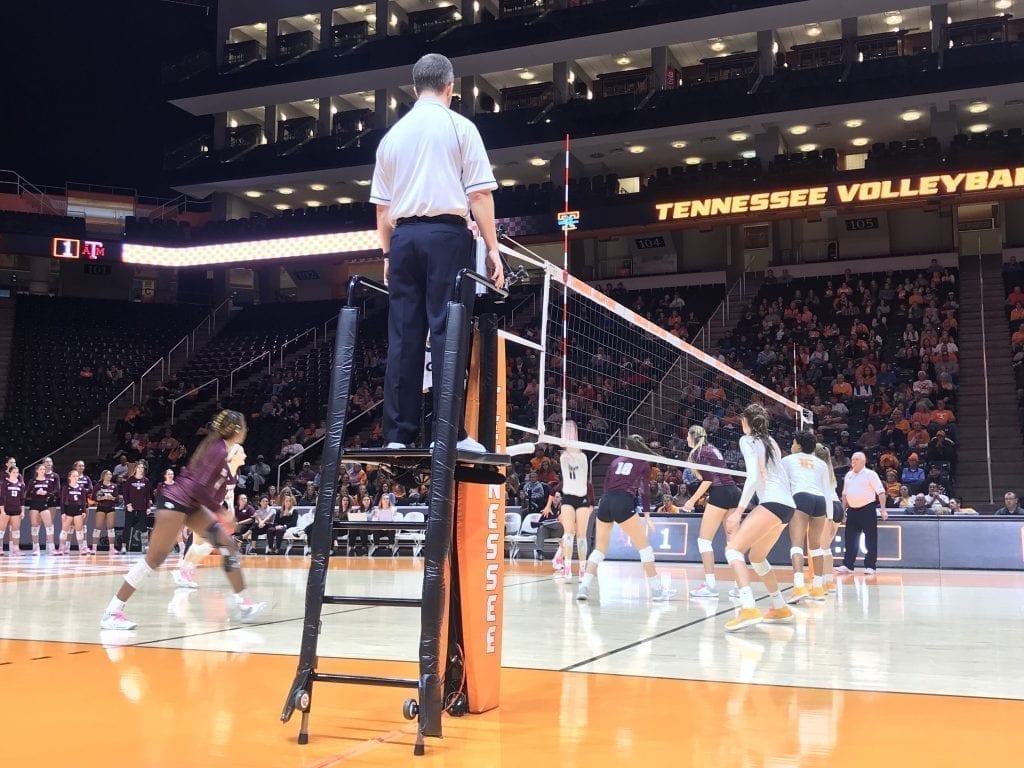 While some clamored to theaters to see "Bohemian Rhapsody" in its opening weekend, Tennessee Volleyball faithfuls came out to see "Killer Queen" Tessa Grubbs and the Lady Vols (20-5, 11-2 SEC) take on Texas A&M (13-12, 6-7 SEC). Grubbs again led the team in kills with 18 in Tennessee's sixth-straight win. The victory also marked the 23rd time Tennessee has clinched 20 wins in a regular season.
The Lady Vols took the first and second sets against the Aggies, the second in commanding style 25-12. However, 12 errors in the third set allowed the Aggies to edge past Tennessee 25-23. The Lady Vols bounced back in the fourth, winning the set and the match 25-19.
"Defense is really just a mentality," Lady Vol Madison Coulter said. "Our block was doing a really good job in the fourth set of setting up a solid block, so it was a lot simpler to find where we could dig in…and just play it up."
Teamwork remained a key for the Lady Vols, out playing Texas A&M in assists. Tennessee registered 53 assists to the Aggies' 42, 26 of which came from Sedona Hansen. Texas A&M's Camille Conner tallied 33 assists, but her efforts alone could not match Tennessee's offensive play.
Tessa Grubbs' three kills in the fourth set pushed the Lady Vols to their 12th home win, more than any other team in the SEC on home court. Tennessee now faces a three-game stretch on the road.
"Winning on the road is going to be a big thing for us because we have a huge target on our back being No. 25," Grubbs said. "We have to stay in the game completely, mentally in practice; we have to continue to grow as players; we can't just plateau."
The Lady Vols sit tied with Florida for second place in the SEC behind Kentucky (18-4, 12-0 SEC). Players attribute the program's success to first year head coach Eve Rackham.
"She's completely changed our mindset as a coach," Grubbs said. "She kind of came in like, 'this is a new year, I'm a new coach, we don't talk about the past.' Her fundamentals and techniques she has taught us have helped us a bunch, and mentally, she's able to keep us calm on the court and stay level headed."
Rackham came to Tennessee after the Lady Vols ended the 2017 season 12-15 with only five wins in conference play. Now, the Lady Vols are ranked in the Top 25 for the first time since 2012.
"One thing that I really love that our coach preaches is whatever game is next is the most important game of the season," Coulter said. "Regardless of what we did yesterday or even today, at 12 o'clock she told us in the locker room 'it doesn't matter.' We can keep all the good things we've done, drop the bad things, and all we're doing this week is focusing on getting better, improving in our departments and striving to win the next game."
The Lady Vols will face Mississippi State in Starkville next Sunday, Nov. 11 at 2 p.m.
Featured photo by Lexie Little
Edited by Chelsea Babin