No. 11 Lady Vols look for fifth straight win over Alabama
Tennessee looks to give the Crimson Tide their fifth loss in six games in Knoxville on Thursday.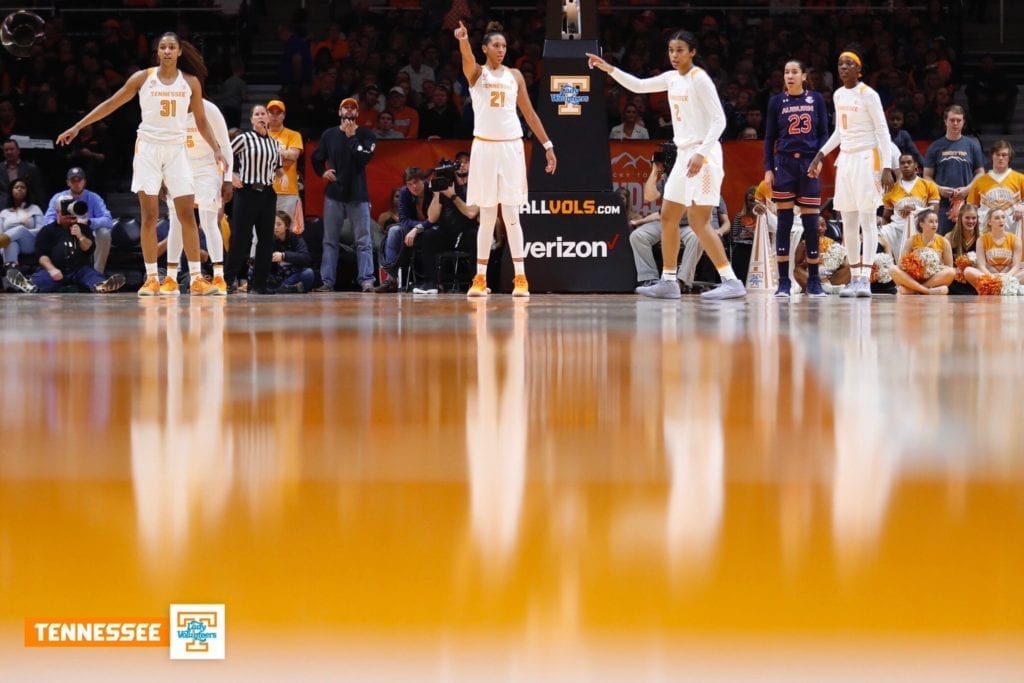 Alabama (15-10, 5-7 SEC) travels to Knoxville to take on the eleventh-ranked Lady Vols in Thompson-Boling Arena Thursday at 6:30 p.m. ET. Tennessee seeks its fifth straight win, as the Crimson Tide look to avoid losing five of their last six games.
In the last meeting between the two programs, Alabama upended the Volunteers in the second round of the SEC Tournament by a score of 72-64 despite a double-double from Mercedes Russell.
The Crimson Tide snapped a four-game losing streak Sunday with an 82-79 victory over Ole Miss. Each of Alabama's starting five players notched double-digit points. Guard Jordan Lewis led the Crimson Tide with a career-high 23 points and seven rebounds.
Alabama logged 10 steals and forced 15 turnovers from the Rebels. Still, the Crimson Tide gave up huge games to Rebels Shelby Gibson and Torri Lewis, who combined for 46 points and 12 rebounds. However, the Tide outscored the Rebels by 10 points in the second half, as junior Shaquera Wade hit a go-ahead layup to seal the victory with 36 seconds left in the game.
"I'm just really proud of my team today. They continue to battle," Alabama head coach Kristy Curry said after the win over Ole Miss. "We've had some crazy things happen and things that just don't go our way, but like I tell them, you have to make your luck."
Just two Alabama players average double-digit points per game; Hannah Cook and Ashley Williams top the leaderboard for Alabama. Lewis falls just below averaging 10 points per game but has notched 15 or more points in three of her last four games.
Tennessee head coach Holly Warlick and the Lady Vols are on yet another win streak. They have won their last four games including a 62-45 win over Georgia on Sunday. Center Mercedes Russell recorded her 1,000th rebound and is just one point away from securing her 1,500th point of her career.
"Im excited about our defense, I'm excited about our rebounding and really excited about our effort," Warlick said.
The Lady Vols held the Bulldogs to a season-low 46 total points and outrebounded Georgia by a 50-30 margin. Despite turning the ball over 27 times for the second time this season, Tennessee held the Bulldogs to just 30 percent shooting from the field. Georgia faced ball security issues as well. The Vols forced the Bulldogs to commit 20 turnovers. The Vols stole the ball 14 times.
"One thing about our 27 turnovers, a lot of those we turned it over, but then we forced them to turn it over. So we got a little sloppy, but at least if we're going to turn it over, let's force them to turn it over," Warlick said.
Tennessee got yet another double-double from Russell in the win on Sunday. Russell registered 13 points and 15 rebounds. The Lady Vols had three other players with over 10 points, including senior Jaime Nared who had a team-high 15 points and nine rebounds.
For Tennessee to continue its win streak, the Lady Vols must limit turnovers and feed Russell. The Crimson Tide have shown they struggle to stop dominant post play, so Nared and Russell will need to stay focused and score on Thursday. However, Lady Vols guard play must pick up some slack and take pressure off Nared and Russell.
Edited by Ben McKee
Featured image courtesy of Tennessee Athletics