Rob Patrick resigns as Tennessee's volleyball coach
Rob Patrick stepped down as head coach of Tennessee volleyball on Wednesday afternoon after 21 years in Knoxville.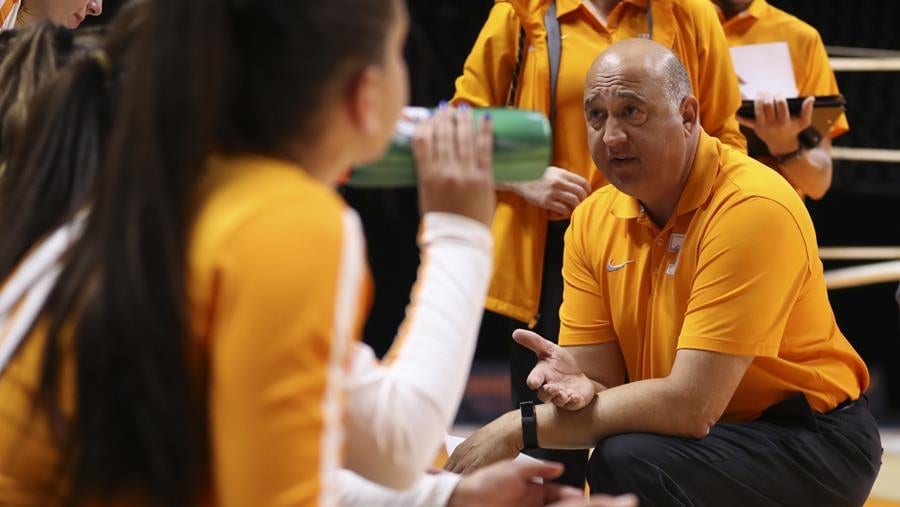 Rob Patrick, who holds the record for most wins (409) in Tennessee volleyball history has resigned as head coach of the program on Wednesday. Patrick coached 16 All-Americans and 64 All-SEC players and South Region honors.
"We're very appreciative of Coach Patrick's longstanding service to the University of Tennessee. Our program made tremendous progress under his leadership, and we wish him and his family nothing but the best in the future," said Associate Athletic Director Angie Boyd-Keck.
With the absence of Patrick, assistant coach A.J. Bonetti will take over as interim head coach of the Lady Vols. Bonetti, "demonstrated a tremendous ability to recruit and coach at a very high level," according to Patrick. Before coming to Tennessee two years ago, Bonetti spent seven seasons at UNC Wilmington.
Tennessee's best seasons under Patrick came in 2004 and 2005. In 2004, the Lady Vols notched a program high 32 wins and won the SEC Championship. Shortly after, Patrick received SEC and National Coach of the Year honors. In 2005, Tennessee cruised to the semifinals of the NCAA Tournament as Patrick once again received Coach of the Year honors.
Patrick led the Lady Vols to 20-win seasons 11 times during his tenure in Knoxville, and finished outside of the top four in the SEC standings just once from 1997-2012. More recently, Tennessee attended a program-record five straight NCAA Tournaments from 2008-2012.
"I would like to thank the University of Tennessee—and especially Joan Cronan—for hiring me and giving me the opportunity to coach at this special institution," said Patrick. "Finally, I must extend my heartfelt thanks to the incredible assistant coaches I worked with, along with all the talented student-athletes who worked hard and sacrificed for the success of Tennessee volleyball."
Although Patrick was the most decorated Volleyball coach in Tennessee history, the recent records of the team were less than impressive.
The Lady Vols have produced just one winning season in the last five years and tallied a 12-15 record in 2017 with a 5-13 record against SEC teams. Patrick and Tennessee had two four-game losing streaks against conference opponents this season and finished 11th in the SEC.
"This is the proper time for me to move on to other opportunities, which will allow me to spend quality time with my wife and two young daughters," said Patrick. "I am very proud of the academic and athletic successes we have accomplished during my tenure.
Tennessee will now begin looking for a replacement for Patrick according to the press release from the University.
Edited by Ben McKee
Featured image courtesy of UT Sports