Matchups to watch for against LSU
Tennessee will host LSU in their first game since the firing of Butch Jones. Here are matchups you need to keep your eye on Saturday.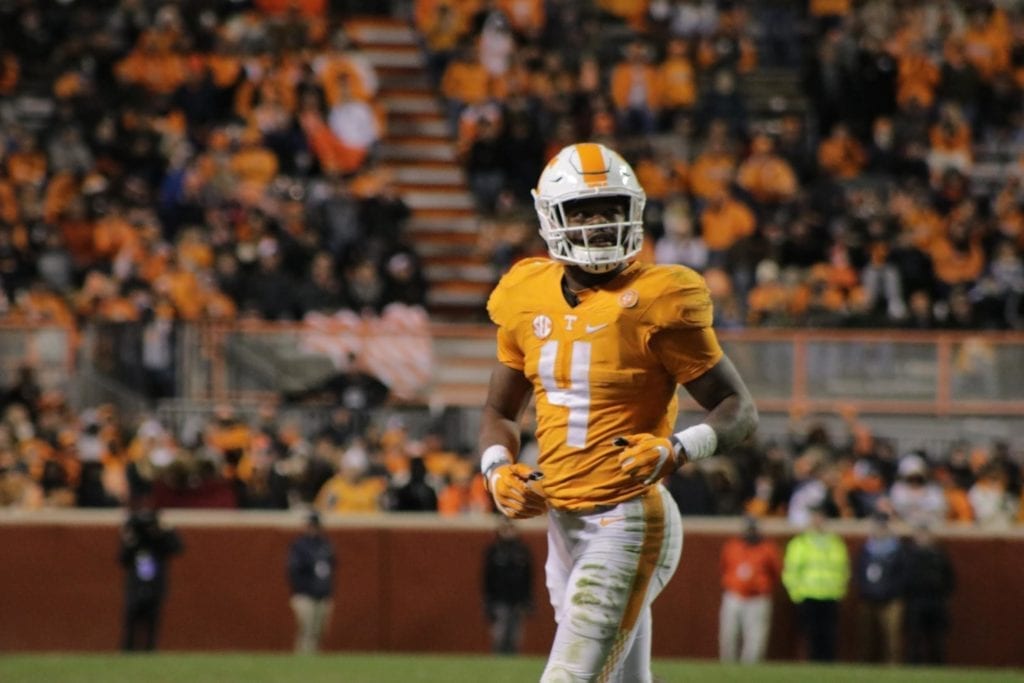 The LSU Tigers (7-3, 4-2 SEC) take a trip to Knoxville this weekend to clash with interim head coach Brady Hoke and the Tennessee Volunteers (4-6, 0-6 SEC). Hoke and the Vols look for a win to keep their bowl chances alive, while the Tigers are in search of improving their 2016 record.
Here are the matchups to watch for on Saturday in Neyland Stadium.
Tennessee running backs vs. LSU front seven
Tigers defensive coordinator Dave Aranda has the Tigers front seven playing great in 2017, and it could spell disaster for the Vols run game. This LSU defense held Alabama to just 116 rushing yards just two weeks ago, and will be taking on a depleted Tennessee offensive line. Vols running back John Kelly hasn't tallied a 100-yard rushing game in over a month, and the only tailback that has done it in that span is Ty Chandler two weeks ago. Still, the majority of Tennessee's success running falls on the offensive line.
LSU running backs vs. Tennessee front seven
This is the matchup that will most likely determine the outcome of the game on Saturday. The Volunteers run defense gave up over 400 yards on the ground to the Missouri Tigers last week. If defensive coordinator Bob Shoop doesn't whip the Tennessee front seven into shape, it could be a long day for the Vols. LSU running backs Derrius Guice and Darrel Williams have a combined 1,500 yards of rushing on the year and 15 touchdowns. If they're not careful, Guice could log his fifth 100-yard rushing game this season.
Tennessee quarterback vs. LSU defensive backs
Regardless of who the Vols quarterback is, Jarrett Guarantano or Will McBride, they will have their hands full with the elite Tigers secondary. LSU is No. 13 in the nation in passing yards given up per game and have only given up six passing touchdowns all year. Guarantano and McBride have each scored just one touchdown in the entire 2017 season. Tigers cornerback Andraez Williams has registered a team-high four interceptions, while Donte Jackson leads LSU in passes defended with nine.
Tennessee offensive line vs. LSU front seven
The Volunteers offensive line is completely and utterly decimated by injury right now. Tennessee has just five scholarship offensive linemen that are healthy at the moment, and they will face one of the best front sevens in the SEC this week. The Tigers defense, led by linebackers Devin White and Donnie Alexander, could terrorize the Vols offensive line in the pass and run game. Plus, Tennessee has consistently struggled on offense, and especially when their run-game struggles.
D.J. Chark vs. Tennessee secondary
Chark is the clear No. 1 target for LSU quarterback Danny Etling. He has over 700 receiving yards and two touchdowns on the season, and is easily the most targeted and talented receiver on the team. The next best receiver for the Tigers has nearly 500 less receiving yards than Chark. The LSU offense likely won't pass the ball much, but the Vols secondary has to make sure they don't give up any big plays through the air.
Featured image courtesy of Ben Proffitt
Edited by Ben McKee