Position grades from Tennessee vs. Kentucky
Head coach Butch Jones and the Tennessee Volunteers remain winless in conference play following a loss to Kentucky on Saturday. Here is the report card from the Vols loss.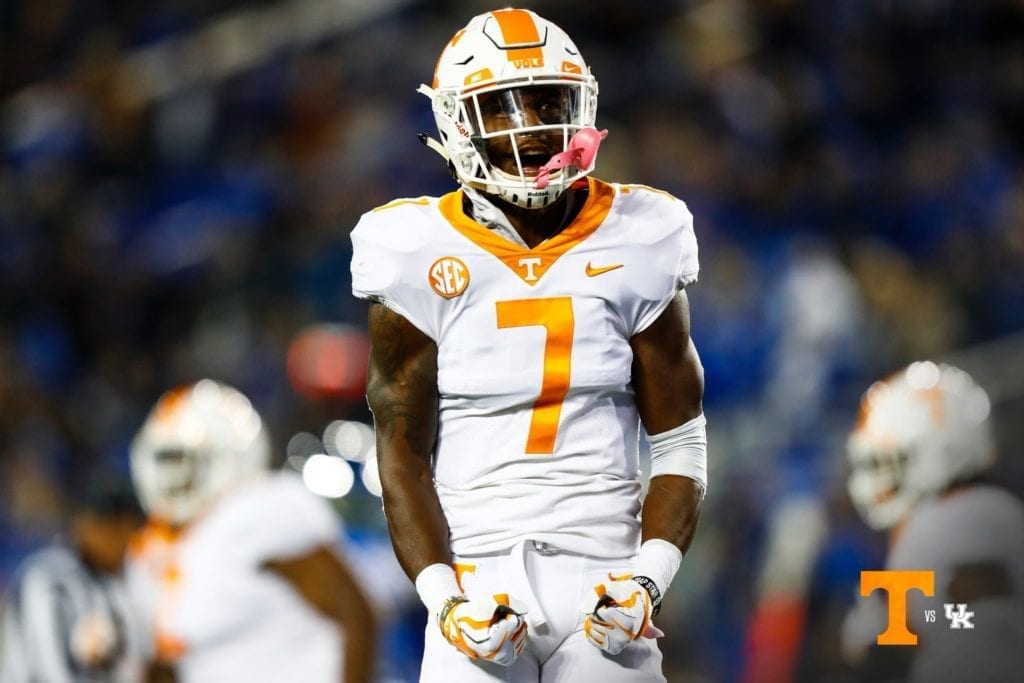 Butch Jones and the Tennessee Volunteers (3-5, 0-5 SEC) fell to the Kentucky Wildcats (6-2, 3-2 SEC) for just the second time in 33 years on Saturday. The Volunteers remain winless in SEC play and will have to claw their way into a bowl bid in the remaining four games. Meanwhile, head coach Mark Stoops and the Wildcats are bowl eligible for the second year in a row after beating Tennessee last week.
Quarterback: C+
Once again, Jarret Guarantano failed to get much help from his offensive line on Saturday. While Guarantano could have done a better job of getting rid of the ball faster, he was sacked seven times by the Kentucky defense. He had the most accurate performance of his career, other than his seven passes against Georgia, after completing 18-of-23 passes for 242 yards. Again, Guarantano has to do a better job of throwing the ball away, but overall, he played solid.
Running Backs: A+
Running backs coach Robert Gillespie has yet again proven that he is great at developing tailbacks. The talented stable of Tennessee running backs flourished in the absence of John Kelly due to suspension. Ty Chandler had the best game of his young career with 120 yards and two touchdowns, while Carlin Fils-Aime was consistent with 5.6 yards per carry for 73 yards on the ground. The Vols would be smart to use the depth they have at running back in coming weeks.
Wide Receivers/Tight Ends: B-
The Tennessee receivers and tight ends were targeted more times against Kentucky on Saturday than they have seen since the UMass game, and they handled it pretty well. It is concerning that Marquez Callaway caught just two passes, but the receiving corps seem to have improved their ball catching skills overall. Jeff George saw the most action in his career as he hauled in 59 receiving yards, while Brandon Johnson and tight end Ethan Wolf combined for six catches and 73 yards. There wasn't much to complain about for the receivers this week.
Offensive Line: D-
The Vols offensive line struggles continued against Kentucky, especially on the pass blocking side. Tennessee's offensive line gave up seven sacks and 12 tackles-for-loss, all while getting Guarantano killed for the second game in a row. Still, they helped lead the way for the 200-plus rushing yards and two touchdowns from the running backs. Overall, the Vols offensive line continues to put together abysmal performances.
Front Seven: D+
Although the front seven forced two of the four turnovers for the Tennessee defense, they still had a lousy day. The Volunteers front seven gave up nearly 300 yards of rushing yards and four touchdowns on the ground. Plus, the Tennessee defense, and especially the linebackers, continue to struggle making tackles. The front seven, just like the rest of the team, is plagued by injuries. However, it doesn't excuse this terrible of a performance.
Secondary: C+
The Volunteers secondary was only tested 16 times on Saturday by Kentucky quarterback Stephen Johnson, mostly because they were gashing Tennessee on the ground. Although he completed just six passes, Johnson connected with receiver Tavin Richardson and Blake Bone for big plays. The Vols secondary didn't play awful, but the few times they were tested it created problems.
Special Teams: C
There was nothing special in the return game from Callaway, as he tallied just five returns for 24 yards against Kentucky. Punter Trevor Daniel struggled with just three punts for an average of 37.0 yards. Kicker Brent Cimaglia made four of six field goals on Saturday with a long of 45-yards. It wasn't a great day for the Tennessee special teams, but it wasn't too bad either.
Edited by Ben McKee
Featured image courtesy of UT Sports