Indiana State vs. No. 25 Tennessee preview
The Volunteers are fresh off a close double-overtime win over Paul Johnson and Georgia Tech. This will be Tennessee's last game before SEC play begins.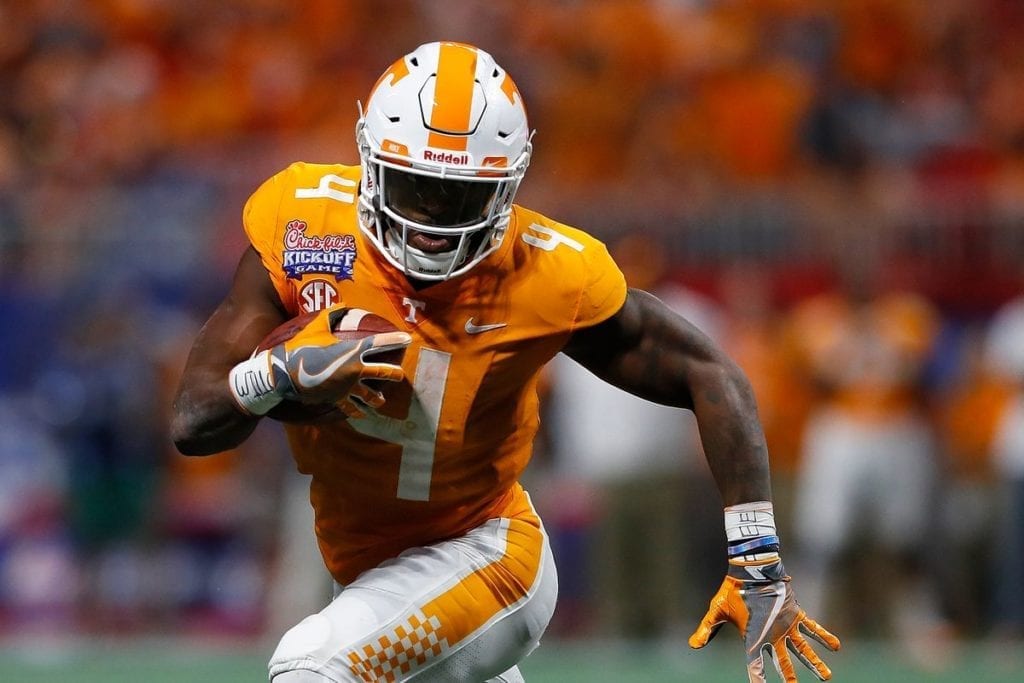 This Saturday, Indiana State (0-1) will travel to Neyland Stadium to take on No. 25 Tennessee (1-0). When the Sycamores and Vols square off, the two teams will be meeting for the first time in both programs history.
The Sycamores come into their game against Tennessee, looking to bounce back from a heartbreaking loss to Eastern Illinois last week. New Sycamores head coach Curt Mallory had a debut last Thursday in which he would love to forget about. Eastern Illinois threw a go ahead touchdown pass with just three seconds left on the clock. Indiana State's rushing kept them in the game as they had 160 total yards on the ground, with 154 yards coming from running back Lemonte Booker. When it came to throwing the football though, it was a different story. Both of the quarterbacks that played for the Sycamores combined for just 133 yards for one touchdown and an interception. The game was fairly even between the two teams, but the two turnovers and a missed field goal were the breaks that Eastern Illinois needed to seal the game.
Booker ran for a go-ahead touchdown with less than five minutes left in the game, but Eastern Illinois went on an impressive 69-yard drive to win the game. On defense the Sycamores were stout against he run and held their opponent to just 76 yards. However, they gave up 202 yards and a touchdown through the air which led to the 22-20 loss. The Vols will be facing a shaky and injured Vols offense on Saturday, but the Tennessee running game will likely be what gives them fits.
Tennessee managed to squeak out a double-overtime win on Monday in Atlanta over Georgia Tech. However, some fans were left with more questions than answers about Butch Jones and the Vols. Starting quarterback Quentin Dormady had a less than stellar game even though his stats looked solid. Dormady threw for 221 yards and two touchdowns, but still looked fully unsettled in the pocket for most of the game. More problems arose on the offense after No. 1 receiver Jauan Jennings was ruled out indefinitely with a wrist injury against the Yellow Jackets. Still, receiver Marquez Callaway proved that he was the go-to man on Monday with 115 yards receiving and two touchdowns.
One group that doesn't have any concerns is the Tennessee running back room. John Kelly proved to be one of the most explosive backs in the SEC after his 128 yard and two touchdown performance. Kelly will receive more help up front with offensive tackle Drew Richmond returning this week after he was suspended for the opener.
On the defensive side, it couldn't have gone much worse for the Volunteers against Georgia Tech. They were shredded for over 600 yards of total offense, 535 of those yards being on the ground. Linebacker Daniel Bituli had a career high 23 tackles against the Yellow Jackets that paired with a combined 31 total tackles from fellow linebackers Colton Jumper and Cortez McDowell. The defensive line was the most concerning aspect of the defense, as only Darrell Taylor seemed to get off his blocks and have a consistent impact throughout the game. Not much was seen from the defensive backs against the famous Georgia Tech triple-option, but it was clear that starting cornerback Justin Martin had his fair share of struggles. Saturday's matchup with the Sycamores will be Tennessee's chance to straighten out its blemishes that were exposed on Monday night.
Indiana State's keys to success:
It is unlikely that the Sycamores will be able to halt the unstoppable train that is John Kelly on Saturday, but if they manage to do so, they can stay within striking distance. Forcing Quentin Dormady to throw the football as much as possible is the only chance that Indiana State has of staying in the game. On offense, they will have to win the line of scrimmage and test the Vols cornerbacks through the air to in order to be successful.
Tennessee's keys to success:
Finding a rhythm on offense is paramount for Tennessee in this game, and for the rest of the season. Dormady will have to live without Jennings at receiver, and use Callaway, as week as the other various talents to his advantage. Catching the football has to become a priority, as there is no excuse to have as many dropped passes as Tennessee had on Monday. Defensive coordinator Bob Shoop will need to restore his defense's confidence after the beating they took at the hands of Georgia Tech. Finding rhythm on both sides of the ball is the key for a Vols win.
Prediction:
Dormady will finally smooth things out after a rough first start and a week of working closely with his injury-ridden wide receiving corps. Having Richmond back along the offensive line will bring more consistency to the run game, where Kelly and the rest of the running backs will dominate. On defense, the Vols will restore some of their confidence in their defensive line and secondary going into week three against Florida. Tennessee will cruise to a 45-10 victory over Indiana State in Neyland Stadium on Saturday.