Five biggest takeaways from Tennessee's thrilling win over Georgia Tech
No. 25 Tennessee beat Georgia Tech 42-41 in double-overtime on Monday night. Here are the five most important takeaways from the Vols' incredible victory.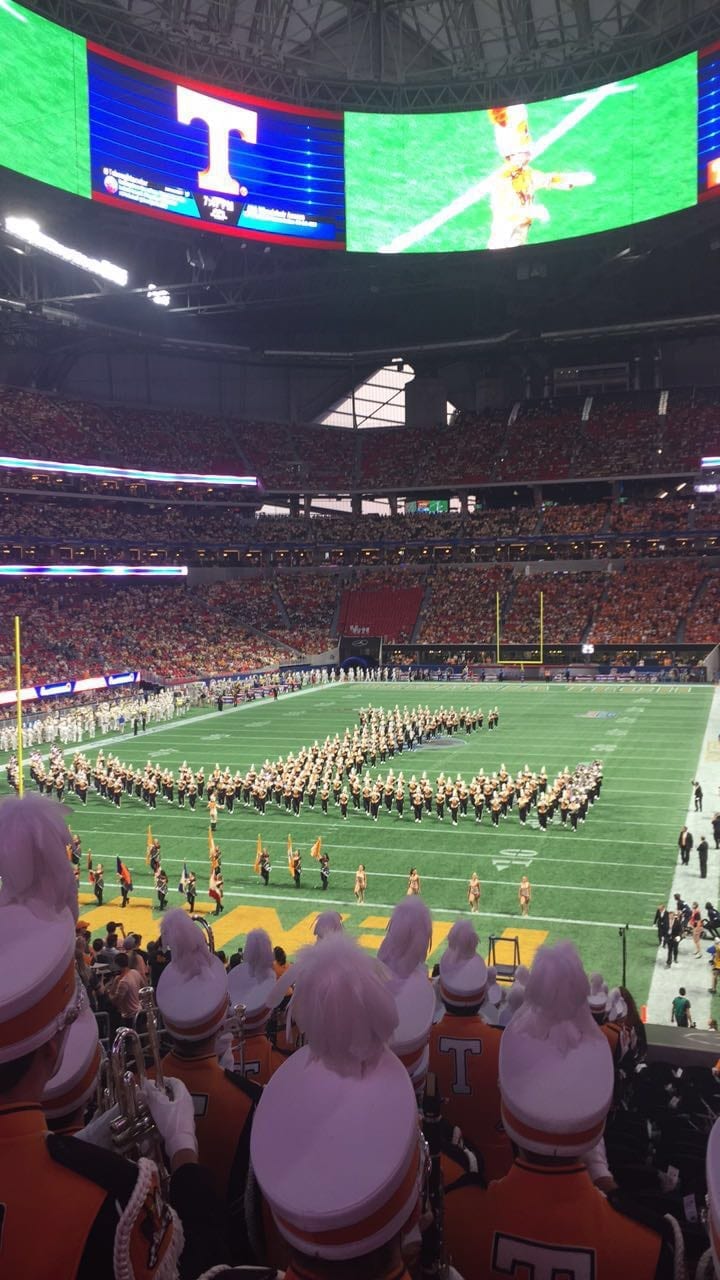 If you were able to stay up for Tennessee's jubilant, nerve-wracking, 42-41 double-overtime win over what seemed to be a better Georgia Tech team in its season opener; then you understand how difficult it might be to decide on the five biggest takeaways from the Vols' season-opening win. But, it has to be done, so here we go:
The defense needs work, and a lot of it.
On Monday night, the Yellow Jacket offense punctured Tennessee's defensive front and secondary like a needle poking into a balloon, racking up an astounding 535 yards in total.
Granted, the defensive line showed promise, as Darrell Taylor and Jonathan Kongbo wrecked havoc on the Yellow Jackets' backfield. But, it wasn't enough to prevent that classic misdirection, which fooled Bob Shoop's defense more than any we've seen in the last couple of seasons.
For example, Georgia Tech quarterback TaQuon Marshall, who made his first career start Monday night, rushed for 249 yards, but he also notched 120 yards through the air. Also, the Vols' secondary played too soft on the final drive in regulation, which gave Marshall the opportunity to lace the ball to his receivers on several underneath routes. Moreover, when the Vols' secondary played tighter defense, it still allowed big plays over the top. Rashaan Gaulden, Emmanuel Moseley and co. made plays when absolutely necessary, and sometimes not even then.
Though, the truth is that the Vols' entire defense – except maybe Daniel Bituli – was completely outplayed on the ground and through the air. Bituli notched a whopping 23 tackles on the night, and he also forced a fumble.
In fact, most of these players comprise the reason Tennessee found itself in a 28-14 hole early in the fourth quarter. Yes, Tennessee stopped Georgia Tech on the final play.
But, what if the quarterback had been Jalen Hurts instead of Marshall?
Or, what if Marshall had gone farther right on the final option play, which he did not, and still had the B-back out wide for a lateral? Well, if either one of these were the case, Vol fans across the country would be sulking right now. But, they aren't.
Instead, they're taking a breath of fresh relief, which brings me to my next takeaway.
Resiliency, Resiliency, Resiliency
As many know, the word "resiliency" is used a lot by Tennessee head coach Butch Jones. In this case though, the Vols' head man actually has a point.
At one point, Tennessee trailed 28-14, and the exhaustion and heartache on the Vols' sideline were both equally palpable throughout Mercedes-Benz Stadium. Most people, including yours truly, thought Georgia Tech would pull away from there, putting the Vols away for good.
Too bad most people don't know this Tennessee team. Last season, the Vols were nicknamed the "Cardiac Vols" for a reason. They showed their ability to take games down to the wire, always coming back in spectacular fashion to pull miraculous wins like rabbits out of a hat. Or, through the first five games, they did.
Needless to say, the willpower and toughness from last season's team has at least for one game, transferred into the 2017 Vols as well. The orange-clad Vols could have stopped believing, much like their fans already had.
Instead, the offense found its footing, and the defense held on when it needed to. This included a blocked field goal by former walk-on Paul Bain, and the 2017 Vols emerged victorious from one hard-fought battle.
Marquez Callaway picked up slack where other receivers couldn't
Going into this game, many thought Callaway would be the next breakout receiver for Tennessee. Needless to say, "many" were right. Callaway hauled in four receptions from Quinten Dormady for an eye-popping 115 yards and two enormous touchdowns.
He played well above par, which could level out the balance between Callaway and the rest of Tennessee's receiving corps. At one point, Dormady tossed up a floater to the corner of the end zone. Then, in a manner much like that of Randy Moss or Kelvin Benjamin, Callaway out-jumped a Georgia Tech defender, snatched the ball and cradled it for a game-changing score.
But, where Callaway played lights-out, Tennessee's other receivers looked completely in the dark. While not all of Dormady's passes were on-target, most balls thrown in the first half hit receivers' hands, only to fall helplessly to the turf.
This can't happen against Alabama.
In fact, it can't even happen against Indiana State if the Vols want to keep the Sycamores from stacking the box to prevent the run on every play. Granted, Tennessee was without Josh Smith, a major leader in this position group. But to have that many missed balls in one half is irreproachable.
Good thing Callaway stepped up when he did, or else Vol fans would've been grumbling all the way back to Knoxville.
(On another note, fans were quick to point out that this horrible receiving performance might not have happened if Butch Jones had been able to retain former wide receivers coach Zach Azzanni, who is now in the same position with the Chicago Bears. Also, Dormady could've thrown much more accurately than he did, but Tennessee's wide receivers' collective inability to catch in the first half seemed more apparent than Dormady's inability to hit the broad side of a barn.
John Kelly is a workhorse
Last season, John Kelly made himself known as an undeterred back who wouldn't be taken down without a fight. This season, it's the same thing.
Monday night, Kelly provided a much-needed spark for Tennessee's offense.
His performance allowed the Vols to open up the passing game and begin clawing their way to victory. On the ground, Kelly pounded his way to 106 yards on 15 carries, and he also made a viable target through the air with five catches for 35 yards. Oh, and he also added four touchdowns, showing just what kind of an impact Kelly should make this season.
Going into the Vols' 2017 season, fans were worried about Tennessee's running game. They had good reason to be, as the only running backs who look anywhere close to game-ready (behind Kelly, that is) were Ty Chandler and Carlson Fils-Aime. Yes, there could be improvement.
But, thanks to Kelly's ability to run hard downhill and duck through would-be tacklers, anyone worried about Tennessee's run game can rest easy knowing the ball is in his hands.
Smaller names make huge difference
Daniel Bituli.
Paul Bain.
Those names might not make a huge difference to the average Tennessee fan. Or, they wouldn't have before Monday night. Bituli, a linebacker making his first career start for the Vols, racked up an astounding 23 tackles and forced one fumble. (By comparison, Rocky Top Insider's Nathanael Rutherford tweeted that former Texas A&M Myles Garrett totaled 33 tackles at the end of last season.) Impressive? You'd be right.
Moreover, Tennessee's defense stepped up when it needed to, but special teams also came in clutch. Punter Trevor Daniel pinned the Yellow Jackets back deep several times, and Tennessee gunners got to any Georgia Tech punt or kick returner before he could dash through an opening.The biggest special teams play of the night though, came from the second name seen at the top of this takeaway. Paul Bain, a walk-on from nearby Powder Springs, Ga., blocked what would've been the winning field goal for Georgia Tech at the end of regulation.
Tennessee's defense couldn't hold its own, but Bain saved the day, sending the game into overtime and Vol fans throughout the stadium into an absolute frenzy. After the game and his incredible feat, Bain tweeted, "When God says it's your time, it's your time."
Indeed it was.
This game was a fun one to watch, as well as to write about, but Tennessee has a lot to fix before its home opener against Indiana State. The Vols will take on the Sycamores in Neyland Stadium this Saturday with kickoff slated for 4:00 p.m. ET. The game can be watched on the SEC Network.
Sports editor Jake Nichols has been part of the TNJN staff in two different capacities. His freshman and sophomore years, Jake worked as a staff writer before moving on to write for Rocky Top Insider, and he also worked with VFL Films and the SEC Network for a semester his junior year. When asked the summer before his senior year to return to TNJN as the sports editor, Jake jumped at the chance to end his time in Knoxville working with the organization he first began with as a freshman. Jake is excited to help lead younger writers, much like former editors Cody McClure and Jordan Dajani aided him. Jake also does freelance sports coverage and photography for The Mountain Press in Sevierville, Tenn., and in his spare time, he can be found with family, his girlfriend or driving his Jeep, most likely with his Canon in tow. Be sure and follow Jake on Twitter and Instagram at @jnichols_2121, and keep up with TNJN Sports on Twitter as well!