Week 11 SEC football reactions
With the college football season winding down, postseason play is beginning to take form. In the SEC, there was a major debut and the SEC Championship is one step closer to having its competitors locked in.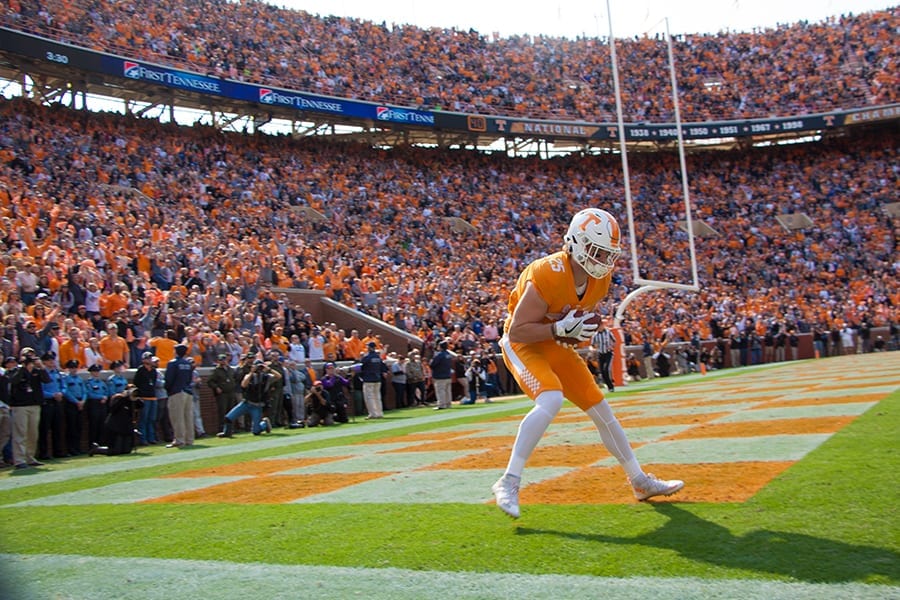 It was another eventful week in college football, and that included the SEC. All 14 teams played, and every game was an in-conference clash, which made this week even more important.
A division was clinched, the race for the other gained a bit of clarity and there was an impressive debut. Without further ado, here are the reactions from Week 11 in the SEC.
This is Alabama's world
This is something most already knew, but it's nice to get one step closer to it being official. With the Crimson Tide's destruction of Mississippi State and Auburn's loss to Georgia, Alabama has already clinched the SEC West and its berth in the SEC Championship game.
At this point, it's difficult to continue coming up with new words to describe how good this team is. The Tide has six wins over ranked teams this season, and four of them came on the road. That's something that doesn't happen very often. There's a reason it's called "home-field advantage", but Alabama doesn't seem to care about that.
The Crimson Tide has only played in one game that was decided by single-digit points this season —a 48-43 victory over Ole Miss in Week Three. Every other game they've played has resulted in a double-digit victory for the Tide. Alabama has won by at least 28 points six times in 10 games. That's unbelievable.
And they've done all of this led by a true freshman quarterback. Imagine how good this team will be once Jalen Hurts gains more experience. It's scary to think about.
If anyone out there tries to deny that Alabama is clearly the best team in the country, then in the words of the great D.J. Khaled, "Don't play yourself."
There's finally some clarity in the SEC East race
To put it mildly, 2016 has been a down year for the SEC East.
The division as a whole isn't very good at all, and it's as if no one even wants to win the division. However, after Saturday's games, there's finally some clarity on the race to win the East.
With Florida's 20-7 win over South Carolina, the Gators now only need to defeat LSU to win the SEC East for the second straight year. However, that's easier said than done. This game was originally scheduled to take place in Gainesville, but due to Hurricane Matthew earlier in the season, it will now be played in Baton Rouge.
LSU is coming off a very impressive 28-point win over Arkansas in Fayetteville, and despite winning, Florida continued to struggle offensively against the Gamecocks.
However, if the Gators lose to the Tigers, there is another clear scenario. Tennessee — despite three losses — would win the SEC East if it wins its final two games against Missouri and Vanderbilt.
There was a brief possibility of a six-way tie in the East, but now it's down to the Gators or the Vols.
It would be a nice way to cap off the season for either team, even though they would both lose by 20 points or more to Alabama.
Welcome to the SEC, Shea Patterson
After Chad Kelly went down for the rest of the season, Ole Miss decided to burn freshman Shea Patterson's red shirt. This meant that his first start — and his first collegiate playing time — would come on the road against a top-10 Texas A&M team.
It didn't look too good early on in the game. At halftime, the Aggies led 21-6, and after a scoreless third quarter, held that lead going into the fourth.
None of that mattered to Patterson, though.
The dual-threat, No. 20-wearing quarterback proceeded to show poise and playmaking ability as he led the Rebels back into the game.
Behind Patterson's play, Ole Miss scored 23 points in the fourth quarter to shock A&M and secure a 29-28 comeback victory.
Patterson went 25-for-42, throwing for 338 yards, two touchdowns and one interception. He also had 64 yards on the ground. In his first college game, many saw shades of Johnny Manziel in Patterson.
If Ole Miss fans were worrying about what life after Chad Kelly would be, they should worry no more. Patterson will be a great one.
Edited by Dalton King 
Featured image by Sumner Gilliam
Adam is the Assistant Sports Editor for the Tennessee Journalist and a Junior at UT. Most of his free time is spent watching sports, listening to good music, and enjoying life. If you wish to contact him, you can email him at amillike@vols.utk.edu, follow him on Twitter, @AdamMilliken14, or find him at https://www.linkedin.com/pub/adam-milliken/109/a89/a32.