Vols to watch against South Carolina
Tennessee faces South Carolina after its bye week. Here are a few players (and an entire position group) to watch for against the Gamecocks.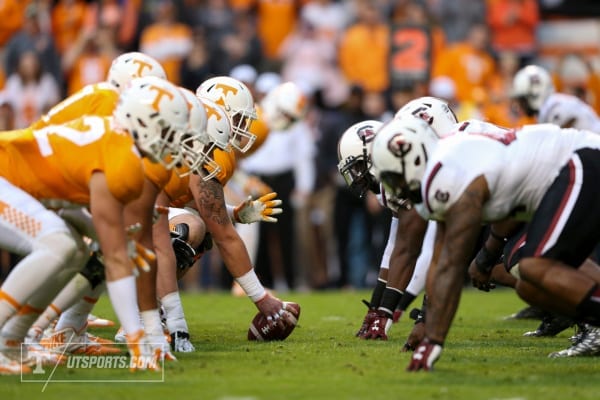 Coming off a much-needed bye week, Tennessee travels to Williams-Brice Stadium to take on the 3-4 South Carolina Gamecocks later tonight.
South Carolina is fresh off a win over UMass in a game where freshman quarterback Jake Betley's redshirt was pulled. In his debut, Bentley performed admirably enough to earn another starting nod after head coach Will Muschamp felt the offenses needed to head in a different direction.
The Vols enter the game with a solid list of players who'll be inactive due to injuries. However, a positive outcome of the bye week was that head coach Butch Jones announced the much-anticipated return of lineback Darrin Kirkland Jr. Jones also added that the entire offensive line returned to practice on Monday and would be assessed throughout the week.
Other notable returners include linebacker Cortez McDowell, as well as cornerback Baylen Buchanan. With all the returning players, here are the Vols to watch against South Carolina.
Darrin Kirkland Jr., Linebacker
Kirkland suffered a high ankle sprain earlier this season in the Battle at Bristol against Virginia Tech. With Jalen Reeves-Maybin missing the majority of the season as well, Kirkland's absence has been a huge blow. Kirkland might start the game a bit rusty, but once he gets his legs under him and become comfortable with game speed, he'll make plays for the orange and white.
John Kelly, Running back
Sophomore running back John Kelly should receive more touches this week with Alvin Kamara being inactive due to a knee injury. Based on his small sample size, Kelly has impressed and improved, averaging 6.1 yards per carry with two touchdowns, the same amount of rushing touchdowns as starter Jalen Hurd. Tennessee loves to run with Hurd as the primary back, but don't be surprised if Kelly gets his fair share of opportunities later tonight.
Entire offensive line
Instead of singling out one member of the offensive line, the whole offensive line is worth mentioning because for the first time in weeks, it should be fully healthy. While South Carolina's defense has been dominant at points this season, they've also struggled at various points. With the combination of Hurd and Kelly, 200 rushing yards is a legitimate possibility for Tennessee.
Joshua Dobbs, Quarterback
Against a mediocre team, Dobbs should have a strong performance. Throughout the season, he's been fairly consistent, aside from the Alabama game. He's always a threat to run the ball, but this season, Dobbs is on pace to set career highs in passing yards and passing touchdowns. If the offensive line can hold off the Gamecocks' pass rush, then Dobbs should have a huge game.
Edited by David Bradford
Featured image by Craig Bisacre, courtesy of Tennessee Athletics