Matchup to watch: Tennessee front seven vs. South Carolina offensive line
In this week's matchup to watch, we examine Tennessee's front seven vs. South Carolina's offensive line. Can the Vols' take advantage of a suspect front five, or can the Gamecocks keep Derek Barnett and company in check?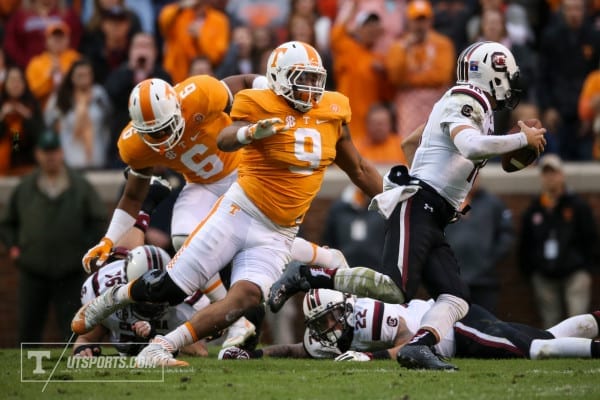 This weekend, Butch Jones and the Tennessee Volunteers will travel down to Columbia, South Carolina, to take on Will Muschamp and the South Carolina Gamecocks in a game that is pivotal in the race for the SEC East. Last week, the Gamecocks earned a much-needed win against UMass, while the Vols were able to heal during their bye week.
Around this time of year, both teams fight harder than the first half of the season and the outcome will likely be closer than what many expect. On paper, Tennessee looks like the better team. However, when you break down the matchups, both teams are closer than many believe them to be. This biggest matchup to keep an eye out for is between the South Carolina offensive line and the Vols' front seven.
Tennessee has arguably one of the best pass rushers in the SEC in Derek Barnett. He's performed up to those standards all season long. Through seven games, Barnett has 32 tackles, 11.5 tackles for loss, six sacks, two forced fumbles and an interception. Unfortunately, the rest of the front seven hasn't played up to Barnett's level on a consistent basis. LaTroy Lewis and Corey Vereen have at times disappeared in the pass rush, while defensive tackles Shy Tuttle and Kendall Vickers have also been inconsistent. In addition, highly anticipated JUCO transfer Jonathan Kongbo hasn't lived up to his potential yet.
Yes, the Vols have been riddled with injuries to key players such as Khalil McKenzie, Jalen Reeves-Maybin and Darrin Kirkland Jr., but there's no excuse for the defense's performance so far. Tennessee ranks near the bottom in the SEC in sacks (12th), total tackles (10th) and is 104th in the nation in run defense. Thanks to the bye week, Tennessee will be healthier this week, but if the Vols want to win this crucial game, they must take advantage of the Gamecocks' weak offensive line.
So far this season, South Carolina's offensive line has been abysmal. They've allowed 18 sacks, provided no support for the ground game (122nd in the nation) and the offense overall is ranked dead last in the nation. They've only compiled 118 total points and 14 touchdowns. Things may change this week with the emergence of Jake Bentley at quarterback, but behind a weak offensive line, that may be asking too much from the freshman.
But if nobody else aside from Barnett can apply pressure, then this rivalry game will be close like it usually is.
Edited by David Bradford
Featured image by Donald Page, courtesy of Tennessee Athletics
Sports writer for the Tennessee journalist and sophomore Business Analytics Major at UTK. Somehow finds time to balance writing for TNJN and being in the Pride of the Southland Marching Band. Follow him on Twitter @bwoody_72