Hate message awaits Pride Center after long weekend
"While there are a lot of accepting, wonderful people on campus, and I don't believe that hatefulness is the majority, it's still ever-present and it's just exhausting," said Ashley Campbell.
A hateful message awaited students at the University of Tennessee's Pride Center on the morning of Tuesday, Sept. 6.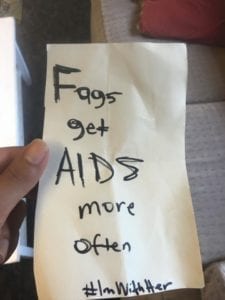 An unidentified suspect ripped the center's rainbow flag and placed a homophobic note in the window over the weekend.
The Pride Center posted on their Facebook page that "this is the environment that we face so often."
According to the University of Tennessee Twitter account, a bias incident report has been filed and the UT police department is now investigating.
The university also stated, "Incidents like this have no place on our campus."
Students involved with the Pride Center said they are not surprised when hateful acts occur on campus.
"It's something that when it happens, you're not crazy shocked that it happened, but it's still very upsetting when it does," sophomore Sarah Swinford said.
Senior Ashley Parker highlighted that acts of aggression have been consistent throughout her years at the university.
"It's really evident, the intolerant climate on campus when things like this happen…This has been a continued problem for years and years, and it's only getting worse and more visible," she said.
Last year alone, there were multiple examples of hostile messages targeting the
LGBT community. These include individuals snapping and throwing away signs, stealing flags, smashing a window at the center, defacing a Pride painting on the Rock and scratching out the acronym "LGBT" on the center's entrance sign.
Students at the Pride Center are combatting hateful messages on campus every single day.
"I personally do feel like there's quite a few intolerant people on campus," sophomore Chase Harris said. "They're not the majority, I would say, but they are certainly very verbal in their stance against us."
According to the Princeton Review, the University of Tennessee ranks number ten in the nation for the most LGBT unfriendly schools.
Students at the Pride Center said the biggest issue was the lack of support from university administration. They cited that Danny Glassmann, the Assistant Dean of Students, remains the only administrator to make any effort of support after today's incident.
"After the Office of Diversity and Inclusion was defunded, it is really easy to feel like we don't matter basically," said junior Audrey Parker.
Despite the wake of adversity within the LGBT community on campus, the Pride Center says they will continue to spread a message of love.
"We are here to stay. We are doing our work to try and represent the community, and we are trying to change what's happening," Harris said.
Chancellor Jimmy Cheek sent an email to students Friday afternoon and said investigators have reviewed security footage and will be exploring possible leads that will hopefully lead to an arrest. Cheek advised students to report any information that could help UTPD in this investigation by calling 865-974-3114.
To report an incident involving harassment, intimidation or discrimination, visit bias.utk.edu.
Featured image by Ashley Sharp
Edited by Taylor Owens