SGA profile: Pennycuff and Edwards hope to Challenge the status quo
Get to know the Challenge Campaign, Alex Pennycuff and Fuller Edwards, running for student body president and vice president.
They want to be a voice for the students, not to the students.
Alex Pennycuff and Fuller Edwards, two juniors studying supply chain management, are running for student body president and vice president because they want to be vehicles for change on campus.
Most students have heard of the Challenge campaign, but there are a lot of things that people may not know about the two candidates. For instance, Fuller Edwards' love of "dad jokes."
"I have lots of dad jokes, they're pretty bad but sometimes there's a good one," Edwards said.
Pennycuff added, "I think one that he really likes to hang his hat on is 'Grab your broomsticks cause it's a mess,' from the movie 'The Campaign.'"
In addition to telling "dad jokes," Edwards enjoys spending his time watching Marvel television shows and movies. He started out as a Fraternity Park Senator his freshman year and then served as a Haslam College of Business senator and peer mentor. Edwards is also on the student conduct board, the greek judicial board, and is a member of Sigma Chi fraternity.
Edwards came to the University of Tennessee from Memphis, and said even though he was unsure of his college choice, he knew he made the right decision within his first week at UT. He decided to take an active role in the Student Government Association from the start.
"When I was a freshman I didn't really know much about SGA but I kinda wanted to just get involved and I joined and thought, 'Wow, this is really useful information. I like knowing what's going on at our university so I can tell other people what's going on."
Edwards and Pennycuff were roommates their freshman year in Venture, the business Living Learning Community and have stuck together ever since.
Pennycuff, a Virginia native, spoke on why he chose to cross the state border and attend the University of Tennessee.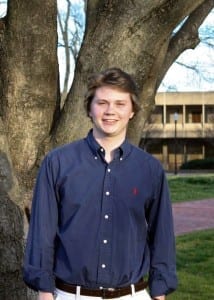 "I wanted to get out of Virginia. That's were I want to go back and live the rest of my life, so I wanted to use this college time to get out of my comfort zone and go meet a bunch of people," he said.
Pennycuff has served as an off-campus senator and participated in the LeaderShape Institute. He is a member of Sigma Alpha Epsilon fraternity where he serves on the judicial board. When he can find some free time, Pennycuff loves to golf and mountain bike.
Through the Challenge campaign, the two candidates hope to make some of their ideas for change a reality.
Addressing several of their policy points, Pennycuff said, "We want to make SGA a watchdog for our tuition dollars. If we are not watching where our tuition is being spent, no one is. Parking is a huge issue here so we want to look into a second Fort route and also separating the Neyland express from sorority village. If we can get a second fort route it will make students more likely to go to class on a daily basis as well as reduce the number of parking spots they will be taking up."
Edwards spoke on their plan for a new alcohol policy on campus, with safety as a primary focus.
"The policy that we decided would best fit UT is allowing students of legal age to drink in their dorm room, private room, or apartment on campus. If a student organization wants to hold an event and serve alcohol to students of legal age they can do so by submitting a site permit to the division of student life," he said.
As their senior year approaches, Pennycuff spoke on the legacy the Challenge campaign hopes to leave behind.
"We want our legacy to be that we were a voice that was for the students and that we accurately represented every student on this campus, and when things got hard we didn't give up. We didn't just submit, we went out we gathered petitions and we gave it our all to do everything that we could for the students of Tennessee," he said.
With elections this Tuesday through Thursday, Edwards added, "Campaign season is like a box of chocolates, you never know what you're gonna get."
To learn more about the Challenge campaign, check out their Facebook. Students can vote for their SGA representatives here.
Feature image and photos courtesy of the Challenge Facebook page. 
Edited by Jessica Carr