Club Week: Muslim Student Association works to connect students
In the third feature story of TNJN's Club Appreciation Week, News Co-Editor Courtney Anderson writes about how UT's Muslim Student Association strives to spread awareness.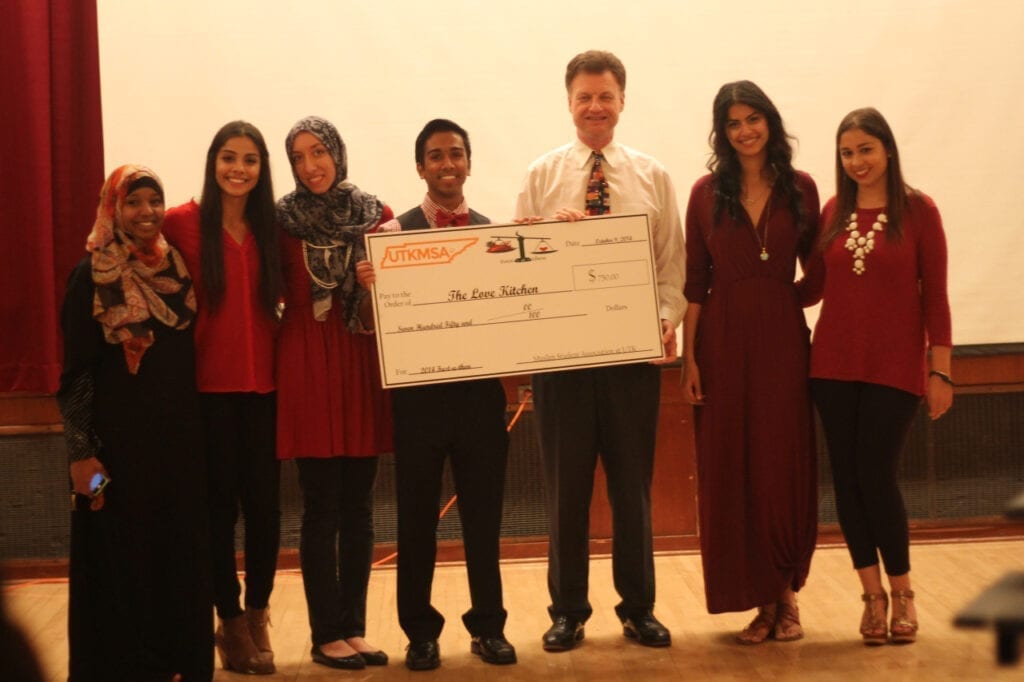 Every other Wednesday, a group of students make the third floor of the University Center their home. Around 6:30 p.m., the students gather together. Sometimes they are coordinating their next event, and sometimes they are talking interpretations of the Quran and how those interpretations affect the lives of Muslim students. Other times, the Muslim Student Association (MSA) just meet to relax, touch base and have an open social space for students.
Anyone who wants to come is welcome. Although MSA members share Islamic faith as their center point, they are not all the same.
"We're a super diverse group," MSA member Drost Kokoye said. "We have people from so many different backgrounds and cultures. That adds a layer of complexity to all of the friendships."
Those different backgrounds lead to the many different conversations that take place on those particular Wednesdays. Topics can range from food and clothing, to politics and  women's rights and just about anything else someone wants to bring up. Kokoye said the different backgrounds of MSA members have brought different perspectives to the group. Group discussions are not isolated to every other Wednesday, either; oftentimes, a few MSA members will be hanging out on the third floor of the UC in between scheduled meetings.
There's also Coffee Talk, held every Tuesday at 12:30 p.m. in Hodge's North Commons. Coffee Talk is a time to have in-depth discussions about religious text and interpretation as well as another opportunity to socialize with other students on campus.
It is one of the ways MSA members and non-members can connect with one another in a way that is not always available to students who are new to campus. Kokoye, a graduate student who first arrived to UT in August, had previously made connections to UT's MSA chapter while she was working as an organizer in Nashville. For Kokoye, it was a matter of finding out when and where the group met.
"I think if I weren't already connected to some of the people on campus, It would've been really hard for me to find MSA," Kokoye said.
MSA is always working to connect students to one another. One way MSA does this is with their Facebook page. Kokoye said students from across the state and region have contacted MSA through the group's page, asking to be connected to Muslim students on campus. MSA has even helped students find roommates.
"Our Facebook is a pretty active page," Kokoye said. "Our Twitter is pretty active also. We have ways like that for people to look before they come here or even as they're here so they can connect with others. We respond pretty quickly."
Then there's always the events MSA hosts. The organization hosts several events during the academic year that serve to connect and provide service to communities on and off campus. Events like the annual Fastathon, which is held during the fall semester, after Islamic Awareness Week. The Fastathon was created by the UTK chapter of MSA 14 years ago and it brings awareness to Islamic culture as well as the issue of hunger. "Hungry Hearts" is a MSA coordinated event where MSA members, alongside Muslims in the Knoxville community, make and distribute up to 150 paper bag lunches to homeless people.
One of their major events is the MSA Showdown, which the organization is currently preparing for. On the weekend of April 3 to April 5, MSA groups from universities across the region will be coming to UT to compete against each other. Kokoye expects students from places such as Maryland, Philadelphia, Ohio, Arkansas and Florida to show up and compete in one of the many competitions that will be offered. Competitions will range from a FIFA competition to basketball, ping-pong and nearly everything in between.
"It's a lot more fun," Kokoye said. "Like, there's a FIFA competition. There's poetry, there's art, there's something based in academics, there's religious things. Things like that."
It's all just another way for students to have fun, spread awareness and ultimately find common ground.
More information about the Muslim Student Association can be found at their website.
Edited by Jessica Carr
News editor, Courtney Anderson, has been telling stories for as long as she can remember. From scribbling short stories on the back of pamphlets to excelling in Advanced Placement English courses in high school, Anderson has always been determined to make a career out of writing. Anderson joined TNJN as a freshman and instantly fell in love with online news. She hopes to become an editor for a major online news source one day.