UT students react to 2015 Bonnaroo annoucement
On Tuesday, Jan. 13, the 2015 Bonnaroo lineup was announced during a three hour online event. Fans could call a toll free number, receive a band name, then post that name on social media. Students also took to social media to tweet their reactions about the lineup.
The Bonnaroo Music & Arts Festival invited fans to share the 2015 lineup during the Bonnaroo Line-up Announcement Megathon Tuesday night. Following announcements from the likes of Coachella and The Governor's Ball, Bonnaroo introduced a unique unveiling method, known as BLAM.
The event included calling the toll free number 1-844-ROO-2015. They revealed the name of one act to each caller, encouraging the fans to share the information on social media sites with the #bonnaroo. Quickly the hashtag became a popular twitter trend with individuals reacting to the news.
Participants found creative ways to share the acts on Instagram, Twitter and Vine.
Students of the University of Tennessee took to twitter to express their thoughts about the Bonnaroo lineup for this year.
Headliners include Billy Joel, Mumford and Sons, Deadmau5 and Kendrick Lamar.
They'll be joined by a mix of artists such as Florence and The Machine, Robert Plant and the Sensational Space Shifters, My Morning Jacket, Bassnectar, Alabama Shakes, Childish Gambino, Hozier, Tears for Fears, The War on Drugs, Punch Brothers, Spoon, Moon Taxi, Slayer, Trampled by Turtles and many more.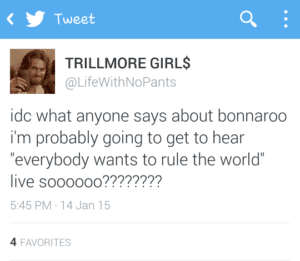 Though the festival has revealed a portion of the lineup, more artists will be added later. Ultimately, the roster will include 125 acts and several stages for performances.
Bonnaroo is an annual four-day festival including music, comedy and art.
This year's festival will take place June 11 to June 14 in Manchester, Tenn. Tickets go on sale Saturday, Jan. 17, at noon through the festival's website.
Edited by Jessica Carr