Stunner puts Vols away, leaves them at 1-1 in SEC play
When everything seemed to be going so well for the Volunteers, the wheels came lose and it all fell apart. After leading the entire game, poor decisions and a slew of fouls create a stunning loss for the Volunteers who fall to Texas A&M 57-56. Foul problems spelled trouble for the Vols in the first half but a lack of rhythm killed the momentum in the second half which led to the final three that put the game away.
It was a tough way to finish for a Vols team that had showed improvement over their last few games after a slow start to the season. The team fell back to old vices that plagued them early on in the season and Coach Martin could tell that there were problems in the second half.
"I didn't see the second half coming for our guys," Martin said. "After the first half, especially with Jordan (McRae) and Jarnell (Stokes) on the bench for most of the first half, I thought our guys did a good job, just couldn't get on the floor in the second half."
Stokes, who played 24 minutes, missed most of the end of the first half after foul trouble put him and Jordan McRae on the bench. Stokes ended with six points, all of which he scored in the first half, five rebounds and four turnovers. McRae finished with 23 minutes after struggles with fouls and scored 9 points with four assists and 3 turnovers.
Jeronne Maymon, who missed two free throws late that could of sealed the Vols victory, said it was something they would just have to work on in practice. "It's only one game, there's a lot of basketball left to be played," Maymon said. "We just have to go back out there on Monday"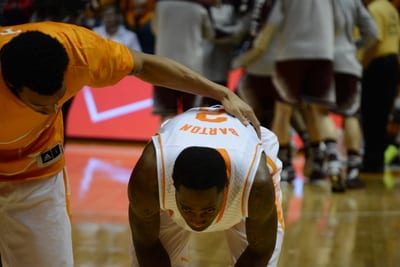 On the erratic offense in the second half, Maymon attested his issues to just missing lay-ups. "I was getting good looks I was just missing lay-ups that's all that was," Maymon said.
One of the Vols biggest problems in the second half was the abundance of offensive fouls called on them that led to Texas A&M scores late in the game. Martin said the amount was something he hadn't seen from this team. "I think that is the first time this year that we have been called for that many offensive fouls," Martin said. "That was very uncharacteristic because our guys are usually solid at setting screens and we spend time on that."
As for the free throws Maymon missed at the end of the game, Martin said that wasn't something he or Jeronne would want to focus on. "It was tough on all those guys," Martin said. "Free throws weren't the reason you lose a game, we gotta defend better, if we are gonna make stops we have got to make stops. It is tough enough of Jeronne, he's hard on himself."
The Vols' next game is at home against Auburn at 7 p.m.