Hotter 'N' Hell 5K shows support for palliative care legislation
On Aug. 3, sponsors and runners assembled at Victor Ashe Park for the fifth annual Hotter 'N' Hell 5K. The 5K supports the work of American Cancer Society Cancer Action Network, a non-profit advocacy affiliate of the American Cancer Society.  
About 350 people showed up to support the organization and to put their message on the Wall of Hope. Each personal note was a message to senators asking them to approve two pieces of legislation regarding palliative care. Supporters want to improve the quality of life of patients with serious illnesses rather than simply managing pain through over-medication.
For more information on what palliative care is, click here.
"It's about patient comfort," said Beverly Holland, volunteer for the 5K.  
The progress report card letter grade for pain management policies for Tennessee was a C on the ACS CAN website.
In September, representatives for ACS CAN will go to Nashville for their Leadership Summit and Lobby Day, an opportunity for the public to voice opinions on legislation entering the U.S. Congress. Building the wall of messages from people was just the first step of telling members of Congress that the issue is important to them and that they want co-sponsorship of the legislation.
"The letters on the wall are by zip code, so they will go to everyone's specific senator," Holland said.  
Registration and sponsorship dollars from the 5K help to fund advertisement campaigns, voicing cancer as a national priority. New palliative care requirements would focus on managing symptoms that come with cancer treatment and have physicians and their patients create a pain management agenda together.
Michael Holtz, a cancer survivor and media advocacy and federal issues director for ACS CAN, said his doctor asked him how he was feeling every time he went in to chemotherapy.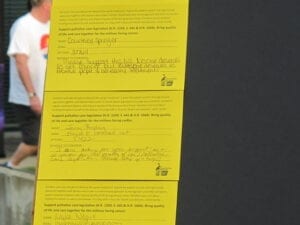 "What we're focused on is managing the symptoms that come with cancer treatment," Holtz said.
Patients undergoing chemotherapy are at risk for developing neuropathy, a symptom of nerve damage. Holtz didn't have neuropathy during his entire treatment, but the numbing and tingling sensation indicative of nerve damage from chemotherapy started showing up about a month after. 
More and more cancer centers are adding alternative therapies like acupuncture and massage in addition to or instead of medication. They are also trying to make sure patients talk about any pain they experience from therapy.
One of ACS CAN's larger events, the Lights of Hope ceremony, will take place in Washington D.C. at the reflecting pool near the Lincoln Memorial. Anyone can participate by going online and making a donation. A lit bag will be placed by the pool in honor of someone who is fighting cancer or has been lost to it.
The Hotter 'N' Hell 5K is expected to return for its sixth installment next August. Those interested in writing their congressmen in support of the palliative care legislation can go to ACSCAN.org to add to the Wall of Hope.
"We've had a lot of bipartisan support for this legislation so far," Holtz said.