Tennessee football midseason report card
Tennessee is 5-2 despite a number of slow starts and devastating injuries at key positions. Here's how each position group has graded thus far at the halfway point of the season.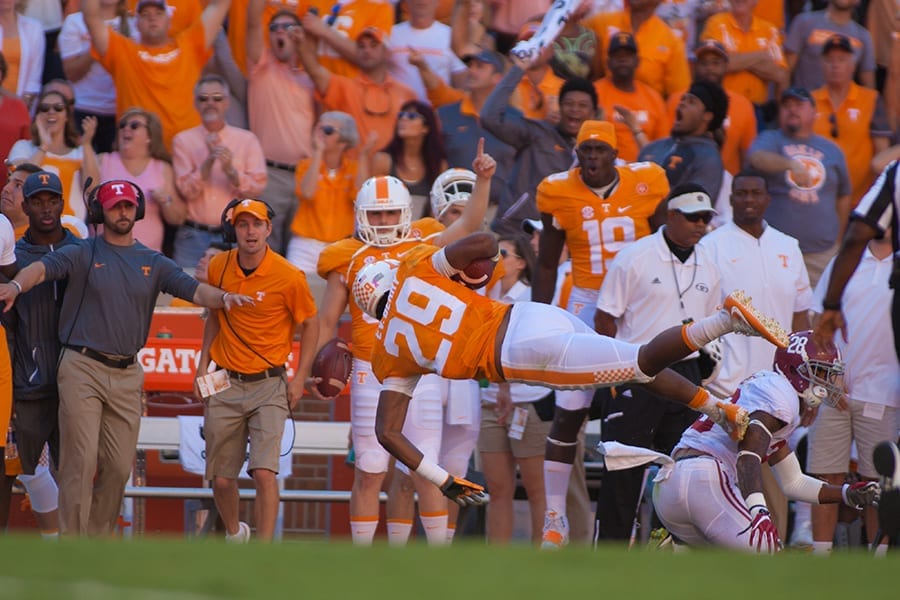 Quarterback: C+
Although quarterback Joshua Dobbs has shown improvements from last year—like pulling off miraculous finishes to beat Florida and Georgia—he still has not shown the versatility or reliability that a competitive SEC team needs. After showing steady improvement over the course of the first six games, Dobbs had his worst performance of the season against No. 1 Alabama. He finished the game with 92 passing yards, an interception and negative 31 yards rushing. In order to prove he's a top-tier quarterback, Dobbs must finish the seasons off strong.
Running Backs: B-
Tennessee's ground game has lacked consistency and will need to rediscover its groove due to the loss of Alvin Kamara. Kamara rushed for over 300 yards on 67 carries, making him the second-leading rusher on the team. Against Texas A&M, Kamara had a performance for the ages, gaining 127 of his 288 total yards and scoring two of his three touchdowns on the ground. Meanwhile, Jalen Hurd has struggled all season long, rushing for 435 yards on 114 carries. In the biggest game of the season against the Crimson Tide, Hurd gained only 28 yards on 13 carries. Some may blame the offensive line, but in a pivotal game, that lack of production is unacceptable.
Wide Receivers: A-
Josh Malone and Juana Jennings are the Vols' top receiving threats. Malone has 22 receptions for 402 yards and five scores. He ranks eighth in the SEC in receiving yards. On the other hand, Jennings has 20 catches for 301 yards. One of those catches just so happens to be the Hail Mary against Georgia.
Offensive Line: D
The offensive line is struggling. It's no secret. Dobbs has been sacked 17 times this season after being sacked only 21 times all of last year. The front five also hasn't provided space for Hurd and Kamara to consistently run through. It seems that every quarterback draw is guaranteed to lose yardage. Injuries play a part in the unit's deficiencies, but they're allowing too much pressure. As a result, Dobbs has thrown nine interceptions after throwing only five last season.
Tight Ends: A
Jason Croom leads the tight ends in receiving yards with 119. He's only tallied receptions in four of seven games, but makes the most out of his opportunities. On the other side, Ethan Wolfe has only 10 receptions for 111 yards. Both Croom and Wolfe are hidden gems for the Tennessee offense and should be utilized more as receivers during the second half of the season.
Defensive Line: A+
Derek Barnett is the leader of the Vols' defensive line. With 21 solo tackles to go along with six sacks and even an interception, Barnett has become a consensus pick to go high in next year's draft. He's also received Heisman consideration for his dominant performances. The loss of Khalil McKenzie certainly impacts the defensive line for the remainder of the season, but Tennessee has plenty of depth in the front four. Players such as Corey Vereen and Shy Tuttle have also left their marks on an impressive season for Team 120's deepest position group.
Linebackers: C+
The Vols have caught the injury bug at linebacker. They're missing three primary playmakers in Jalen Reeves-Maybin, Darrin Kirkland Jr. and Cortez McDowell. Without them, the defense has had trouble getting off the field, especially in the first half of games. However, Colton Jumper has done a nice job filling in, recording 21 solo tackles, an interception and a forced fumble. In summation, there has been success from backup players, but the injuries have provided consequences. The linebackers need to step up against South Carolina to prove that the defense is improving despite so many injuries to key players.
Secondary: B
An injury to captain Cam Sutton against Ohio left the secondary in a percarious position. Now that Malik Foreman is also hurt, the secondary—like a few other position groups on the team—trugs along despite devastating injuries. A bright spot this season though has been the play of Todd Kelly Jr. He's proven to be a top-notch safety, recording 50 tackles to go along with a pair of interceptions. Besides Kelly, the secondary lacks any other standout player.
Special Teams: B-
Special teams for Tennessee has been average in most cases this season. Aaron Medley is 27-of-27 on extra points, but has also missed two field goal attempts. Evan Barry has yet to break a kick return for a touchdown, but still averages 27.8 yards a return, which is second in the SEC. Punter Trevor Daniel averages 43.8 yards per punt, placing fifth in the SEC.
Coaching: C+
The Vols' coaching has more than improved from last year, where it seemed like they had no idea how to finish a close game. Tennessee pulled off astonishing victories against Florida, Georgia and nearly pulled off an improbable comeback against Texas A&M, but eventually lost in double overtime. However, the coaching did have its rough spots over the first six games, especially on offense. Then, the Alabama game happened. It appeared as if the team wasn't prepared for the Crimson Tide's onslaught. Needless to say, the bye week couldn't have come at a better time for the coaches. Now, they have an extra week to prepare for the Gamecocks.
Edited by David Bradford
Featured image by Sumner Gilliam