Holiday Canstruction display combines creativity and charity
Seven different teams met on Nov. 22 at the Knoxville Convention Center to build holiday themed sculptures using only cans, non-perishables and a few thin pieces of plywood and Plexiglas to help support their structures. The canned foods are then donated to charity.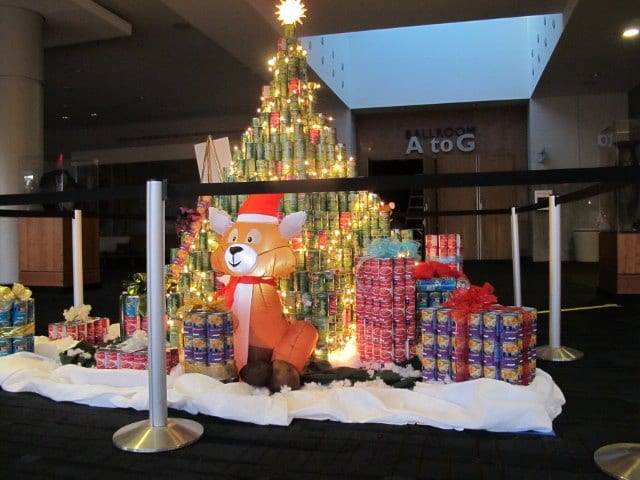 Giant sculptures sit on display in the Knoxville Convention Center, all made out of cans.
The sculptures are there as part of Holiday Canstruction, an international event where large sculptures are made out of cans, put on display and then taken down and donated to charity. The event, which is sponsored by Messer Construction Co. benefits Second Harvest Food Bank, combines architecture, engineering and creativity in a contest to construct the best sculpture.
Seven different teams met on Nov. 22 to build the holiday themed giants using only cans, non-perishables and a few thin pieces of plywood and Plexiglas to help support their structures.
The fact that all of the sculptures are handmade and all of the different foods go to the local charities was something University of Tennessee student Kendall Bard appreciated.
"I really appreciate the whole concept surrounding Canstruction," said Bard. "The sculptures are really striking and fun, but the fact that the exhibit supports charity embodies the giving nature of the holidays, and I love that."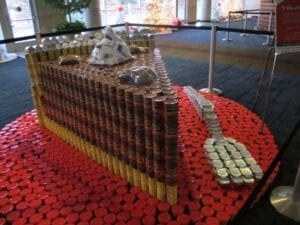 Many of the sculptures are inspired by Christmas movies or songs.  Popular figures like Santa, the Grinch and the "fragile" leg lamp from the movie "A Christmas Story" are on display. There's even "A Slice of PeCAN Pie".
Each team planned their designs beforehand and used 900-3,500 cans of different colors over a build period of 12-hours to create their sculptures.  The results are impressive in their creativity as well as size and structure; some of them seem to defy gravity and all of them showcase creativity.
Perhaps most impressive is the amount of cans that are donated to charity through the event.  Nearly 20,000 pounds of food will be donated to the food bank.
The judging takes the charity into account as well. One of the categories was for "best meal," meaning every team tried to use a variety of nutritious foods to build both their structures and a balanced dinner.
Sculptures are also judged on structural integrity, best use of labels and the juror's favorite.  There is a Kid's Choice award where kids under 17 can vote while visiting the exhibit and a People's Choice award where visitors can vote for their favorite on the Holiday Canstruction's Facebook page.
The exhibit will be on display on the 3rd floor of the Knoxville Convention Center until Dec. 2 and will be taken down on Tuesday Dec. 2, after the judges announce their decisions.
Edited by Alyssa White