UT engineering students, local companies build first 3D-printed drivable car
Four UT engineering students joined ORNL and Local Motors at the International Manufacturing Technology Show in Chicago to make the world's first printed vehicle the weekend of Sept. 13.
Several organizations from different levels of expertise came together on the project to work as a team.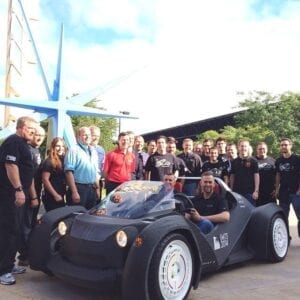 "Because there were so many people from different disciplines working on this project, we were able to advance the technology to print the car at a very accelerated rate," said Andrew Messing, a computer science major at UT who wrote the framework for the ORNL slicer; a program that takes a computer model of a vehicle part and tells the printer how to make it.
Students said there were a lot of pre-runner work for this project that was necessary to complete before the show.
Alex Roschli, a UT electrical engineering student who worked on the 3-D printer's hardware, said they got the model from the design competition in June, and they "worked on it nonstop until the show in Chicago."
"The most difficult problem we faced was time," he continued. "In less than five months we went from not having a functional Big Area Additive Manufacturing(BAAM) to having one that was capable of making a car."
"This is a highly disruptive period for advanced manufacturing, a good thing. I expect that significant advances will occur that really drive innovation and technology maturation," said Dr. Taylor Eighmy, vice chancellor of research at UT.
Further, she anticipates that UT will be invested in this research in the future.
Overall, it took nearly 44 hours to print the car at the show.
Edited by Ryan McGill