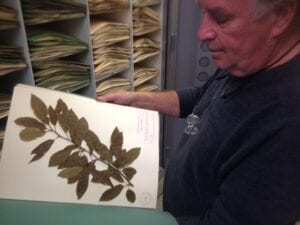 Winter may not be the season most people are waiting for to rush out and look at the plants around Tennessee and Kentucky but with the help of Woody Plants of Kentucky and Tennessee: A Complete Winter Guide to Their Identification and Use, it has become easier to identify and study the Eco-life around the area.
Eugene Wofford, Ph.D., is a research associate professor of ecology and evolutionary biology and longtime curator of UT's herbarium, co-wrote the book with fellow professor Ronald Jones. The book is designed to help ecology students to identify plants during the winter season.
"The book is primarily for (students)," Wofford said. "There will be some advanced amateurs or people that just like to hike, it is almost just like a coffee table book if you just like to look at pictures. It is primarily used though to go over and find these identification keys."
The plants are covered in snow and ice at the beginning of the spring session, so the winter conditions make them difficult to identify for class. This is where the book comes in. The book works as a guide to using plants as food, for medicinal purposes, tools and even armature.
"If there is a thumbs up, it is eatable, if there is a doctor sign, then it can be used for medicine and if there is a skull and crossbones, it can be poisonous," Wofford said. "All of these are listed in an appendix of things that you can use."
Wofford has worked on other books before but his latest is special because it is more specific to this region. It also contains colored, high definition pictures that gives readers a better look at each plant's defining characteristics, which will help with identification.
"The companion to this book was done before digital and the color is just not as good," Wofford said. "Identifying in winter is not easy because you don't have anything left. You cannot identify every species with this book though, but you can get every genus."
Wofford said that making the book for both Tennessee and Kentucky was easy because they are basically the same. Tennessee is separated into Eastern, Middle and Western, with each region being different physiographically.
"We get a lot of things that Kentucky doesn't have (with the Blue Ridge Mountains) so if you combine the two, except for (the Blue Ridge Mountains) we are basically the same," Wofford said.
The book is available now on Amazon.
Edited by Nichole Stevens