Two Things to Look for at the MLB Desert Invitational
What to look out for as Tennessee baseball kicks off the season in Arizona.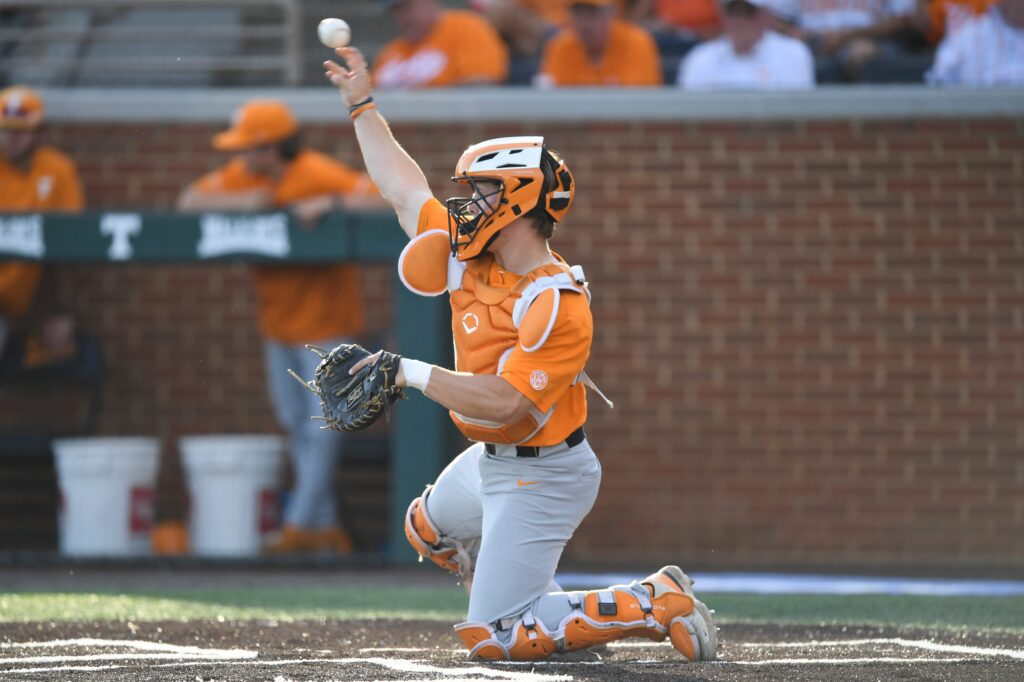 Knoxville, Tenn. – The Tennessee baseball team starts their season in just three days with the MLB Desert Invitational vs. Arizona on Friday. The Vols currently sit at No. 2 in the D1Baseball preseason polls only behind SEC-rival LSU.
Going into opening weekend, here are two things to keep your eyes on.
Stacked transfer class fitting in
The Vols lost ten players to the MLB draft, including all eight defensive starters, but reloaded their roster with some key transfers. The Vols' impressive transfer class ranks second in the nation according to D1Baseball. Maui Ahuna will be the main guy to watch opening weekend.
The shortstop finished the 2022 season hitting .396/.479/.634 (80-for-202) with 16 doubles, four triples, eight home runs, 48 RBI, 42 runs, 13 stolen bases and 28 walks.
Ahuna was named to the 2023 Preseason All-American Second Team, per NCBWA, and the 2023 Preseason All-SEC Second Team.
Coach Tony Vitello also added Alamaba third baseman Zane Denton, Cincinnati outfielder Griffin Merritt and Charlotte right-handed pitcher Andrew Linsey.
Denton started all 58 games at third base for Alabama a season ago and is a crucial addition to the infield. He led the team in home runs, RBI, and total bases while ranking third in doubles and slugging percentage (.483).
Outfielder Griffin Merritt comes over from the University of Cincinnati, where he won AAC player of the year. He slashed for .315/.382/.695 and led the AAC with 19 home runs.
Right-handed pitcher Andrew Lindsey took a year off from baseball and sat out the 2022 season with Charlotte. Lindsey made 12 starts over 20 appearances in 2021, finishing 6-2 on the year to go along with a 4.89 ERA. He led the team with 81 innings pitched and was second on the staff with 76 strikeouts.
Lindsey will provide the Vols with solid depth in the bullpen. How these high-value transfers will fit in with the returning Vols will be one big thing to look out for.
This Tennessee team that hit a record 158 home runs just a season ago also reloaded its roster with even more power swingers. The opening weekend could see numerous home runs from the newcomers.
Who will get the start at catcher?
With the departure of Evan Russell to the MLB, there are a few question marks surrounding the catcher position. Due to this, the competition is still wide open.
Vitello is still determining who will get the start opening weekend. Redshirt sophomore Charlie Taylor returns and is one of the favorites to fill in the massive hole Russell left behind the plate.
Taylor appeared in 22 games last season, backing up Russell. Taylor stepped into the starting role in the NCAA regional tournament in 2022. This gave him essential experience and confidence to prepare for the starting role for the 2023 season.
Taylor would undoubtedly be a defensive improvement from Russell a year ago. He possesses a strong arm that Russell did not obtain.
"By no means is he (Taylor) our starting catcher on Opening Day, but he will start in Arizona at some point," Vitello said.
The Vols have plenty of depth behind the plate with Cal Stark, a transfer from Weatherford Community College, and redshirt freshman Ryan Miller, who is still working on learning the position but is improving quickly.
Utility player Jared Dickey is another option for Vitello. Dickey had been working most of the offseason behind the plate before an injury slowed his progress in the fall.
Dickey is a bigger bat than Taylor and Stark. He hit .380/.484/.690 in 2022 and is a better all-around athlete. He will most likely see more playing time in the outfield, though.
The Vols enter this season with high expectations following a historic 2022 season. They look to continue their dominant and historic run this weekend against Arizona, Grand Canyon and UC San Diego.