Vols' offense sets records in routing of Missouri
Tennessee struggled out of the gates but found its footing in the second half as they downed the Tigers in explosive and record-breaking fashion.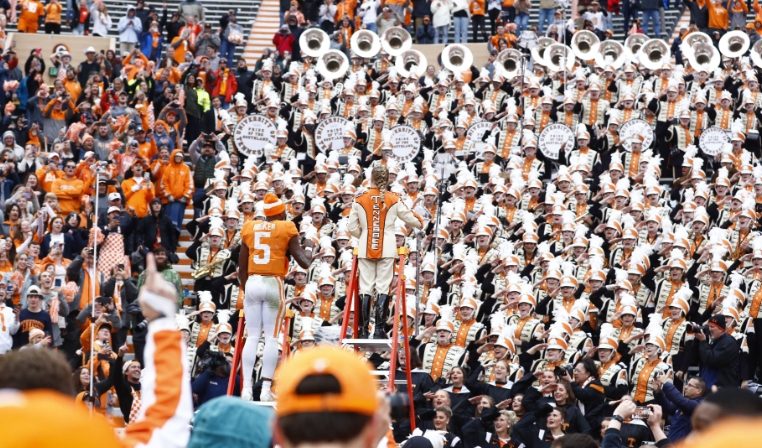 With just under nine minutes left in the third quarter, Missouri connected on a 38-yard touchdown pass to cut Tennessee's lead to four. The Vols struggled to stop the Tigers' attack and ran into hurdles on offense.
However, what followed was 38 unanswered points leading No. 5 Tennessee (9-1, 5-1 SEC) to a 66-24 win over Missouri (4-6, 2-5 SEC).
The Vols' second-half outburst resulted in 724 total yards, a new school record. The 66 points scored is also the highest total the program has reached under head coach Josh Heupel. Leading Tennessee to the historic night was quarterback Hendon Hooker. He threw for 355 yards and three touchdowns and ran for 50 yards and a score.
The exceptional play also comes on Hooker's senior day. The redshirt senior capped off his six-year college career and two-year stint in Knoxville by lighting up the scoreboard and dazzling fans. He even received the honor of striking up the band following the game.
"That's always kind of been a dream for me," said Hooker. "Just coming here and seeing Peyton stand up there and conduct the game, I always thought that was the coolest thing ever to be able to strike up the band. That's what we want to do every week; put the ball in the endzone and strike up the band."
With Cedric Tillman inactive, Hooker's favorite targets in the match were the usual pair of Jalin Hyatt and Bru McCoy. Hyatt totaled 146 yards and a touchdown on seven catches while McCoy caught nine balls for 111 yards.
Hyatt's performance pushes him to 1,116 receiving yards and 15 touchdowns on the season. The touchdown mark also moves him to a tie for seventh all-time in touchdown receptions in a season by an SEC player.
"I knew I had to take a big role when Velus (Jones Jr.) left and step up for this offense to do what we do," said Hyatt. "Hearing that, it just shows some things I've done as far as my hard work. It wasn't the best game for me personally, and that's all I'm thinking about right now. I'm proud of our teammates, our guys, and what we've done today, and we've got to keep going for our next game."
Alongside the duo of Hyatt and McCoy, Ramel Keyton, Princeton Fant and Squirrel White all also had an impressive day. Keyton recorded 60 yards and a touchdown, Fant found the endzone twice for 21 yards and White busted down the field for 64 yards.
Out of the backfield, freshman Dylan Sampson led the unit. He didn't enter until the third quarter but immediately made an impact. He scampered for 98 yards and a touchdown on eight totes and brought in one catch for seven yards.
Jabari Small and Jaylen Wright also combined for 105 yards and three scores.
On the other side of the ball, Tennessee's defense stepped up to the occasion and silenced any hint of a Missouri comeback. The Tigers were held to an abysmal 5-of-17 on third-down conversions while moving the chains just 16 times. They also failed to cross midfield after scoring their final touchdown.
The Vols' biggest defensive struggle was attempting to stop quarterback Brady Cook from scrambling. He totaled 106 rushing yards but hit a brick wall in the latter half of the game. The key was the defensive front creating more pressure resulting in two sacks and seven tackles for loss.
"There wasn't a whole lot of scheme changes for us. We just settled in and played better football," said Heupel. "The quarterback run, we lost contain on him. We didn't handle the interior run off some of our twist games. We didn't match out some of their stats and formations the right way. At the end of it we settled in and made some plays that were routine plays. Doing ordinary things at a really high level."
Next up for Tennessee is a trip to South Carolina to take on the Gamecocks. Kickoff is at 7 or 7:30 with the time being made official at a later date.
Ryan Sylvia is the Sports Editor at TNJN. He is a senior at the University of Tennessee, Knoxville majoring in journalism and electronic media. Although he spent most of his life being raised outside of Philadelphia, he was born in Knoxville, and he is happy to be back home. Ryan has had a love for sports from an early age, and he found his love for writing in high school while taking journalism classes. He hopes to find a job involving both his passions as a sports journalist after graduation. To reach Ryan, email him at rsylvia@vols.utk.edu