No. 3 Tennessee vs. No. 19 Kentucky Game Day Preview
The Vols will hope to keep their undefeated season alive in a matchup with a ranked Wildcats team that is looking to play spoiler on a historic Tennessee season.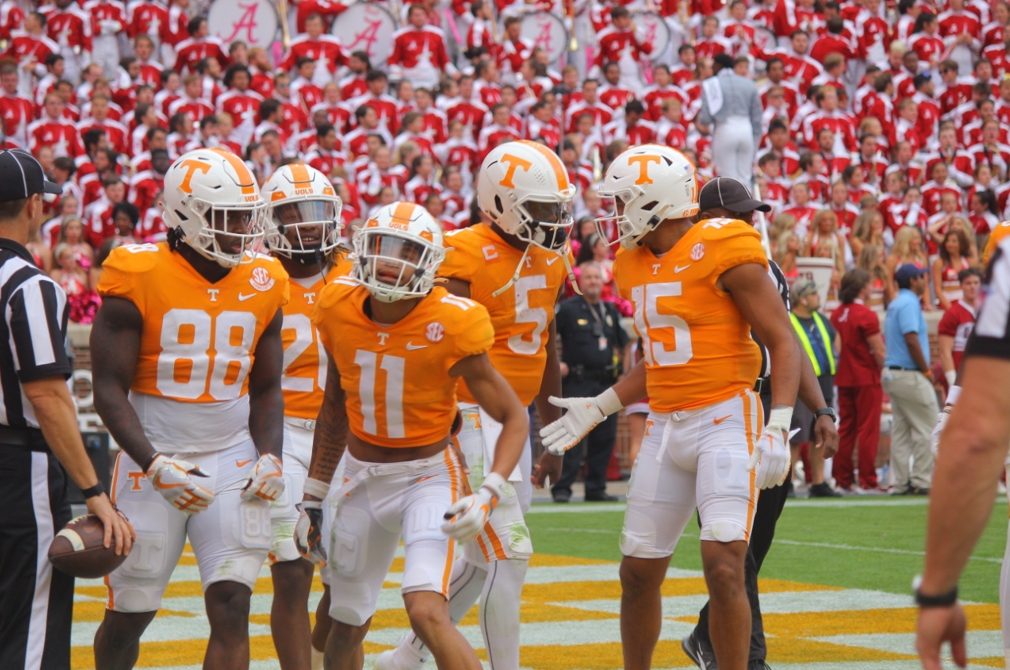 After Tennessee knocked off Alabama in dramatic fashion, many wondered if there would be a hangover heading into a matchup with UT Martin.
The answer was very clearly answered as the Vols smacked the Skyhawks 65-24 after leading 52-7 at halftime.
Now, No. 3 Tennessee (7-0, 3-0 SEC) will face its fifth top-25 team of the season in No. 19 Kentucky (5-2, 2-2 SEC) in Knoxville before traveling to Athens to face No. 1 Georgia.
Last Week
Tennessee was able to catch its breath after fighting tooth and nail with Alabama a week before in a 65-24 win over UT Martin.
The Vols rested some banged-up starters but let the majority of the ones play the opening half. What resulted was Tennessee slaughtering the Skyhawks by 45 in the opening half.
Hendon Hooker kept his Heisman-caliber season rolling with 276 passing yards and three touchdowns in less than a half of play. He also rushed for 28 yards.
In relief, Joe Milton III impressed with 135 passing yards and a touchdown on just seven attempts.
Surprisingly, the third leading passer was tight end Princeton Fant who connected on a 66-yard touchdown pass to Jalin Hyatt on a trick play. Fant also rushed the ball twice for two touchdowns.
Tayven Jackson and Gaston Moore also entered the game at quarterback.
At wide receiver, it was Hyatt leading the group once again. After torching the Tide the week prior, he totaled 174 yards and two touchdowns in the first half against the Skyhawks. This pair of scores brings him to 12 receiving touchdowns on the season, just one shy of tying the school record set in 1997 by Marcus Nash.
Alongside Hyatt, Squirrel White, Ramel Keyton, Walker Merrill, Jimmy Holiday, Fant, Jabari Small, Bru McCoy, Jack Jancek and Grant Frerking all also recorded receptions. White, a freshman, impressed with 122 yards on five catches and a touchdown. Keyton scored twice on five catches for 77 yards.
Star wideout Cedric Tillman was inactive for a fourth consecutive game after falling with an injury against Akron. He will return for the matchup with Kentucky, however, he will likely not be the focus of the offense as he gets back to game speed.
Out of the backfield, freshman Dylan Sampson led the charge with 62 yards and a touchdown on 13 carries. Small started the game and recorded 33 yards and a touchdown. Along with that duo of backs and Fant's two rushing scores, Jaylen Wright, Justin Williams-Thomas and Patrick Wilk also carried the ball.
On defense, the team forced two turnovers. Walk-on William Wright came up with an interception and Aaron Beasley recovered a fumble. Other standouts were Solon Page III who achieved two tackles for loss and a sack and freshman Tyre West who recorded a sack.
Overall, it was the blowout you'd expect against an FCS opponent. Tennessee dominated each aspect of the game and stayed healthy heading into a tough stretch.
Kentucky's Season
After starting the season 4-0 and reaching as high as No. 7 in the country, the Wildcats dropped consecutive games to Ole Miss and South Carolina. It is worth noting that quarterback Will Levis didn't play against the Gamecocks, though.
At the beginning of the year, Levis received as much hype as anyone. He hasn't exactly lived up to those expectations but he hasn't been unimpressive either. In six appearances, he averages 272.5 passing yards per game with a total of 13 touchdowns and five interceptions. Most recently, he totaled 230 yards with a touchdown and interception in a win against a ranked Mississippi State team.
The offensive line has done a poor job protecting its signal callers, though, giving up 3.7 sacks per game.
The team's most important offensive piece outside of Levis is running back Chris Rodriguez. He has only played in Kentucky's three most recent matches but averages 131.7 rushing yards and a touchdown per game in those contests.
At wide receiver, the Wildcats lost a lot of their production from 2021 but replaced the talent through newcomers. Tayvion Robinson transferred from Virginia Tech and Barion Brown and Dane Key are freshmen. The three lead Kentucky in receiving yards by a wide margin totaling 392, 350 and 322 yards per game, respectively.
The offensive unit produces just the 11th most yards and points per game in the SEC.
On defense, the Wildcats boast one of the best groups in the SEC. They rank second in the conference in yards and points allowed per game. Specifically in passing yards, they allow the third least in the SEC. On the ground, they allow the fourth least.
Leading the group in tackles is DeAndre Square. He has recorded 52 tackles, a sack and an interception. The unit as a whole has recorded nine sacks on the year with no player accounting for more than one. They've also come up with six interceptions from unique players.
No player has specifically stood out on Kentucky's defense but the depth and all-around competence make them an effective unit.
Vols vs. Wildcats History
Tennessee and Kentucky have a rivalry filled with hatred that dates back to 1893. The Vols currently dominate the series with an 82-26-9 advantage.
The separation occurred when Tennessee refused to drop a game from 1985-2010 against the Wildcats. Since then, the Vols still own the series with an 8-3 advantage. Each of the three losses came in the final matchup against Kentucky of the then-active Tennessee coach's tenure.
The Vols are also currently on a one-game win streak after defeating the No. 18 Wildcats 45-42 in Lexington last season. Hooker torched the Wildcats' secondary, throwing for 316 yards and four touchdowns with no interceptions. Levis also found success in the air beating the Tennessee defense for 372 yards and three touchdowns with an interception.
The most intriguing part of the game was the time of possession difference. The Vols' quick scores and fast offense resulted in points early during drives. This led to the Wildcats owning the ball for 46:08 compared to Tennessee having it for just 13:52.
However, the last time the teams met in Neyland, Kentucky topped a spiraling Tennessee team 34-7. This was the first time the Vols dropped a game to the Wildcats in Knoxville since 1984. If Kentucky manages to beat Tennessee in Knoxville this year, it'll be the first time the Wildcats beat the Vols in Knoxville in consecutive tries since 1964.
5 Keys to the Game
Contain the run game
Kentucky will look to utilize Rodriguez and the run game early in the contest. Tennessee has done a decent job stopping the rush attack this season and it will need to continue on Saturday. If the Vols can force third-and-longs after stopping rushes on early downs, they will see more success defensively. Making Levis make plays will be a big part of the game.
Put up a lot of points
This is a key that Tennessee hasn't struggled with this season. The Vols need to continue their hot streak and force Kentucky to match their scoring output. Taking an early lead and continuing to apply the pressure will force the Wildcats to play from behind and get out of their offensive game plan.
Take advantage of special teams
In a tight game, breaks can be made in the third phase of the game. Dee Williams needs to make smart punt returns and put Tennessee in good field position. Paxton Brooks needs to pin Kentucky deep when called upon. Chase McGrath needs to knock down field goals and avoid missing extra points. The kickoff and punt teams need to stay true in their coverages and not give up big plays. If the Vols can use this aspect of the game to their advantage, it'll go a long way in winning.
Limit penalties
Last week, Tennessee surrendered 13 penalties for 109 yards. Of course, many were called on young and inexperienced players in a matchup with an FCS opponent, but there is still no excuse for such a poor showing. The Vols can't give up free yardage on defense and set themselves back on offense. An important piece of the win over Alabama was the discipline on the Tennessee sideline and the lack of discipline for the Tide. This type of night needs to happen again.
Don't look ahead
With a big matchup against top-ranked Georgia just a week away, it is easy to overlook a ranked Kentucky team. This can't happen. The Vols need to come out with intensity and keep their foot on the gas throughout the game. With Josh Heupel and veteran leaders at the front of the team, it is unlikely this will happen, though.
Editor's Pick
I think Tennessee is too good offensively to lose to Kentucky. With the Vols scoring at will on defenses at the level of Alabama, I don't think the Wildcats will have much more success at stopping the high-powered attack. With Tennessee likely scoring upwards of 30, if not 40 points, it's hard to see Kentucky matching that output.
Hooker will likely have another impressive night that features over 300 yards and multiple passing touchdowns. Hyatt will not only tie the school record but break it with two touchdown receptions and over 100 receiving yards.
The defense will apply pressure on Levis all night, forcing him into an interception and bringing him down for three or more sacks. Kentucky will begin the game by feeding Rodriguez but will end up looking to attack through the air after a mixture of varied success and a deficit on the scoreboard.
It won't be a complete blowout, but the Vols should win comfortably.
Tennessee – 42
Kentucky – 30
Game Time and Coverage
Kickoff is at 7 p.m. EST on ESPN in Knoxville, Tenn. at Neyland Stadium. The game is sold out and the Vols will wear black jerseys and for the first time, black helmets. TNJN will have more coverage after the game.
Ryan Sylvia is the Sports Editor at TNJN. He is a senior at the University of Tennessee, Knoxville majoring in journalism and electronic media. Although he spent most of his life being raised outside of Philadelphia, he was born in Knoxville, and he is happy to be back home. Ryan has had a love for sports from an early age, and he found his love for writing in high school while taking journalism classes. He hopes to find a job involving both his passions as a sports journalist after graduation. To reach Ryan, email him at rsylvia@vols.utk.edu