Tennessee's defense shuts down LSU in big win
The Vols' defense only surrendered 13 points as they ran away with another big road win over a ranked team.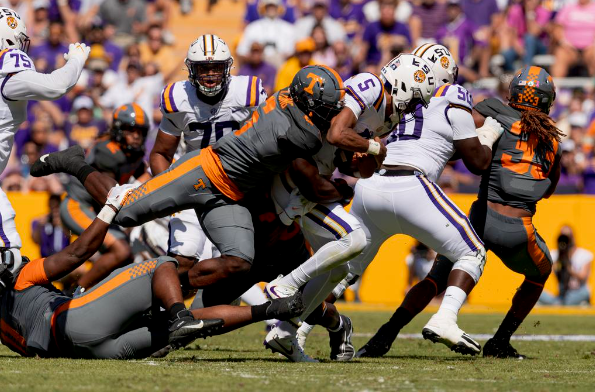 Under head coach Josh Heupel, the attention has been on Tennessee's highly effective offense. After all, the offense ranks first in the country in yards per game at an astonishing 547.8 mark.
However, in the No. 8 Vols' (5-0, 2-0 SEC) lopsided 40-13 road win over No. 25 LSU (4-2, 2-1 SEC), it was the defense that stole the show.
Against the Tigers, Tennessee's defense held LSU's trio of running backs to just 17 yards. Four rush attempts in the game even ended in negative yards.
In the passing game, the Tigers saw more success but still struggled to move the ball down the field. The defense came up big when it mattered holding LSU to just 7-for-15 on third downs and 0-for-3 on fourth downs.
Leading the defensive charge was a collection of Vols. Byron Young headlined with a career-high 2.5 sacks. The team as a whole recorded five sacks and Young was a key piece in creating pressure on Jayden Daniels and the LSU offense.
"It felt really great because coming into the first game we didn't have enough sacks and a ton of pressure," said Young on his performance. "Every time the pressure was getting there and running and throwing the ball so, it feels really great just to bring home. This was the game to do it."
Another key contributor was linebacker Aaron Beasley. He finished with a team-high nine total tackles with three of them being solo. He was also impressive in stopping the run recording 1.5 tackles for loss.
Roman Harrison also had possibly his best game as a Vol with the senior being active throughout the game. This showed through his statline of seven tackles, one sack, 1.5 tackles for loss and one quarterback hurry.
In the secondary, multiple defensive backs produced a large number of tackles. However, it was the veteran Trevon Flowers that stood out by putting a bow on the win with a one-handed interception in the endzone on LSU's final possession.
This defensive performance is welcoming news to Tennessee fans after a subpar outing from the unit against Florida. In the game against the Gators, Anthony Richardson led Florida to 33 points through over 500 all-purpose yards and four touchdowns.
The stark difference between the two games against ranked opponents is a positive sign of what this team's ceiling can be.
"Defensively, we played better," said Heupel. "This is a game of inches. There are really small things that add up to the big things that everybody sees. We still gave up a couple third and longs today. But we were a lot better on third downs than we were a week ago. We got Florida into some third-and-longs too and just let them off the hook. That's the quarterback making plays, escaping, us not playing tight enough coverage. You have to continue to get better, but I love the effort of this group today."
Following the dominating win, Tennessee has jumped up to No. 6 in the AP Poll. Its next matchup will be at home against No. 3 Alabama at 3:30 p.m. on CBS. Not only will SEC Nation be on campus but ESPN's College GameDay will be in attendance for the second time this season.
This edition of the Third Saturday in October will be the first time the teams have met as undefeated teams since 1989. It is also the highest-ranked Tennessee has been in the matchup since 1999.
The Vols will need this stout defense to be on display once again if they hope to knock off the Tide for the first time since 2006.
Ryan Sylvia is the Sports Editor at TNJN. He is a senior at the University of Tennessee, Knoxville majoring in journalism and electronic media. Although he spent most of his life being raised outside of Philadelphia, he was born in Knoxville, and he is happy to be back home. Ryan has had a love for sports from an early age, and he found his love for writing in high school while taking journalism classes. He hopes to find a job involving both his passions as a sports journalist after graduation. To reach Ryan, email him at rsylvia@vols.utk.edu