Jalin Hyatt's big night leads Tennessee to win over Akron
Despite struggling to see the field in his first two seasons, Hyatt has started strong in 2022 including an effective game against the Zips.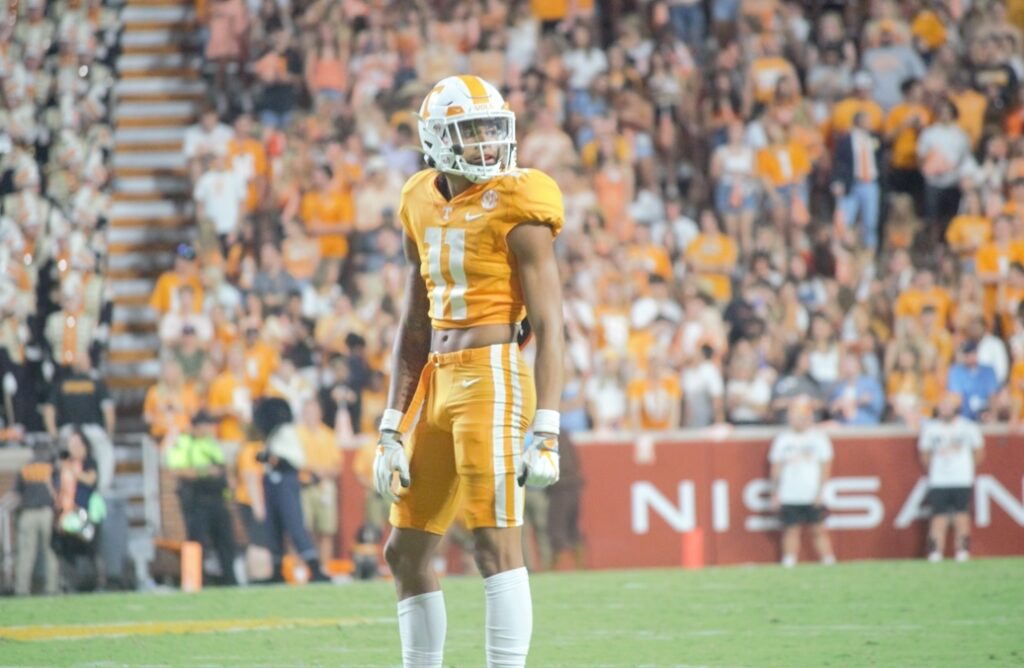 In 2019, Jalin Hyatt was committed to Virginia Tech as a four-star prospect and the No. 33 wide receiver recruit in the country. All signs pointed to Hyatt taking his talents to Blacksburg until he took an unofficial visit to Knoxville on June 21.
Just nine days later, he decommitted from Virginia Tech and reopened his recruitment. From there, Tennessee took all the momentum, and less than a month later he was committed to the Volunteers.
After joining the program, Hyatt spent his first two seasons on Rocky Top buried on the depth chart. He caught just two touchdowns in both seasons and totaled 276 receiving yards as a freshman and 226 as a sophomore.
However, in No. 15 Tennessee's 63-6 win over Akron on Saturday, Hyatt showcased his emerging talent. In just over a half of play, Hyatt recorded two touchdowns and 166 receiving yards on just five receptions. With multiple big catches, Hyatt's average gain per catch was an astounding 33.2 yards.
"(Hyatt) is a guy that wanted to be great a year ago and worked to be great this entire offseason," said head coach Josh Heupel. "He is confident and understands. I trust him. Our coaching staff trusts him. If he's telling you something that he sees on the field, you can take it to the bank. He understands what we are doing, and then, he can make a bunch of big-time plays. His best football is still out there, and he is going to keep chasing it. I am really proud with the way he played tonight and the start of the season for him."
Hyatt's first touchdown came just seconds into the second quarter as he busted down the sideline for an uncontested 57-yard trip into the endzone. Then, with only a few minutes until halftime, Hyatt broke free on a slant where he burned the defense for a 48-yard score. Following both touchdowns, Hyatt celebrated with wide receiver coach Kelsey Pope.
"I went straight to Pope because he was there last year when I was struggling, " said Hyatt. "When I felt like things weren't going right for me for last year… He was always there trying to help me get my confidence back… I'm really grateful for that guy. I love coach Pope."
Hyatt has overcomed his past struggles with a total of 267 yards and three touchdowns just three games into the 2022 season. Despite this early success, Hyatt is still focused on improving as the year goes on.
"You know, it was a great game for our team as far as offense-wise, but like I have said, we haven't even gotten to SEC play," said Hyatt. "I just want to continue to just keep my head down and continue working. Obviously, there's always something you can improve on. It was a great game, but we're on to the next one. That's our mindset."
Hyatt's next opportunity to shine will come under the bright lights of a 3:30 kickoff on CBS vs. a top-20 Florida team. ESPN's College GameDay will be on campus before the game and the University has announced it will be a Checker Neyland game. TNJN will have more coverage leading up to and following the game.
Ryan Sylvia is the Sports Editor at TNJN. He is a senior at the University of Tennessee, Knoxville majoring in journalism and electronic media. Although he spent most of his life being raised outside of Philadelphia, he was born in Knoxville, and he is happy to be back home. Ryan has had a love for sports from an early age, and he found his love for writing in high school while taking journalism classes. He hopes to find a job involving both his passions as a sports journalist after graduation. To reach Ryan, email him at rsylvia@vols.utk.edu