Tennessee vs. Ball State Game Day Preview
The Vols are set to open their season against the Cardinals on Thursday to kick off Josh Heupel's second season at the head of the Tennessee program.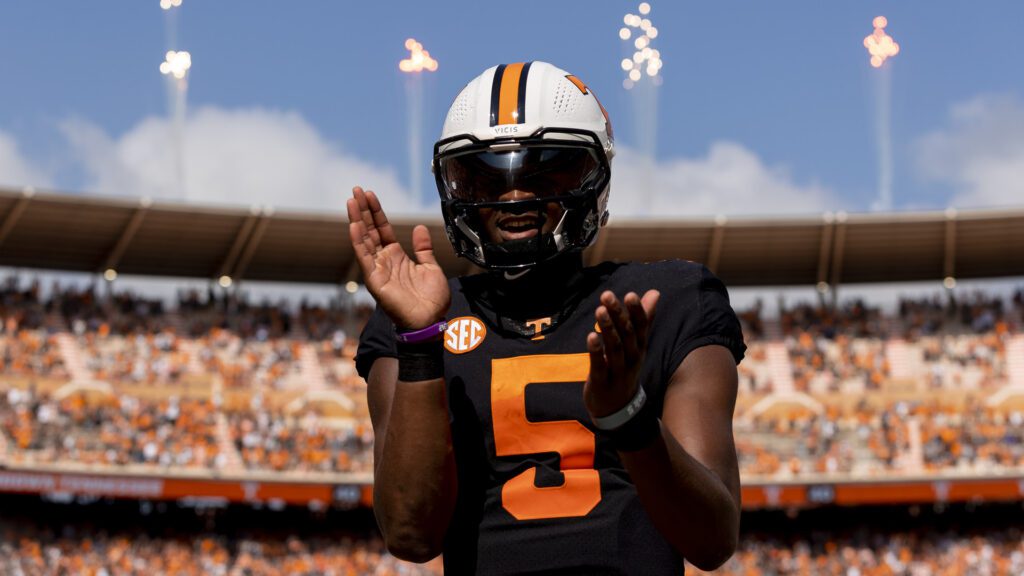 It's football time in Tennessee!
Vol football fans around the country have been waiting to hear those words for months after Josh Heupel's successful first season on Rocky Top was wrapped up with a gut-wrenching Music City Bowl loss in December. Now, the season has arrived and there is a palpable buzz around Knoxville regarding the football team.
"Awesome that it's game week man, let's go play ball. Excited to get into Neyland Stadium," said Heupel in a press conference on Monday.
After this offseason of excitement, Tennessee is finally set to open up the 2022 season. The Vols' first matchup comes against Ball State on Thursday. This will be the first time the two programs have met but it marks the second straight season the Vols will begin the year with a Thursday night affair against a team in the MAC after opening with a win over Bowling Green in 2021.
2021 Recap and 2022 Outlook
In 2021, Tennessee finished with a 7-6 (4-4 SEC) record while lighting the offensive record book on fire with Heupel's fast offense. Quarterback Hendon Hooker emerged as a star early in the season and is set to return for his final collegiate year. Last year, Hooker threw for nearly 3,000 yards and totaled 31 touchdowns while throwing just three interceptions. What makes him a truly elite player, though, is his ability to run. He added 620 yards through his legs while punching it in five more times.
Surrounding him was a stable of talent. Running back Jabari Small and wide receiver Cedric Tillman made big impacts last season and are also highly anticipated returning players. Small ran for 792 yards and scored nine touchdowns while Tillman added 1,081 receiving yards and eight touchdowns.
However, Hooker's other favorite options, wide receivers Velus Jones Jr. and JaVonta Payton and running back Tiyon Evans have departed. Potential targets Jalin Hyatt, Ramel Keyton, Walker Merrill and tight ends Princeton Fant and Jacob Warren will now have the opportunity to step up as impactful receivers, though. Tennessee also brings in coveted transfer Bru McCoy who will likely make a quick impact on the offense.
To help push the offense along, the offensive line boasts a group filled with experience that will be essential for the Vols to succeed. Heupel says he is pleased with how the group has progressed.
"In some ways, just like our program, much further ahead," said Heupel on the offensive line. "They understand how we play, the ability to communicate. You guys saw that growth with them a year ago. We're healthy at this point in the season, which is exciting. We need to stay that way. A lot of guys have played a lot of football there for us."
On defense, Tennessee struggled at times last season due to the fast-paced offense putting them in difficult situations. A decent amount of defenders return but key pieces such as Alontae Taylor, Theo Jackson, Matthew Butler and Jay Blakely have moved on to the NFL.
This year, Omari Thomas, Kurott Garland, Bryson Eason, Byron Young and Tyler Baron will provide a majority of the pass rush while Jeremy Banks, Juwan Mitchell and Aaron Beasley will split time manning the linebacker positions. Defensive backs Trevon Flowers, Jaylen McCollough, Warren Burrell, Christian Charles, Kamal Hadden and Tamarion McDonald will get most of the reps in the secondary as a part of the Vols' nickel defense.
Although the unit had its flaws last season, the defensive group is motivated heading into 2022. It will be essential for them to come up with big plays and make crucial stops if Tennessee hopes to compete in big games.
"What I expect from the defense, I expect us to come out and play with our hair on fire," said Thomas. "Play hard, play fast and just, like I said, focus on the small details. The alignment, the personnel, down and distance, different things like that and just play together as a unit."
The special teams unit returns a load of experience. Chase McGrath has received the nod as the placekicker and Paxton Brooks will punt and kickoff. Matthew Salansky will be the long snapper and Brooks will be the holder on kicks. On returns, kickoffs will be taken by the speedster Jimmy Holliday and punts will be taken by either Dee Williams or Flowers.
Overall, Tennessee will come into the year with the experience and talent necessary to compete in the SEC. Heupel has proven to be a competent play caller who puts his players in positions to succeed. Depth may become a negative factor as the season progresses but it is improved from last season. At the very least, the Vols will be fun to watch as they light up the scoreboard in high-scoring shootouts.
Ball State
In 2021, the Cardinals finished with a 6-7 (4-4 MAC) record. In a battle with Penn State, Ball State lost 44-13 in a game that was effectively finished midway through the second half. The season ultimately was wrapped up with a 51-20 bowl game loss to Georgia State.
At the head of the Cardinals' program is seventh-year coach Mike Neu. This year will be a new start in some ways, though, as a lot of last year's production departed following the season.
Due to this, Ball State will be led by quarterback John Paddock in his first career start. He will have some help in returning wide receivers but last year's main target is also gone. At runningback, Carson Steele will return, though, after rushing for 922 yards and six touchdowns a season ago.
The defensive side of the ball will likely be the Cardinal's strength as they return the MAC's 2020 Co-Defensive Player of the year, Brandon Martin. He is coming off an injury-riddled season but will be surrounded by veteran players at all positions. The defense should be effective in the MAC but will likely be overwhelmed in a matchup with an SEC team.
Key Factors
Tennessee should dominate every aspect of this game from start to finish. There is no specific matchup that will be a deciding factor or player on Ball State that could drastically change the outcome. Instead, the most intriguing part of this game will be how the Vols' depth looks.
Many starters won't see the field in the late portion of the game which will give viewers a look into how the reserve players have progressed. The most interesting case of this will be along a thin defense that doesn't boast competitive depth at many positions. Looks into players such as Roman Harrison, Elijah Simmons, LaTrell Bumphus, Solon Page III, Andre Turrentine and Doneiko Slaughter will give valuable insight into who are the leading candidates to step up in the case of inevitable injuries.
It will also be interesting to see how the freshmen class does in their first collegiate game. Addison Nichols, Squirrel White, Tayven Jackson, Dylan Sampson, Joshua Josephs, James Pierce Jr., Jordan Phillips, Tyre West, Elijah Herring and Kalib Perry will all likely see the field and have an opportunity to showcase their talents. With no freshmen being listed as a starter for the opening game, this may be a rare situation to see what they can bring to the table during their opening season.
Editor's Pick
This game should be over by halftime. Stars such as Hooker, Small and Tillman shouldn't see the field in the second half as Tennessee runs away with an opening day victory. The Vols' high-powered and fast offense will overwhelm Ball State's defense and score at will. Tennessee's defense shouldn't have a tough night either against the inexperienced Cardinal offense. Multiple turnovers and sacks should be in order for an aggressive defense that is looking to gain confidence. The key will be to avoid critical injuries and run up the score at home to gain buzz for a road trip to Pitt in Week 2.
Tennessee – 51
Ball State – 10
Game Time and Coverage
Kickoff is at 7 p.m. in Knoxville, Tenn. at Neyland Stadium. The game airs on SECN and TNJN will have more coverage following the game.
Ryan Sylvia is the Sports Editor at TNJN. He is a senior at the University of Tennessee, Knoxville majoring in journalism and electronic media. Although he spent most of his life being raised outside of Philadelphia, he was born in Knoxville, and he is happy to be back home. Ryan has had a love for sports from an early age, and he found his love for writing in high school while taking journalism classes. He hopes to find a job involving both his passions as a sports journalist after graduation. To reach Ryan, email him at rsylvia@vols.utk.edu