Collective pitching effort leads Vols to win over Lipscomb
The Vols used eight pitchers in the win against Lipscomb. Tennessee has now won 20 games in a row, extending its program record.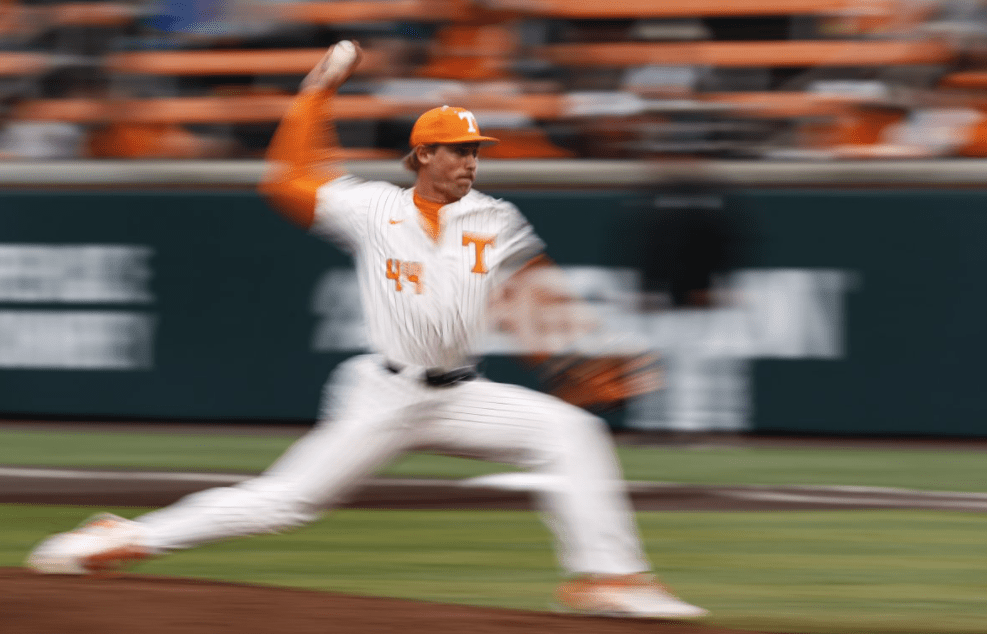 The Vols' pitching staff was on point again in its 20th straight win. No. 1 Tennessee (28-1) defeated Lipscomb (15-14) 5-1 at Lindsey Nelson Stadium on Tuesday.
Tennessee used eight different arms en route to the victory, all throwing two innings or less. Sophomore Blade Tidwell, who returned to the mound from injury last week, got his first start of the season.
Tidwell pitched two innings and struck out four while only allowing one hit. He threw just 33 pitches in the start. Tennessee's coaches are easing him back into action as the season progresses.
"He's in pretty dang good shape, so you probably can let him go. Once a guy's built up to 30 pitches, he may lose effectiveness, but he's ready to go beyond what he did today," coach Tony Vitello said.
It was only Tidwell's second appearance of the season after battling a shoulder injury. He turned into an ace during his freshman campaign in 2021. Regardless of length, his teammates are relieved to see him playing again.
"I'm so happy to just see him out there honestly," outfielder Jordan Beck said. "He looked good, his slider looked good, his command was good, so everything was good for us. Having him in the (bullpen), that's just more danger for us and more for the other teams to worry about."
Junior pitcher Ben Joyce was also effective on the bump. He threw two perfect innings with three strikeouts. Joyce has been turning heads around the baseball world all season with his hard-throwing ability.
Joyce's fastball consistently hits triple digits on the radar gun. In a recent appearance, he threw a pitch 104.1 mph, which would have been the fastest in the MLB in 2021. His slider has become more of a weapon as the season progresses.
"I've just been feeling a lot more comfortable with (my slider) every time," Joyce said. "I've been working with (pitching coach) Anderson a lot, just trying to get my grip as comfortable as possible."
The win on Tuesday made the Vols' winning streak 20 games, extending the program record. Their last loss was on March 4 against Texas.
"It's been good. You're kinda in the middle of it, but you typically go home happier on a night where you win," Vitello said. "It can be a tougher environment to work in, practice in…when you're on the opposite side of what we've been able to do this year, frustrations set in."
It was not a perfect performance from Tennessee on Tuesday. The Vols made an error defensively and ran into several outs on the basepaths. Some outstanding pitching made up for those mistakes.
"We didn't play very well tonight. They did, and we did not. We're at home fortunately and we've got some skill, and a couple pitchers that threw the ball really well," Vitello said. "That's probably the most mistakes we've made in any of our wins. That's a nice thing to have in your back pocket."
Tuesday was the first of a nine-game home stand for Tennessee. The Vols continue SEC play on Friday against Missouri at Lindsey Nelson Stadium.