Music students, professors changed rhythm during peak of pandemic
During the peak of COVID-19, music students at UT faced unique issues. They used things like bell covers and singer's masks to perform in groups and ensembles.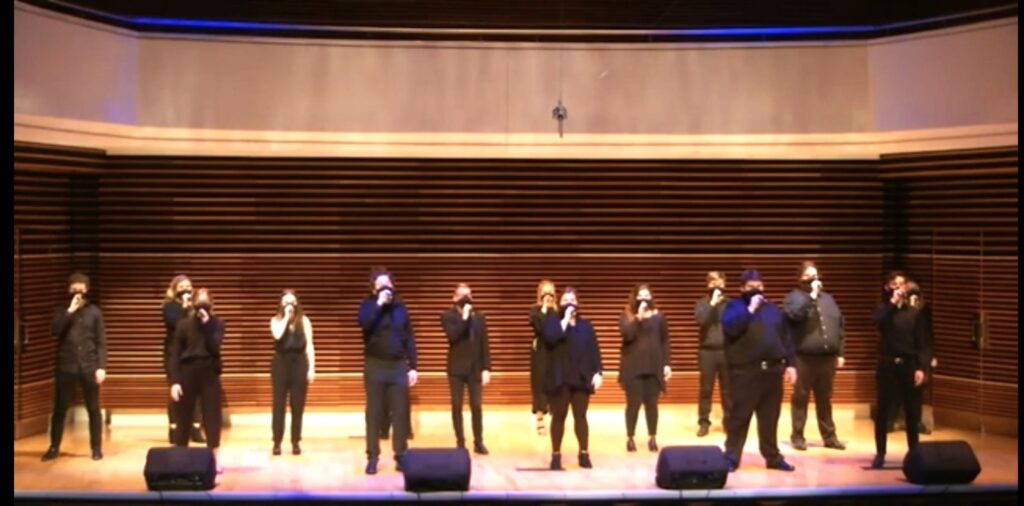 When students walk around the Natalie L. Haslam Music Center, they know to not take it for granted. For students and professors that have to use their mouths and breathing techniques daily, a worldwide pandemic has a lasting effect on their education.
COVID-19 forced music students and professors to convert much of how they operated with respect to singing and playing instruments. The pandemic's peak in 2020 threw a wrench in all students' academics, but for music students especially.
Many music classes that are taught at the University of Tennessee require students to be in person and playing instruments or singing in groups. Mask mandates and social distancing guidelines pose obvious hurdles for classes that operate in that way.
Most of the trouble came in the Fall 2020 and Spring 2021 semesters. Aaron O'Donnell is a sophomore majoring in applied music. He said that students, with classes being completely online, were not allowed to take lessons or use practice rooms as much as normal.
"(Music majors) have lessons every week and we had to do them online. We had to buy expensive microphones just to get the best sound," O'Donnell said. "We could come in here and practice, but we had to do it at a certain time…we couldn't just go wherever we wanted to."
Students that play in instrument ensembles were hindered by COVID-19. Groups of 10 or more people usually play instruments together, so some students felt unsafe and were unable to participate.
"We had to spread out in giant blocks, which affected how we would listen to each other in an ensemble setting," senior music education major Patrick Whitman said. "I just didn't participate in ensembles because I didn't feel like it was safe enough."
Whitman said professors would make adjustments according to what students felt safe doing. He was able to critique concert band recordings from home. He said he became more comfortable when vaccines became available in the Spring semester.
There were even bigger hurdles music majors had to jump when playing in groups. People with instruments used bell covers, which wrapped around the end of instruments where most of the air comes out. Voice students have singer's masks that are designed to stay on their faces while they perform.
Even with the singer's mask providing more room for the mouth to move and breathing, there is a difference from singing freely. Carson Williams is a senior music education major with a voice emphasis. His performance-based courses have looked different over the past year.
"Before the pandemic hit, I was required to go to so many recitals each semester, and now we've tried to limit recitals to family and friends only," Williams said. "Even with my concerts that I have to do, looking out to an empty recital hall is a different feeling."
Professors have struggled as much as students with having to make adjustments to how they teach music classes. They were introduced to new technologies and methods that made things at least possible to accomplish over the past year. However, there were frustrating moments and tough hills to climb.
"The journey of teaching and performing over the past 20 months has comprised shielded spaces for private lessons, masked and distanced learning…and showing up for our students in the face of uncertainty. This work hasn't been easy," Dr. Khyle Wooten, assistant professor of the UT school of music, said in an email.
The 2021 Fall semester has been a bit of a light at the end of the tunnel for music students and professors. They have been able to pursue their majors more normally, with more freedom to practice and perform with other students.
Wooten said ensembles have performed in places like parking garages and outdoor spaces just to be able to play in a group. To him, that is still a deep sigh of relief from what was a long year for music majors.