No. 16 Tennessee takes 2021 home opener by 20 runs
The Vols defeated Arkansas-Pine Bluff in their first home game of 2021. They increased their win streak in the month of Feburary to 24, dating back to 2018.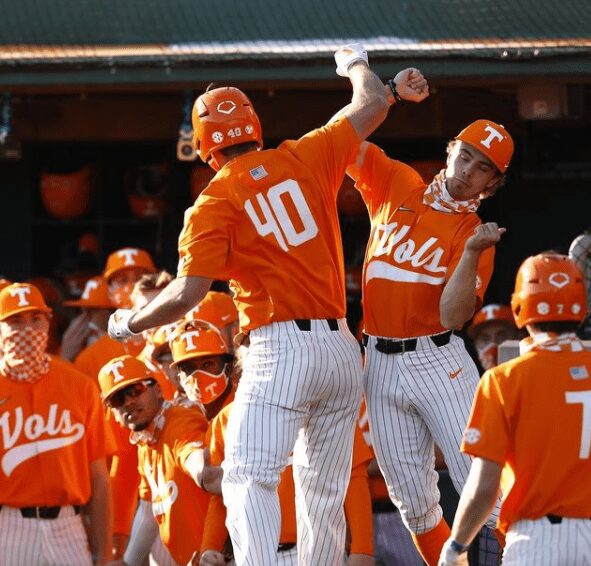 No. 16 Tennessee took advantage of Arkansas Pine-Bluff miscues en route to their fourth victory of the season. The Vols beat the Golden Lions 21-1 on Tuesday night, the first of a two-game midweek series.
Many of Tennessee's runs were not scored in a conventional fashion. Arkansas Pine-Bluff gifted the Vols six walks and four errors during the game. These were exposed when they scored five runs in the fourth inning to pull away comfortably.
Jason Rackers started the game on the mound for Tennessee. This was his first start as a Volunteer and comes just a year off of Tommy John surgery. He pitched 2.0 innings and allowed one run with a pair of strikeouts. Rackers was anxious and excited to finally throw for the Vols.
"Adrenaline was going crazy, not going to lie," Rackers said following the game. "I just want to keep getting stronger."
Senior left-hander Will Heflin dominated in his first appearance of the season. Heflin entered out of the bullpen in the third inning and tossed 3.1 innings with eight strikeouts and only allowing one hit.
"We had to have (Heflin and Rackers) throw well, and they did. There are some guys that made a statement tonight," head coach Tony Vitello said.
Tennessee used six different pitchers in the game and only allowed four hits.
The Vols' offense tallied 16 hits in the game with six players having multi-hit games. Junior Max Ferguson had four RBIs, including the preseason All-American's first home run of 2021.
This was Tennessee's first home baseball game since March 10, 2020. Vitello said that building chemistry is a big deal within the team and there are obvious challenges to that right now.
"It was unique and the kids don't know how to handle some of these situations…I think we're still finding our way," Vitello said on the team's chemistry.
Tennessee improved to 4-0 on the season with tonight's win. The final game of the series against Arkansas-Pine Bluff is on Wednesday.
Edited by Ryan Sylvia and Christian Knox
Featured image courtesy of Tennessee Baseball Instagram (@Vol_Baseball)