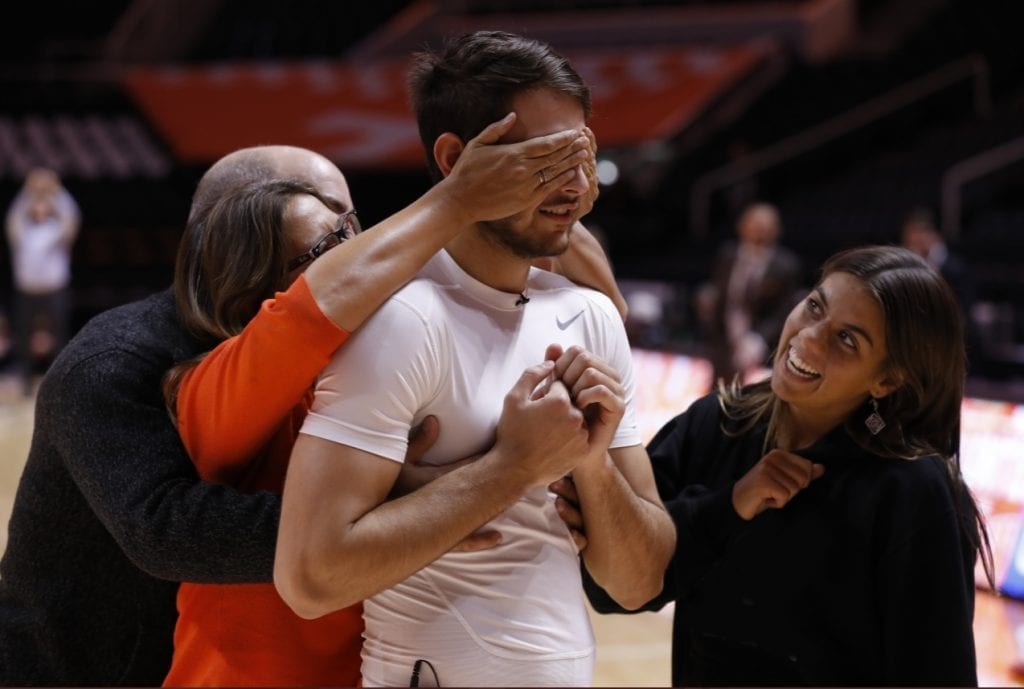 On Feb. 29, Tennessee basketball player Santiago Vescovi went through his normal pregame routines in Thompson-Boling Arena when his family, all of whom had traveled from Uruguay, surprised him on the court.
Santiago Vescovi is a freshman who previously attended The NBA Global Academy, a training camp in Canberra, Australia. Before Australia, he played at the NBA Academy Latin America in Mexico City, Mexico. In December,  Santiago Vescovi joined Tennessee and has started every game for the Vols since. The Vol freshman averages 11 points and 3.9 assists as a Volunteer. Although his family watches all of his games on television, they have not been able to see him play in person since September.
Santiago Vescovi's parents, Pablo Vescovi and Laura Vannet, and his sister, Lucia, came all the way to Tennessee with the intent of suprising the freshman guard. They snuck up behind him during an interview and covered his eyes so he would not know who it was. They needed Santiago Vescovi not to know anything about their idea for it to work, so they told few people about the suprise prior to Saturday. The only people that knew were University of Tennessee staff and a few friends from home.
"Some people from home realized we are here only because what (the media) has published," Vannet said.
The surprise went perfectly. As Santiago Vescovi went through a pregame interview, Vannet came up behind him and put her hands over his eyes. He did not have any idea who it was until he heard her voice a few times. After he guessed that it was his mom, his family greeted him, and they all shared a hug.
"He's been a special teammate to all of us and a (special) person to be around," Tennessee coach Rick Barnes said. "They're a really close-knit family … I know he was really surprised about it."
The Vols went on to win the game against Florida 63-58. Santiago Vescovi scored 11 points in 34 minutes of play, including a crucial three-pointer and dagger free throws to put the Gators away. After his three-pointer, he pointed up to the stands to his family, who were holding an Uruguayan flag.
"I feel really proud," Santiago Vescovi said. "Just knowing that they were here, I felt more confident."
Edited by Christian Knox and Libby Dayhuff
Featured photo courtesy of Tennessee Basketball Twitter (@Vol_Hoops)
Ryan Sylvia is the Sports Editor at TNJN. He is a senior at the University of Tennessee, Knoxville majoring in journalism and electronic media. Although he spent most of his life being raised outside of Philadelphia, he was born in Knoxville, and he is happy to be back home. Ryan has had a love for sports from an early age, and he found his love for writing in high school while taking journalism classes. He hopes to find a job involving both his passions as a sports journalist after graduation. To reach Ryan, email him at rsylvia@vols.utk.edu