Students, faculty discuss UT administration's response to hate speech
UT students and faculty gather to discuss hate speech and free speech. Students discuss their feelings towards the administration's response to recent incidents.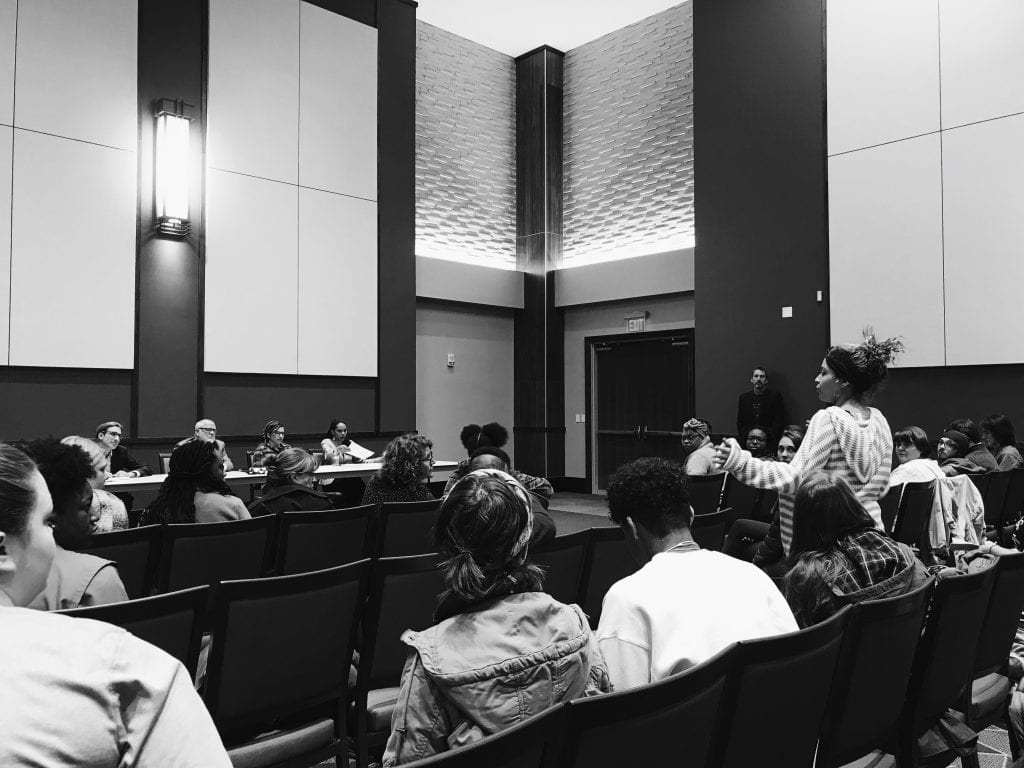 Last fall, the Knoxville community experienced two situations of people painting anti-Semitic, hate speech on the Rock on the University of Tennessee, Knoxville's campus.
In response, the Campus Ministers Council, Student Government Association and Faculty Senate hosted "United at The Rock."  
Similarly, the university later held a second "United at The Rock" event on Feb. 20, 2019. This event served to remind students to spread messages of love and acceptance, rather than hate.  
However, only a few weeks later did another incident go viral on campus. On Feb. 28, a picture of three UT students began circling around online. Two of the students were in blackface. The photo included a caption that read, "We for racial equality boys. Bout to get this free college now that I'm black let's gooooo #blacklivesmatter." 
Interim Chancellor Wayne T. Davis and Interim Vice Chancellor for Diversity and Engagement Tyvi Small responded, making a statement addressing what behavior is expected of UT students.
"The image is repulsive and the caption is abhorrent," the statement read. "The executive leadership of the University of Tennessee universally denounces hate and racism in all their forms."
In addition, Vice Chancellor for Student Life Vincent Carilli recently addressed the blackface incident during a discussion with students and administration.
"We would be hard-pressed to expel a student for expressing their First Amendment rights," Carilli said.
Many students and faculty members did not take kindly to this statement. 
On March 6, the Faculty Senate held a discussion forum on free speech and hate speech.
The intent of this discussion was to look back on the incidents that took place on the Rock. However, students and faculty used this as an opportunity to discuss the blackface image and the administration's response.  
For instance, one topic of the form was how to handle acts of hate speech with a "bottom-up" method. This method starts with the actions of students and faculty rather than the administration.
"We need to mesh together in making statements, talk across divides, represent a larger thing and improve communication," Dr. Michael Martinez, an associate professor in journalism, said.
Similarly, Dr. Michelle Christain, an associate professor in sociology, said she feels this is important to recognize because she finds, "…it always falls on the marginalized people to address these problems."
In addition, attendees discussed the students' feelings towards the administration's response, several students stating they feel that UT is letting them down. 
As the forum concluded, Davis sent out a campus-wide email, announcing the university's plans moving forward for combatting hate speech.
Moreover, Davis makes it clear that the administration has upcoming plans to start taking action, "not just in response to specific incidents but in an effort to address the underlying issues that allow them to happen."
The email highlights cultural competency, mandatory global citizenship courses and review of the Student Code of Conduct.
The full plans can be found on the Office of the Chancellor's website.
The four panelists included: Rob Blitt from the College of Law, Michelle Christian from Department of Sociology, Jioni Lewis from the Department of Psychology and Michael Martinez from the School of Journalism and Electronic Media.
Edited by Ciera Noe and Kaitlin Flippo
Featured photo by Eleanor Tant