Barnes speaks to media in season-ending press conference
Rick Barnes held his final press conference of the season in Ray and Lucy Hand Digital Studio on Monday.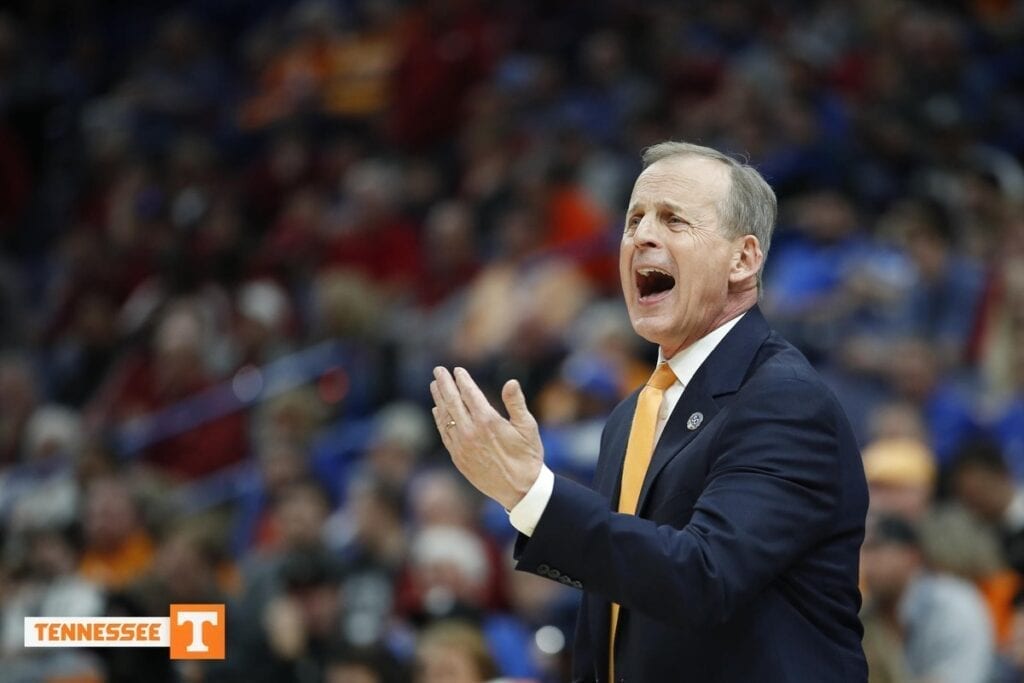 Tennessee Head Coach Rick Barnes held his first press conference in Knoxville since the Vols' 63-62 upset loss to 11th-seeded Loyola-Chicago in the NCAA Tournament last Saturday.
After notching Tennessee basketball's first regular season SEC Championship in a decade and leading the Volunteers to their best record (26-9, 11-5 SEC) since 2010, Barnes still seeks areas of improvement.
"The word I used a lot was consistency this year… I think individual guys need to be more consistent," Barnes said. "You really want to get back to fundamentals, conditioning I think is a big part of that."
Barnes noted one key difference from this year's NCAA Tournament than his previous 21 times in the Big Dance. He said sophomore center Kyle Alexander's injury marked the first time he had a player injured in the tournament. However, Barnes did not shy away from complementing the Ramblers and their improbable Final Four run.
"I think they (Loyola-Chicago) have as good of a chance as anybody to win the National Championship," Barnes said. "When you watch them play they're a highly efficient offensive team and a very good defensive team."
The aftermath did not turn out happy-go-lucky for No. 3 seed Tennessee after the Ramblers victory last Saturday according to Barnes, but his team was anxious to get back to work.
"They were devastated, there's not much you can say" Barnes said. "Starting today they're all back in the gym. They're wanting to get back."
Despite returning every player on the roster except for one, Barnes stated the lone senior on the team, James Daniels III, will be missed.
"He had an impact and we'll miss what he gave us," Barnes said. "I thought it was really good the pressure that he put on Jordan Bone and Lamonte Turner."
Barnes did hint that the orange-and-white put high-priority on finding a guard to replace Daniel III. However, he noted that he would rather bring in a high school player than another graduate-transfer.
The hardware did not stop at SEC Coach of the Year for Barnes, as he will be a recipient of the 2018 Coach Wooden "Keys to Life" Award during the Final Four weekend. The award is given to basketball staff that models high moral character, integrity and faith.
"Well first of all I can tell you there are a lot of guys more deserving of the award than me," Barnes said. "It's an honor… He (Wooden) impacted this sport long after he quit coaching."
Barnes ended his press conference with news that will elate much of the Vols faithful: Tennessee will renew its in-state rival with Memphis next season. Newly hired Tigers Head Coach Penny Hardaway confirmed the news on Monday. The two teams will play one game each in Memphis and Knoxville and finish up with a matchup in the Music City.
"Don't hold me to this, but I think the way the contract sets up, I think we go there first, they come here," Barnes said. "We'd like to make it a big day of basketball in Nashville… Some kind of jamboree or extravaganza."
The Volunteers and Memphis have met 25 times in the past, as Tennessee leads the series 14-11. The last rivalry game ended in an 85-80 win for the Vols in 2013.
Featured image courtesy of Tennessee Athletics