Daniel III leaves Vols with experience, new attitude
The lone senior for Tennessee this season, James Daniel III, will graduate after just one season with the Volunteers.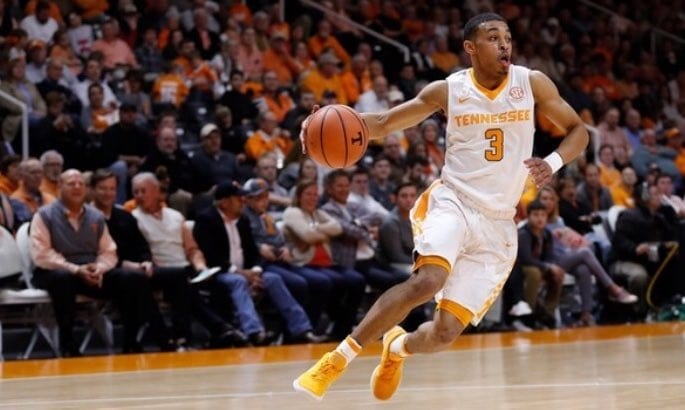 Hampton, Virginia native James Daniel III leaves Tennessee with a better attitude and improved skill. Daniel improved both his play and his outlook after Vols Head Coach Rick Barnes brought him in last summer as a grad-transfer. Daniel thanked Barnes and the program for his time on Rocky Top in an Instagram post Monday.
Daniel performed tremendously off the bench for the orange-and-white all season. With a season-high of 17 points, he had to change his play style after leading the NCAA in scoring (27 points per game) at Howard in 2016.
Averaging a solid 5.6 points, 2.8 assists and 1.4 rebounds per game off the bench this year, Daniel remained consistent for Tennessee.
The 2016 Volunteers team proved to be much deeper than what Tennessee faithful expected in previous seasons under Barnes. Daniel typically served as the second guard off Barnes' bench behind sophomore SEC-Sixth Man of the Year Lamonte Turner.
Barnes reached into his bench for Daniel's stability. Daniel brought crisp passing and the ability to lock up opposing guards. He recorded 10 assists in multiple games and recorded 28 steals on the year.
Daniel also made 37 percent of his 3-pointers after hitting nearly 50 shots from beyond-the-arc in the 2017-18 season. Barnes looked to him to play about half each game. Daniel averaged around 20 minutes per contest.
With plenty talent, Daniel fought and scrapped for minutes against starters Jordan Bone and Jordan Bowden. Daniel also competed for play time with Turner, who had a career year.
As much as Daniel did this season for the Tennessee, the most important legacy he leaves in Knoxville is a culture change for this young Vols roster. His motto, "turn me up," has become a popular slogan around Knoxville. Players, fans and even coaches caught on to the team's mantra.
Tennessee will have an extremely young team going forward. Three of the five starters are sophomores and the other two starters are juniors. With Daniel's absence, Admiral Schofield and Kyle Alexander will be the only seniors with significant playing time on the roster next year unless Barnes manages to pick up another graduate transfer.
Daniel entered as a player from Howard with expertise in scoring, but he leaves Knoxville as a player who grew into a solid all-around teammate. Barnes and the Volunteers will miss his presence in 2019.
Written by Caleb Souders 
Edited by Seth Raborn/Lexie Little
Featured image courtesy of Tennessee Athletics